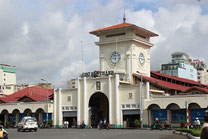 Officially opened in 1859, and renovated after a major fire in 1870, the Ben Thanh market or Cho (pronounced as 'Jer') Ben Thanh as it is known locally, has evolved to become somewhat of an icon in Saigon. This area was originally a swamp called Marais Boresse which was filled in by the French. The front side or the South was called Place Cuniac while the North, East and West were Rue d'Espagne, rue Viénot and rue Schroeder respectively.
Bargaining for the best deals at Ben Thanh market
As you step into the main entrance of the grand clock tower, you are immediately greeted by a maze of stalls peddling goods from apparels and souvenirs, to interesting local foods and kitchenware. It's time to put your bargaining power to the test and off your go – for a ball of a time. Prices here can go as low as 70% off the original price quoted, so feel free to walk away if you are not getting a 40% discount at least.
So what kind of products are available at Ben Thanh market? 
For a first time tourist to Ben Thanh market, this is shoppers' paradise. The most popular items sold here are T-shirts, bags, and handicrafts. As a gauge, you should not be paying more than VND150,000 (approx. 8USD) for handicrafts, no matter how exquisite the stall owners make the pieces out to be. T-shirts and other apparel are priced from VND50,000 up. Do not be surprised to see a 'Polo Ralph Lauren' or 'Valentino' going for as low as 10USD. Bags also seem like a good deal here, but do buy at your own risk.
Traditional food, drinks, and snacks are aplenty at Ben Thanh market. The most recommended food here is the "banh beo", a traditional dish made from rice, going at only VND10,000 (approx. 0.50USD). Another is "bun suong", a kind of noodles which is very popular in the market. If you want to buy something as souvenirs for friends, the try picking out the local sweets made from banana, mango, custard-apple, etc. For something to take home to the family, do consider local products such as coffee, cashew nuts, and sunflower seeds as a nice giveaway.
Can you really buy X-stock from Ben Thanh market?
There have been many rumours of x-stock (rejected stock from well known brands) being retailed at this market. The truth is, many brands such as Converse, Nike, and Adidas are produced in Vietnam. However, there is a big difference between x-stock, and products being reproduced from siphoned material. For the latter, there's almost no QC (quality control) on the workmanship. Hence, it would take an expert eye to determine if these goods are indeed original rejects, or quality fakes. Yet, many have been satisfied with their purchases, real or not.
How to avoid paying more than you should in Ben Thanh market?
As mentioned above, the rule of thumb is that you should always start bargaining at 50%, and never settle for less than 30%. Alternatively, the rear area inside the market belongs to COOP Mart Corporation, a credibly fixed price outlet selling anything from clothes to souvenirs. For bargaining addicts, this place is off limits to price negotiations. You may still snatch a good deal here, but do take a walk around the other places first.
Other things to note while shopping at Ben Thanh market
First and foremost, always keep a close watch on your valuables. As with all crowded places, a moment's distraction offers petty thieves the best opportunity to have a go at your belongings. And while you are walking outside of Ben Thanh market, you may be approached by people peddling anything from sunglasses, to watches, to even coconuts. You will never get the best deals from these guys, though the difference may only be a couple of dollars. As a last note, we would also like to add that the jewellery shops around Ben Thanh market offers some of the best currency exchange rates in Ho Chi Minh city.
Happy shopping!