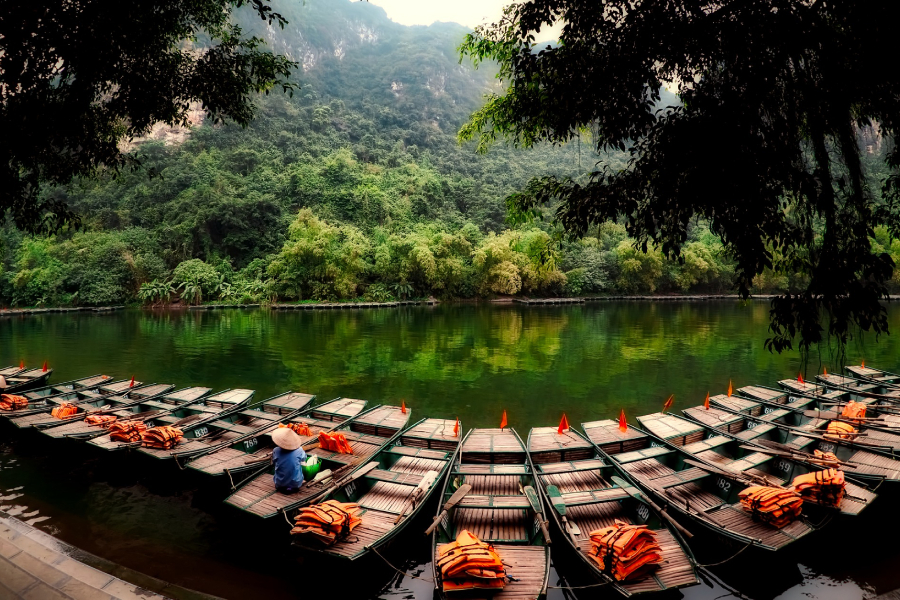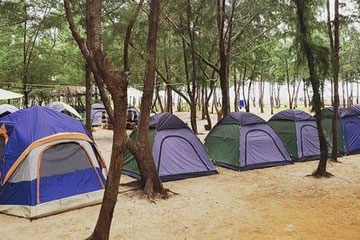 Zenna Pool Camp (Vung Tau)
Zenna pool camp is a great picnic and camping spot for anyone who might be planning a trip outdoors. It is located just a stone's throw away from its more well-known (and touristy) cousin, Vung Tau city, which is about 120km away from Ho Chi Minh city. The camp ground is situated next to the Coastal strip, and is surrounded by a forest of coastal pines. Also within close proximity, is a market that is popular with local tourists for its convenience, as well as affordable and authentic local products. And if you are planning for overnight camping, the tents there have already been pre-erected, which offers convenience, and more time to enjoy the amenities. Unlike Vung Tau city, which is usually crowded with visitors from nearby cities, Zenna pool camp offers clear blue waters, and more serene surroundings, of which to indulge in an afternoon of beach activities.
How to get there: You can get there either by motorbike, coach, bus, or by ferry. However, do note that the ferry only goes from Ho Chi Minh to Vung Tau city, afterwhich you will have to take a connecting coach or taxi ride to Zenna Pool Camp, about 15mins away. The whole journey will take you about 2 hours. CUSTOMIZE YOUR DAY TRIP TO ZENNA POOL CAMP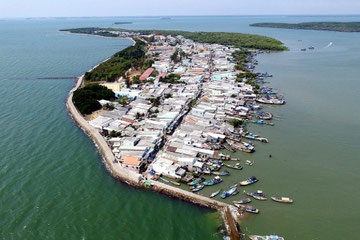 Thanh An Island (Can Gio)
If you wish to experience the simple lifestyle of an islander, then Thanh An island is ideal for you. This island sits about 70 km to Saigon's east, completely separating Can Gio district and Saigon. As it is generally harder to arrive at, the island's authenticity and tradition has been preserved over the years. There, time moves at a relatively slower and more relaxing pace, where popular jobs amongst the local people include salt production, fishing and oyster farming. As there are also no hotels or hostels on this island, the people who travel there usually only take a day trip. Once known as the most difficult area of Ho Chi Minh city, Thanh An island has seen an influx of more visitors over the years. Its increasing popularity has led to more locals opening homestays on Thanh An island that cater to tourists who hunger for more cultural and authentic experiences. Not a city of beautiful landscapes, the key highlights of the trip are certainly to enjoy delicious and ridiculously inexpensive seafood, observe locals as they go about their daily jobs and lives, and of course, to soak in the much craved peaceful countryside.
How to get there: You can get there either by motorbike bus, or coach. If you are taking the bus, board bus 20 from Ben Thanh Market, which will take you to Binh Khanh ferry. Next, take the ferry and you will arrive at Can Gio district. To finally arrive at Thanh An island, board bus 90. The whole journey will take you about 2 hours including transfers. CUSTOMIZE YOUR DAY TRIP TO THANH AN ISLAND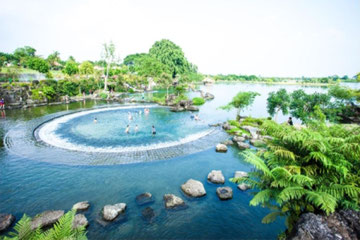 Suoi Mo Park (Dong Nai)
Located in Dong Nai province, 100km to the North of Ho Chi Minh city, Suoi Mo Park is a paradise with lush green forest and a magnificent lake. More endearingly nicknamed the "Sea in the forest" by locals, it's not hard to see why. With its clear streams and cool waterfalls combined with a large and luxurious swimming pool, you can easily spend a whole day there. The spring water is extracted from underground, making it one of a kind. To add on to its scenic view, there are many small streams weaving through rocks and pouring into the lake. The water is so clear that you can see schools of fish swimming along the lake bed. If you are an outdoor lover, you can participate in camping activities, BBQ parties, as well as team building activities. And, if you are the more sporty kind, you can cycle, engage in beach sports, or even kayak. We promise that the photos that you take there will definitely be Instagram worthy. To top it off, Suoi Mo has a number of beautiful resorts to offer any visitor a complete overnight experience.
How to get there: You can get there either by motorbike or coach. If you are planning to travel by coach, either Thien Phat Dat coach or Quoc Cuong coach is recommended. They will pick you up from your location and take you to Suoi Mo park directly. The whole journey will take you about 2 hours. CUSTOMIZE YOUR DAY TRIP TO SUOI MO PARK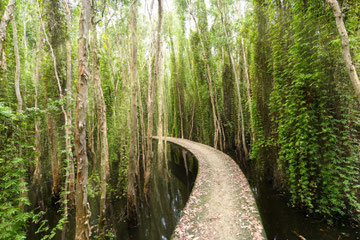 Tan Lap Floating village
Tan Lap cajuput forest is located in the Tan Lap floating village tourist area, about 100km from Saigon, near the Cambodian border. Despite its name, this place is actually a large primeval Melaleuca forest filled with all sorts of rich flora and fauna– such as turtles, snakes, storks and snakeheads. It only takes four minutes from the pier to get to the path leading into the melaleuca forest. You will need to buy tickets for a short ferry ride into the forest proper, which also grants you access to a raised walkway through the soaring cajuput trees. An additional $2 will put you on a 30-minute canoe ride through the floating forest, which is definitely value for money in our opinion. Finally on this day trip, you will encounter a "Bird domestication area", where birds are nurtured by Tan Lap floating village in their natural environment. For those who are interested to spend a night there, you may choose from 2 types of accommodation: camping or an eight-storey hotel that offers a panoramic view of the forest.
How to get there: You can get there either by motorbike, which is the most popular option, or choose to take a bus instead. Expect your journey to take almost 4hours (one-way) by bus including waiting and transfer, so it's definitely not an option we'd recommend. CUSTOMIZE YOUR DAY TRIP TO TAN LAP FLOATING VILLAGE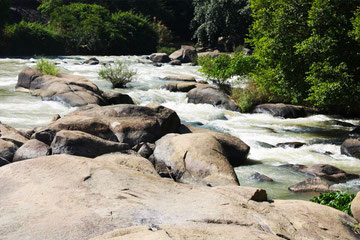 Mai Waterfall (Dong Nai)
Mai waterfall, an eco-tourism area, is located in Dong Nai province, about 130km from Ho Chi Minh City. On the way there, you will be greeted by the imposing presence of the Nam Cat Tien national park. It is easily one of the most beautiful landscapes one can find along the La Nga River. Besides, its cooling weather makes it an ideal place for you to escape the sometimes unbearable heat in Saigon, or a day away from the hustle and bustle of the city. Here, you can listen to the murmuring streams, together with birds singing throughout the mountains by day, and relax by a flickering campfire by night. With almost no human interaction or entertainment, it is the best way for you to take a break, and to truly enjoy nature at its finest. Mai waterfall is especially popular with the locals for a day trip; for fishing, camping, or just a picnic with family and friends. Many also choose to spend a night here, sleeping on laterite stones under the starry night sky. In the spring, visitors will even get to enjoy the magnificent view of wild apricot blossoms.
How to get there: You can get there either by motorbike or coach. If you wish to take a coach, you can book one directly from a coach company. As it is not a tourist area, there is no bus you can take to get there. Most travelers choose to ride a motorbike, making Google Maps their best friend. The whole journey will take you about 2 hours. CUSTOMIZE YOUR DAY TRIP TO MAI WATERFALL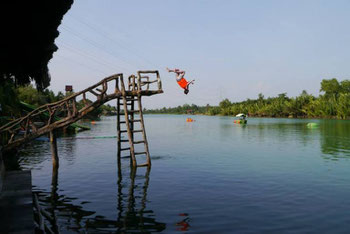 Golden Scorpion Resort (Dong Nai)
The Golden Scorpion Resort was inspired by the yellow scorpion flowers that are native to that area; breathtakingly beautiful when in full bloom. The drive from Ho Chi Minh city to Dong Nai province will take about one hour by motorbike, making it a popular quick getaway for nature-lovers. The journey itself could be a sight to behold for city dwellers, as padi fields and buffalos line up on both sides of the roads for most part of the way. Golden Scorpion Resort is a small islet surrounded mainly by water. Hence, you could imagine that there are many games which involve splashing around in a life jacket. Water slides, boat rowing, and bouncing off the water blob, are activities that are immensely popular with the younger crowd. Those who prefer not to get close to the water's edge need not feel left out either. You may ride an ATV or jump on a trampoline, all intended to help visitors enjoy the great outdoors. And to top it all off, the Golden Scorpion Resort has a great BBQ and camping site which makes it an ideal destination for those who wish to take in the charm of the Vietnamese countryside.
How to get there: As the resort is quite famous, there are several ways to get there. If you are travelling by bus, you can board bus 43 at Saigon, which will bring you to the Cat Lai ferry terminal. Then, board bus 21 which will take you directly to the resort. Taking a coach is also an option, and can be booked directly from a coach company. CUSTOMIZE YOUR DAY TRIP TO GOLDEN SCORPION RESORT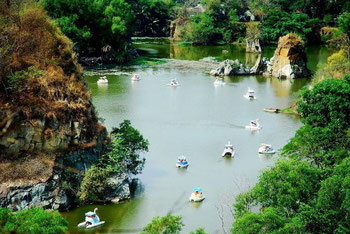 Buu Long Park (Dong Nai)
Buu Long Park is located in Dong Nai province, just 30km from Saigon. Being close to Ho Chi Minh, a short day trip to Buu Long park is highly recommended for tourists that are only in the city for a few days. However, being seemingly influenced by Buddhism, this park may not be suitable for everyone. Nevertheless, it still makes our list for its awesome surroundings. The park covers an area of 84 hectares, featuring mountains, rivers, caves, pagodas, and has been restored and embellished over the years. With its charming natural landscape, it is known to be a "miniature Ha Long Bay" of the Southeast region. For just a small entrance fee, visitors coming to the park can enjoy over 40 types of entertainment and attractions. This includes interesting key zones such as Long An mountain zone, the lake zone, prehistoric zone, pagoda zone, and its newest ecological space, Lan island. Picnic and camping facilities are also available for rent should you wish to spend a little more time here.
How to get there: You can get there either by motorbike, coach or bus. If you're going by bus, there are two different buses you can take. Bus 601 will start at East bus station, whereas bus 05 will start at Cho Lon bus station. The whole journey will take you about 1 hour. CUSTOMIZE YOUR DAY TRIP TO BUU LONG PARK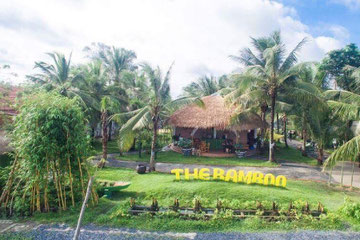 The Bamboo Village (Dong Nai)
The fourth destination on our list that is located in Dong Nai province is Tre Viet Tourism Village, only about 15km from the Center of Ho Chi Minh city. Its close proximity to Saigon makes it the go-to place for young people wanting to enjoy a weekend get together or picnic. As its name suggests, most of the items found in Tre Viet (bamboo) village are made from bamboo. Its amusement park, resorts, and facilities are all centered on eco-tourism, which makes it an attractive proposition for tourists, both foreign and domestic, who are looking for sustainable tourism options. With a total area of 45,000m2, and surrounded by splendid waterways, Tre Viet Tourism Village is a modern complex that offers many recreational activities. You may spend the day dinghy rowing, basket boating, or just cycling and admiring the beautiful sceneries on offer. And if you prefer to just relax and chill out, there is a white sandy beach filled with coconut trees, allowing visitors to enjoy the refreshing wind.
How to get there: You can get there either by motorbike or coach. Motorbike is the most popular option among tourists. However, you can also take a coach from Saigon, which will get you there within an hour. CUSTOMIZE YOUR DAY TRIP BAMBOO VILLAGE
Thuy Chau Resort
With an area of over 18 hectares, the forests, streams, and falls of Thuy Chau Resort will help you temporarily escape the noise and pollution of the city. From the moment you arrive, you will be greeted by a prominent backdrop of greenery, allowing you to fully immerse yourself in a fresh natural space. Located just 20km from downtown Ho Chi Minh, Thuy Chau Resort boasts a 1200m2 Park Pool with a depth of only 1.2m, and a relaxing hot spring bath. The streams here have all been artificially created by tap water; but there is a sanitation system in place to ensure that the water is refreshed daily, and clean for play. In addition, the resort has a clean, spacious and airy landscape, so you can bring food and drinks, and organize events such as outdoor picnics and birthday parties with your family or friends. If visitors fancy camping out, tents, tarpaulins, and BBQ grills are available for rent.
How to get there: You can get there either by motorbike or coach. Motorbike is the most popular option among tourists. However, you can also take a coach from Saigon, which will get you there within an hour. CUSTOMIZE YOUR DAY TRIP TO THUY CHAU RESORT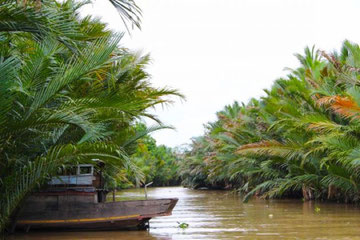 Lan Vương Resort (Ben Tre)
Lan Vuong is an eco-tourism resort located in Ben Tre city, just over 90km from Saigon. Sitting in the vicinity of Mekong Delta, Ben Tre is a quaint and peaceful area well known for its fruits produce and unique local cuisine. Lan Vuong was designed commercially to reflect the culture and lifestyle in Ben Tre. From what used to be large plots of empty fields, this place has been redeveloped into an attractive tourist destination, defined by small rivers stretching throughout the whole area. Coming to Lan Vuong, a whole myriad of things to see and do awaits. Visitors have the opportunity to take a boat ride along the river, catch fish and crabs, walk through fruit and animal farms, and even pick out handicrafts which are unique to Ben Tre – a perfect day excursion for anyone who wishes to learn more about the Southern regions of Vietnam. And for those who wish to taste some local specialties, there are many delicious and affordable options for you to try out here.
How to get there: You can get there either by motorbike or coach. Motorbike is the most popular option among tourists. However, you can also take a coach from Saigon, which will get you there in 1 and a half hours. CUSTOMIZE YOUR DAY TRIP TO LAN VUONG RESORT
---
You may wish to check out our other recommendations