---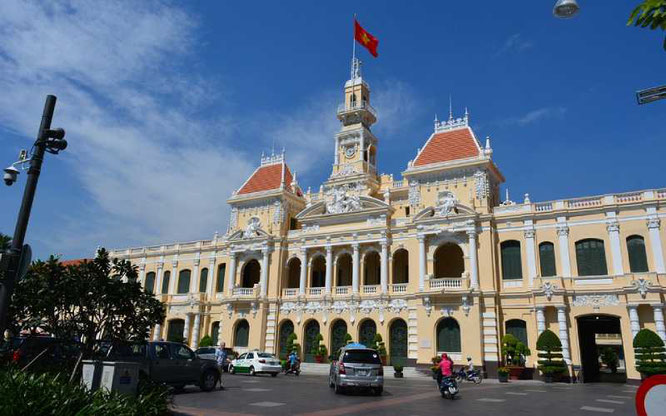 Disclosure: We may receive affiliate commission, at no extra cost to you, if you decide to purchase a product or service via some of the links found on our website.
With a plethora of amazing things to see and do in Ho Chi Minh, the city offers a delightful experience for travelers seeking a mix of history, culture, and modernity. From historical landmarks to mouth-watering street food and bustling markets, the city has something for everyone!
IMMERSE YOURSELF IN PLACES WHERE LOCALS HANG OUT IN HO CHI MINH CITY
1. Chinatown
Take a stroll around Hao Sy Phuong street and listen to locals share amazing stories about their proud heritage fused with local Vietnamese culture. With obvious Chinese influence in its architecture, culinary offerings, and way of life, the vibe in the area is somewhat unique. Anyone visiting Chinatown in District 5 will find buildings, houses, products, and even shops which are exclusive to the area, and may not be seen in the rest of the city. Needless to say, the widest array, and most delicious Chinese cuisine (especially seafood) is likely to be found in Chinatown as well. 
2. Binh Tay Market
Binh Tay market is a huge wholesale market that is located in Ho Chi Minh city's Chinatown. Built in 1928, the market stocks a wide selection of dry goods and local produce, which you can buy as gifts. Besides a wider range of products, things sold here are almost half as cheap as those you will find in Ben Thanh market. And even if you do not intend to buy anything, walking around and observing life of the local Chinese in Ho Chi Minh's oldest market, is a fascinating thing to do in Ho Chi Minh city. Binh Tay market opening hours: 3am till afternoon (Click here to view map)
3. Tao Dan Bird Park
Somewhat out of place amidst the hustle and bustle of District 1's busy streets, Tao Dan park is a sprawling 10 hector green space where locals come to hang out and relax. From as early as 7am each morning, dozens of bird owners will bring their prized caged possessions down to the park for "singing practice", as well as a fragrant cup of coffee. Visitors to the park can also join other locals for a session of Tai Chi, or take their kids to admire hidden mini replicas of Vietnam's popular landmarks.
4. Turtle lake
More of a water catchment area rather than a lake, Turtle lake is a hotspot for locals who wish to do little more than just chit chat and 'people watch'. For reasons unknown, this seemingly uneventful space appears to be a magnet for many young people and couples. Especially on weekends, throngs of people gather and Turtle lake suddenly lights up in excitement. Needless to say, this in turn has led to an increase in the variety of street food made available in the area. In recent times, more photographers and artists have also been seen here.
5. Saigon Flea Market
The Saigon Flea Market is one of the biggest names that come to mind when young consumers are looking for affordable, unique, and trendy items. Since its opening in 2011, Saigon Flea Market has earned a reputation for offering an explosive assortment of handmade fashion, accessories, and local Vietnamese street food. It is one of our favourite things to do on a weekend in Ho Chi Minh city, and you will always find crowds of young people just hanging around, or strolling around hundreds of stalls, sniffing for a great deal, or sometimes even strange collectibles. Visit Saigon Flea Market for opening hours and location
SHOP TILL YOU DROP IN HO CHI MINH CITY
6. Ben Thanh Market
Ben Thanh market is a market that serves mostly, and most tourists. It is located in the heart of District 1, where many tourists would congregate. Surrounding it are hundreds of hotels and restaurants, together with other amenities such as massage parlours, tailors, and beauty salons. Therefore, visiting Ben Thanh market is on everyone's list of things to do when in Ho Chi Minh city. Opening hours are from early in the morning till about 6pm in the evening. The night market takes over from about 7pm till 10pm. Popular products found in Ben Thanh market include souvenirs, fashion, and local produce.
7. Saigon Square
Next to Ben Thanh market, Saigon Square is possibly the 2nd most prominent place to shop for tourists in Ho Chi Minh. The 2-storey complex houses over 350 stalls, most of them dealing in fashion and electronic products. As with Ben Thanh market, shoppers who are masters in the art of bargaining can enjoy discounts of up to 60% here, from what was originally quoted. Selection wise, though Saigon Square offers a smaller range of items, more local brands can be found here as well (as opposed to big brand imitations).
8. Nguyen Trai Street
Nguyen Trai is a long road that cuts across District 1 and 5. Anyone adventurous enough to explore the streets will find hundreds of boutiques lined up on both sides. Big, brightly lighted neon signboards will accompany you along the way, which makes a good enough reason to take a walk here after dinner, just to check out the scene.  Here, you will find anything and everything fashion related, from big global brands, to cool local fashion designers. For the ladies, you will find a ridiculous number of shops offering crazy discounts on clothes, beauty, and accessories.
9. An Dong Market
Operating since 1954, the old An Dong Market sells to both the wholesale and retail markets. From the outside, An Dong appears to be a typical traditional market that you can find throughout Saigon. But from the moment you set foot in the market, you will be pleasantly surprised by the phenomenal range of clothes, bags, shoes, accessories, and food. If you feel hungry or thirsty, you can also try some traditional desserts and snacks beside the market, which are really cheap. Delicious thirst quenchers can be bought for less than a dollar.
10. Local Markets
Ho Chi Minh city is fast emerging as one of the most intriguing shopping destinations in Southeast Asia. But unlike its counterparts in Singapore, Bangkok, or Kuala Lumpur, shopping here is not represented by mega shopping malls, or neon-lighted streets lined with fancy boutiques. Instead, many locals prefer to hunt down trends and bargains in markets which have not succumbed to the temptation of tourists dollars. These markets offer foreign visitors the best deals, as well as an opportunity to interact with the locals, and to observe their lifestyles first hand.
CHILL OUT AND RELAX IN THE BEST LOCAL CAFES IN HO CHI MINH CITY
11. Lao Hac Cafe
Within a hectic city, stands a rustic cafe with a strong 80s vibe. Lao Hac is located on Hoang Sa street, but despite being on one of the noisiest streets in Ho Chi Minh, this small coffeeshop exudes a feeling of tranquility and peacefulness at the first step in. From its surrounding wall décor, to old wooden furnishings, Lao Hac is designed in an old, Southern style concept. There is no air-conditioning here, but the place never seems too hot to sit down; to enjoy the ambience and enjoy a cup of great tasting coffee with friends.
Address: 299B Hoang Sa Street, Tan Dinh Ward, District 1
12. OKKIO Tu Do Cafe
Among the coffee shops on this list, this one has a more modern design. Located on Dong Khoi street, OKKIDO Tu Do cafe features the historic Opera House as its front view, making it an ideal photoshoot spot for locals and tourists alike. The shop offers air conditioning, wifi, contemporary music, as well as various table sizes for individuals and groups. Upon entering the coffee shop, visitors are drawn to the smell of coffee, which is centered around a brew bar. The OKKIO Tu Do Cafe is a great place to chit chat with a group or work on a deadline. 
Address: 151 Dong Khoi Street, Ben Nghe Ward, District 1
13. Thai Yen Cafe
A brand that originated in Hanoi, Thai Yen cafe takes great pride in the taste of its coffee, and proud northern-style architecture. Here, visitors can enjoy fresh coffee which is available in different flavors, or for takeaway orders in unique packaging. With a key Northern style signature design, the newest outlet of Thai Yen café  is located in Tran Quy Khoach in Sai Gon District 1. Using primarily wood and gray colors, this coffee shop mirrors the vibe of a hangout in Hanoi's old quarter, while blending in with trees and natural light. 
Address: 79/2/1 Phan Ke Binh, Da Kao Ward, District 1
14. Tokyo Moon Cafe Noir
As its name suggests, this small coffee shop is perfect for those interested in Japanese culture. Ideally located in Ho Chi Minh's own Japanese street, Thai Van Lung, the shop is designed with a simple, cozy color theme, and adorned with minimalist decorations like bonsais, Doraemon and manga figurines that bring back childhood memories. Chatting with the cafe's husband and wife team of coffee makers, who are both Japanese, is a great way to learn more about Japanese culture. This is definitely an interesting thing to do in Ho Chi Minh city for both locals and tourists alike.
Address: 8A/1C2 Thai Van Lung Street, Ben Nghe Ward, District 1
15. The Vagabond Patisserie & Cafe
Ho Chi Minh's fancy French-style cafe serves not only tasty drinks, but delicious cakes as well. Coffee from Ethiopia and Uganda is available here along with seasonal nut milk and fruit teas. Located on Tran Cao Van street, this bakery and coffee shop has a ground floor with a view of the garden as well as two upper floors with lots of places to sit back and relax. It is filled with European collections, vintage cutlery, light gray furniture, and light yellow candles to provide customers with a more luxurious experience.
Address: 9 Tran Cao Van Street, Da Kao Ward, District 1
SIGN UP FOR A POPULAR DAY TOUR IN HO CHI MINH CITY
21. Cu Chi Tunnel
Cu Chi Tunnels is a complex network of tunnels that stretches over 200 km from Vietnam to the Cambodian border. You may choose to go on regular tours, or opt for the lesser known things to do near Cu Chi tunnels.
Top things to do: Watch a controversial film about the history and mysteries of the Cu Chi tunnels | Explore an intriguing underground network of tunnels used during the Vietnam war | Experience their living quarters, a military workshop, and health bunkers used during the war | Visit a rice paper workshop | Live firing range - AK47, M16, M60, M30
22. Mekong Delta (Cai Be)
Mekong Delta is a large region in South Vietnam, but most tours on offer only showcase the touristy side of it. We recommend visiting Cai Be, where you can visit the renown Cai Be floating market. There, you will be introduced to their simple yet colourful lifestyles, and maybe even grab a few good bargains. Next on the itinerary should be a trip through the local villages and to the local markets, either on foot or by bicycle. This is an opportunity to interact with the locals, play some local games, and to hear their rich stories about life by the riverside.
23. Can Gio Eco Reserve
Can Gio is an amazing wildlife sanctuary located about 40km from Ho Chi Minh, and is listed as a biosphere reserve by UNESCO . The reserve is characterized by a wetland biosystem dominated by mangrove with over 150 botanical species. In addition, Can Gio is also home to a diverse variety of wildlife including crocodiles and Dugongs. 
Top things to do: Visit Monkey Island – home to thousands of monkeys | Take a slow sampan ride through the lake | Visit the Vam Sat Mangrove Forest and bat lagoon where a colony of large flying fox bats sleep the day away | Experience crab fishing the traditional way | Soft trek into the heart of the forest to visit the bird sanctuary as well as Tang Bong Watch Tower to observe thousands of bird species | Get up close with wild crocodiles in a natural lake
24. Motorbike Or Vespa Tour
Riding on a motorbike is by far, the most efficient form of transportation, and heads the list of top things to do in Ho Chi Minh city. It is without a doubt, also the best way to tour the city. There are many back of the bike tours on offer; feel the wind in your face while moving from point to point to savour the most delicious local street food. Alternatively, you could take photos of popular places of interest in Ho Chi Minh city, from the rear seat of a 2-wheeler. Either way, it's less time spent in traffic, and more time to see more.
25. Cooking Class
There are very few better ways to travel a country than through its local cuisines. That's why many tourists have signed up for cooking lessons; not just to learn how to make local dishes, but also to understand the heritage, culture, and history behind the ingredients and cooking methods used. In order to provide a differentiated experience, some classes in Ho Chi Minh city introduced trendy concepts such as 'farm to table', 'using organic ingredients', or 'using plant-based meats', to students. With these innovations, food centred experiences are very popular things to do in Ho Chi Minh city.
TAKE A DAY TRIP FROM HO CHI MINH CITY
26. Vung Tau Seaside Resort
Spending a day in Vung Tau is one of the best things to do in Ho Chi Minh for beach lovers. Getting there is fairly convenient by ferry. Otherwise, you may wish to travel by shuttle bus or private car as well. As expected, Vung Tau's 4 main beaches are the highlight for thousands of visitors each day. The other notable attractions include the famous 'tallest statue of Christ in Asia', Bhuddist temples, and a unique 'Whale worship' site. Vung Tau is not short of great F&B options, with many restaurants selling deliciously fresh seafood, at relatively cheaper prices (if you know where to look). Cafes and bars are also aplenty.
27. Giang Dien Waterfall
A haven for the locals, away from the hustle and bustle of Ho Chi Minh city. Giang Dien waterfall is not exactly nature, but has been engineered in a way that allows visitors to still enjoy a myriad of activities amidst a natural landscape. For the adventurous few, fancy spending the night camping under the stars. But for the rest who prefer just to make it a day trip, the waterfall and its surrounding area provides plenty of opportunities for outdoor fun where one can: cycle, swim under the waterfall, row boating, zorbing, or simply have a picnic with friends.
28. Mui Ne Beach Town
We recommend taking a 5hr overnight trip from Ho Chi Minh city, to the beach resort town of Mui Ne, which will allow you to enjoy the breathtaking sunrise view just before breakfast. Mui Ne is well known for both its majestic red and white sand dunes, where you can spend the morning enjoying an exhilarating ride on a quad bike, or down the slopes on a sand sleigh. Visiting the Fairy Stream is another popular activity while in Mui Ne. And if time permits, do consider exploring the peaceful and quaint fishing village.
29. Tan Lap Floating Village
Tan Lap cajuput forest is located in the Tan Lap floating village tourist area, and perfect for a day trip from Ho Chi Minh city. It is a large primeval Melaleuca forest filled with all sorts of rich flora and fauna - such as turtles, snakes, storks and snakeheads. Visitors will need to take a short ferry ride into the forest, and cross a raised walkway through the soaring cajuput trees. They will also have access to a "Bird domestication area", to observe how birds are nurtured by Tan Lap floating village in their natural environment.
30. Buu Long Park
Buu Long park is located in Dong Nai province, only 30km from Ho Chi Minh. Being close to the city, a day trip to Buu Long park is highly recommended for anyone looking for unique things to do in Ho Chi Minh. The park boasts awesome surroundings, which features mountains, rivers, caves, and pagodas. Visitors can enjoy over 40 types of entertainment and attractions. This includes zones such as Long An mountain zone, the lake zone, prehistoric zone, pagoda zone, and its newest ecological space, Lan island. Picnic and camping facilities are also available.
ENJOY NIGHTLIFE AND NIGHT SCENES IN HO CHI MINH CITY
31. Bui Vien (Backpacker's) Street
For those who thrive on loud music and big crowds, Bui Vien walking street offers one of the most electrifying atmospheres in Ho Chi Minh. Here, both sides of the street are lined with a dazzling array of shops, restaurants, bars, and hotels. Kickstart your nightlife experience in Ho Chi Minh, by enjoying a few local brews as well as delicious street food. Bui Vien is by far, the most popular hangout area amongst young Vietnamese and tourists seeking entertainment in Ho Chi Minh. To top it all off, you will also find local aspiring artists performing here every evening.
32. Hidden Bars
Typical of any modern urban area, Ho Chi Minh city also features an astonishingly vibrant nightlife. There are many bars in Ho Chi Minh that are tucked away in small alleys, old apartments, and buildings - which is sure to surprise customers with their diverse cuisine and astonishing mixology. You can always count on these recommendations favored by, and advocated by local patrons, which guarantee great times whether you are with friends or with a loved one. • Layla - Eatery & Bar • Iron Bank – Cocktail Vault • Saigon Cocktails • Rabbit Hole • Snuffbox
33. Bitexco Financial Tower
Bitexco Financial Tower is one of the most iconic buildings in Ho Chi Minh city, and is also the fourth tallest building in the country. As a commercial hub, it also houses many retail spaces, F&B outlets, and most prominent of all, the Saigon Skydeck. The Saigon Skydeck, which is located on the 49th floor, offers a breathtaking, panoramic view of the beautiful city skyline. As night falls, the city lights up, making the overall experience even more stunning. Saigon skydeck is opened daily from 9.30am - 9.30pm.
34. Thu Thiem Bridge
Located across the beautiful Saigon River, this is an ideal place for young people to meet up for gatherings with friends, or for romantic dates. Many prefer to visit after sunset, when the fresh air is the most cool and relaxing. Budget conscious couples often choose this place for their dates, where they can take a leisurely walk on the bridge and enjoy a few snacks. Thu Thiem bridge has wide sidewalks on both sides, where you can comfortably sit and enjoy the cool breeze along the river. It's definitely a great place to view the brilliant city at night from another angle.
35. Night markets
When coming to Asia, you should definitely not miss out on visiting one of the many night markets in each city. This is also true in Vietnam, as it is widely regarded as one of the best things to do in Ho Chi Minh. Unlike the more modern variations which can be found in Singapore, Seoul, and Bangkok, night markets in Ho Chi Minh are more traditional, which is a strong reflection of the city as a whole. Nevertheless, their unique charm and colour is sure to add to your travel experience. Here are some of the most popular night markets in Ho Chi Minh city • Ben Thanh night market • Hanh Thong Tay night market • Hoa Binh night market • Ky Hoa night market • Ho Thi Ky night market
SAVOUR THE BEST STREET FOOD IN HO CHI MINH CITY
36. BBQ
Not the ones you will associate with American diners, but at the hyper local places, where you could enjoy a beer with another local, all while sitting on a low stool and table. Vietnamese BBQ usually offers a bigger variety of meats, seafood, and vegetables.

37. Oc (Sea Snails)
Oc are essentially the local version of snails, or 'escargots', if it makes you feel better tasting it. Oc comes in many variations, and are cooked in a million different ways. Our favourite is just to have it boiled and accompanied with a spicy dipping sauce. 

38. Bun Bo Hue
Originating from the country's historical capital of Hue, this beef noodle soup dish is simple yet satisfying. Each city has its own take on Bun Bo Hue, but the taste is generally rich, with a little spicy and sour. Great especially after a night of drinking.

39. Banh Mi
Vietnam's 2nd most well known dish outside of the country, apart from Pho. Banh Mi can be found almost anywhere in the world, but nothing comes close to the ones here. The secret to this is the original recipes for making the loaves, and the use of lard (banned in some countries).

40. Banh Xeo
Deep fried pancake stuffed with a generous portion of seafood or meat, and vegetables. Banh Xeo is best enjoyed with a sweet sipping sauce and a cup of hot local tea. The hot tea will help to wash down the otherwise excessive greasiness of the pancake.
FIND THINGS TO DO IN HO CHI MINH CITY FOR FREE
41. Nguyen Hue Walking Street
Nguyen Hue Walking Street was the first ever walking street to be established in Ho Chi Minh city. This is a pedestrian-only walkway, where the public can take beautiful photos while enjoying the cool evening breeze. On most nights, they will be accompanied by talented street performers, making it one of the best things to do at night in Ho Chi Minh city. Visitors can also enjoy the wide selection of street food while they take a stroll, or hop into the unique café apartment, an old apartment building turned hipster haven.
42. 42 Nguyen Hue Cafe Apartment
Till this day, we marvel at the person, whose ingenuity and creativity has turned this old apartment block, into a complex which houses dozen of trendy boutiques, cool cafes, and even beauty salons. Though the novelty has started to wear off since its introduction a few years ago, there's no denying that exploring the cafe apartment is still an interesting thing to do in Ho Chi Minh city. Each evening, visitors will be awed by the myriad of lights which is a spectacle in itself. And from each balcony, is a gorgeous front seat view of Walking street and Saigon river.
43. Dong Khoi Street
Among hundreds of streets in this city, Dong Khoi is arguably one of the most significant - socially, culturally, and historically. For over 150 years, it has seen numerous monumental events, and was an architectural landmark during the period of the French colonization. Today, Dong Khoi is a cultural and commercial hub, an area represented by premium shops, high end restaurants, and luxury hotels. It is also conveniently located in front of the Opera House, which gives Visitors another reason to explore. Taking a stroll on Dong Khoi in the evening remains a must do in Ho Chi Minh.
44. Bach Dang Wharf
Bach Dang wharf is a popular gathering points for local and foreigners alike. It comprises a park, a water bus station connecting District 1 to Thu Duc district, as well as a riverside coffee shop, where you can enjoy music shows on weekends, all for free. It is great place to visit to enjoy Ho Chi Minh at its fullest, and is especially beautiful at night. And next to it is a 5-star yacht restaurant, whose shimmering bright lights add to the whole atmosphere. Visitors can relax and unwind here, or enjoy a conversation over coffee in the nearby park.
45. Landmark81 park
Located along the Saigon River, the area, designed and also known as Central Park, was built at a cost of over 500 billion VND. Yet, everyone is welcome to spend a day here, and enjoy its beautiful scenery, without having to pay a single cent. Spanning an area of 14 hectares, visitors can catch a glimpse of Vietnam's highest building from here, the Landmark81. Apart from that, the scenery of the park is especially romantic and mesmerizing at night, therefore making our list of things to do at night in Ho Chi Minh city.
With the above recommendations, we hope that we have given you 45 more good reasons to extend your stay in Ho Chi Minh city. 
---
You may wish to check out our other recommendations in Ho Chi Minh