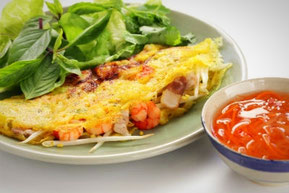 "Banh xeo" is considered one of the most popular street snacks in Southern Vietnam. It is a pancake made from rice flour, water and turmeric powder or coconut milk topped with pork, shrimp and bean sprouts. The cake is then wrapped in a variety of leaves (such as mustard leaves, lettuce leaves, mint leaves, basil, fish leaves) and herbs, and dipped into a special Vietnamese fish sauce called "nuoc mam". Many foreigners find it difficult to get used to the strong taste and smell of the fish sauce. But when they do, Banh Xeo becomes an uncontrollable addiction. Below are some places in which you can find the very best Banh Xeo in Saigon.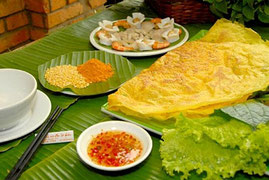 Ngoc Son Banh Xeo
103 Ngo Quuyen str., Ward 11 Dist. 5, HCMC
This is one of the most popular places that locals frequent whenever they craze a delicious traditional meal. Apart from the good variety of dishes that it serves, Ngoc Son is probably most famous for its banh xeo. People love the friendly service while the prices are extremely affordable. With over 20 years of experience in dishing out tantalizing traditional dishes, you are assured of the best original flavors of "banh xeo" here.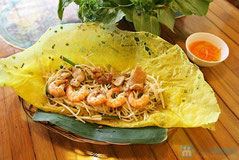 Muoi Xiem Banh Xeo
190 Nam Ky Khoi Nghia str., Ward 6 Dist. 3, HCMC
225-227 Nguyen Trai str., Dist. 1, HCMC
Having performed in the US as a Vietnamese folk artiste to introduce Vietnamese "Banh xeo" into the world, Mrs. Muoi Xiem's restaurant now ranks among the most well known in Saigon. Creativity sets her restaurant apart from the other more conservative outlets in Saigon. Besides the traditional version made with shrimp and pork, Muoi Xiem "Banh xeo" also boasts more than 76 other "Banh xeo" flavors created by Mrs. Muoi Xiem herself. For health conscious individuals, you'll also be glad to know that her "Banh xeo" is totally healthy with low fat recipes and clean vegetables processed by a high tech machine. So if you are looking for a more adventurous spin to "Banh xeo", this is a place you'll not want to miss.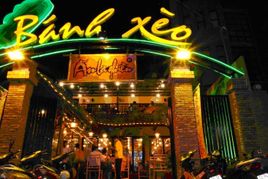 An La Ghien (Eat to be addicted) Banh Xeo
Branch 1: 54A Nguyen Van Troi str., Ward 15, Phu Nhuan Dist., HCMC
Branch 2: 74 Suong Nguyet Anh str., Ben Thanh Ward, Dist. 1,HCMC
Branch 3: 100A, Cao Thang str., Ward. 4, Dist. 3, HCMC
Coming to An La Ghien, you are treated to "Banh xeo" specially prepared to mirror those found in the Southern countryside. Besides its unique tastes, its decorations also introduce you to how the Southern villagers live their lives. With An La Ghien's signature leaf roofs, red bricks, and bamboo chairs, you will be instantly transported to a more serene countryside – a far cry from the hustling busy Saigon streets outside. There is nothing better than enjoying a traditional dish in its original space, while appreciating the essence of its existence.