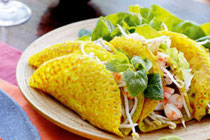 1. Banh Xeo (pronounced as bun siao)
A big (and we mean big) savoury fried pancake made of flour, and stuffed with a generous serving of beansprouts, seafood or chicken. There is also a vegetarian version which doesn't really appeal to us though. Simple as it is, not every restaurant does it well. 
Why you should try it? Who doesn't like crispy fried food?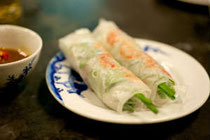 2. Goi Cuon (pronounced as goy coon)
The famous fresh Vietnamese springrolls with prawns, bean sprouts, vegetables, more vegetables, and even more vegetables wrapped in rice paper. Finally you dip that into a strong sauce and chilli, and you take a big bite of it. Most people love it. We hate it.
Why you should try it? Listed number 30 on World's 50 most delicious foods by CNN Go in 2011.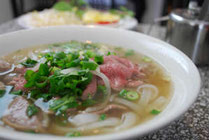 3. Pho (pronounced as fer)
Pho is the unofficial national dish of Vietnam - a bowl of rice vermicelli served in a thick hot broth with slices of either beef or chicken. But the only reason why it gets a mention in this article, is because the list recounts the most popular halal Vietnamese food, and it doesn't seem right to leave it out.
Why you should try it? If you don't, it's like going to Thailand and not having Tom Yam.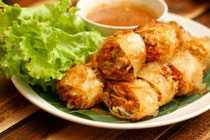 4. Cha Gio (pronounced as cha yor)
We can't seem to find an authentic taste of this Vietnamese delicacy anywhere else in the world. The halal version of this fried spring roll is usually made with seafood, and served as an appetizer. You may also request for Cha Gio to be added to your noodle dishes (see Bun Cha below at #10).
Why you should try it? Every bite is flavourful and leaves you craving for more.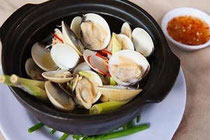 5. Ngheu Hap Sa (pronounced as niu harp sa)
If you are a fan of clams, this delicious dish of clams boiled in lemongrass is a must-have at every meal. We love how this soup, light tasting at the first sip, then somehow leaves a flavourful and lingering after taste. Great for light meals.
Why you should try it? Like most Vietnamese cuisine, the best is brought out of the simplest of ingredients.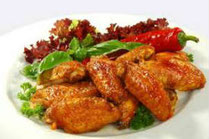 6. Canh Ga Chien Nuoc Mam (pronounced as karn gar chi-en nerk mum)
Little can go wrong with deep fried chicken, but add a serving of fish sauce to it, and this dish is taken to another level altogether.  Chicken wings are usually served, but other chicken parts are also becoming very popular.
Why you should try it? Tastes somewhat similar to Korean fried chicken, but with more flavour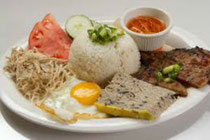 7. Com Tam (pronounced as kerm tum)
Broken rice was a popular staple of the poorer class Vietnamese farmers in the past. These days, the status of broken rice with grilled chicken has risen to a position almost equivalent to that of Vietnam's other globally renowned foods.
Why you should try it? It's filling. It's hearty. And it usually comes with a huge piece of grilled chicken.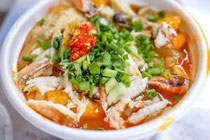 8. Banh Canh Cua (pronounced bun karn koo-err)
Thick chewy noodles made of tapioca and rice flour (somewhat like udon), cooked completely in a thick crab gravy is what you will enjoy with this dish. Rich in flavour, ridiculously fulfilling to the bite is how we would best describe it.
Why you should try it? Highly recommended for crab lovers who prefer to slurp than bite their food.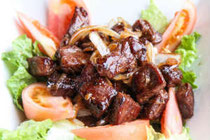 9. Bo luc lac (pronounced as bor look luck)
While the Vietnamese version of the beef steak does not come with the rare, medium, well done options, these succulent morsels will give most steakhouses in Vietnam a run for their money. Served as cubes alongside French fries, this Vietnamese rendition is one of the early attempts at fusion food.
Why you should try it? The beef is juicy and the price is great.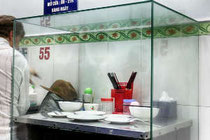 10. Bun Cha (pronounced as boon cha)
Ok, and now for that final special number 10 that is supposed to be the big fanfare, it's... drum rolls... Bun Cha. Bun Cha is Vietnamese rice vermicelli served dry with a sweet sauce, bean sprouts, and grilled meat. While Bun Cha is not halal, but there is a grilled chicken version (which we prefer) called the Bun Ga Nuong that would be served at halal restaurants. You may have read in recent days that the restaurant in which Barack Obama (together with Anthony Bourdain) ate at when he visited Hanoi, has enshrined the now famous Bun Cha in their shop. So we say, if you wish to eat like a president, eat like Obama. And if you wish to eat like a king, read this.
When traveling to Vietnam, we recommend that you stay off the trodden path, and try some of the famously delicious Halal Vietnamese cuisine. Who knows, food may just be the reason why more Muslims would want to explore this beautiful country.
---
You may wish to check out other articles related to Muslim travel in Vietnam