---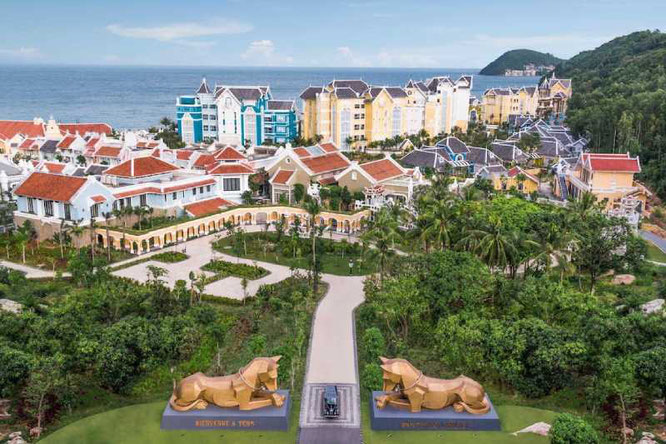 Disclosure: We may receive affiliate commission, at no extra cost to you, if you decide to purchase a product or service via some of the links found on our website.
Phu Quoc is one of the largest islands in the Gulf of Thailand, featuring white-sand beaches, blue skies, and lush greenery forests. On this island, you will find all the luxury and unique natural experiences that Vietnam has to offer. Since the re-opening of borders, more airlines have also been offering direct flights into Phu Quoc. Therefore, if you're planning an ultra-luxurious trip to this island, check out this list of the 5 best luxury hotels in Phu Quoc island.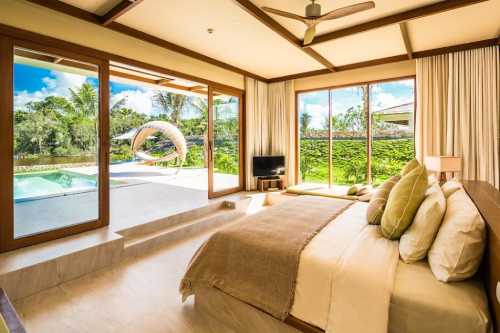 1. FUSION RESORT PHU QUOC - ALL SPA INCLUSIVE
Fusion Resort Phu Quoc sits on Cua Can island, north of Phu Quoc island, surrounded by an extraordinary beach and lush tropical forests. Guests of the resort have easy access to popular entertainment destinations such as Grand World Phu Quoc (3km), Vinpearl Golf Phu Quoc (6km), Vinpearl Phu Quoc, and Vinpearl Safari (8km). There are 143 villas at Fusion Resort, all of which are constructed from contemporary and sustainable materials. The luxury villas feature an open design, a private pool, and a spacious terrace where you can enjoy nature's beauty. Other amenities at this luxury hotel in Phu Quoc include a premium spa, tennis courts, and diverse dining options. In addition, guests can also take advantage of private tours & excursions on Phu Quoc.
Address: Vung Bau Beach, Cua Can ward, Phu Quoc, Kien Giang
Standard: 5 star
Agoda rating: 8.7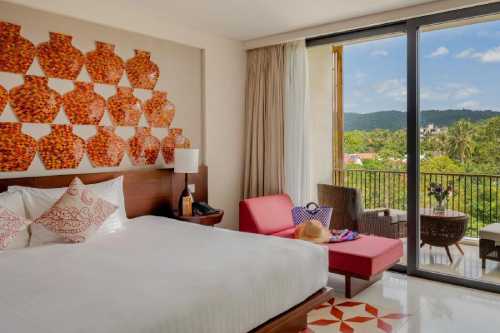 2. SALINDA RESORTS PHU QUOC
The Salinda Resorts is a luxury hotel in Phu Quoc which promises you and your loved ones a truly serene getaway. It offers an amazing view of the ocean, as well as of long stretches of pristine white sand. Moreover, Salinda's prime location allows you to commute effortlessly to nearby popular destinations such as Duong Dong Market, Dinh Cau Temple, and Coi Nguon Museum, all of which are less than 5km away. 121 villas, suites, and rooms make up Salinda's ultra-luxury island experience. Rooms are designed with a contemporary style, a touch of local art, and an array of high-end amenities. As part of its commitment to sustainability, Salinda Resorts Phu Quoc also utilizes many biodegradable and renewable materials throughout the resort.
Address: Cua Lap Hamlet, Duong To Commune, Phu Quoc, Kien Giang
Standard: 5 star
Agoda rating: 8.7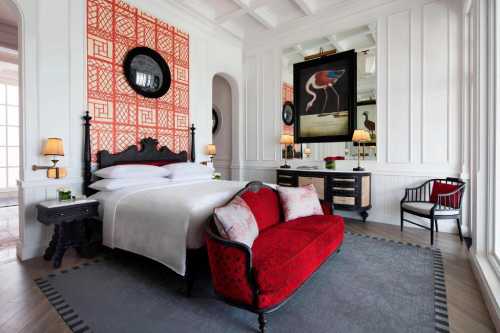 3. JW MARRIOTT PHU QUOC EMERALD BAY RESORT & SPA
Located along the beautiful shoreline, the JW Marriot Phu Quoc is one of the best hotels you will find on the island. With its location in An Thoi town, this luxury hotel in Phu Quoc offers easy access to Khem beach and historical attractions like Phu Quoc Prison and Ho Quoc Temple. The entrance is built with concrete from a former 19th-century French university. As you walk through the bright, mosaic-tiled lobby, you will see the seashell-shaped pool surrounded by white sand taken from Khem beach. The rooms and suites are decorated in a lavish French style, and each has a private balcony overlooking the ocean. Guests at JW Spa are also entitled to complimentary beauty, massage, and wellness sessions.

Address: Bai Khem, An Thoi Town, Phu Quoc, Kien Giang

Standard: 5 star
Agoda rating: 9.2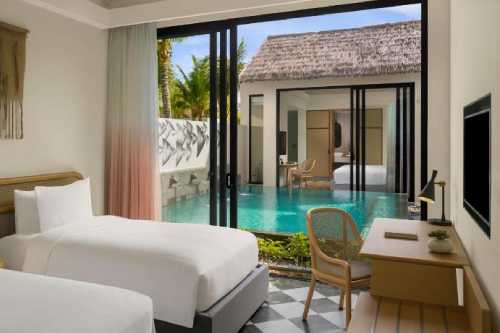 4. NEW WORLD PHU QUOC RESORT
Located on Phu Quoc's southwest tip, New World Phu Quoc is the ideal luxury retreat for visitors to the island. The resort is only a few kilometers away from many attractions, such as Hon Thom island and Suoi Tranh waterfall. In addition, it feels like a miniature island, with thatched-roof suites and shapeless pools surrounded by coconut trees. With a blend of contemporary style and local craftsmanship, the design of the hotel brings a sense of comfort and sphistication. All 375 suites come with gardens, sunbathing areas, and swimming pools. Guests at this luxury hotel in Phu Quoc can enjoy local cuisine and drinks at the Bay Kitchen restaurant, next to a poolside bar. Yoga classes, beach activities, and gym facilities are also available for use at the well-being center.
Address: Khem Beach, An Thoi Town, Phu Quoc, Kien Giang

Standard: 5 star

Agoda rating: 9.2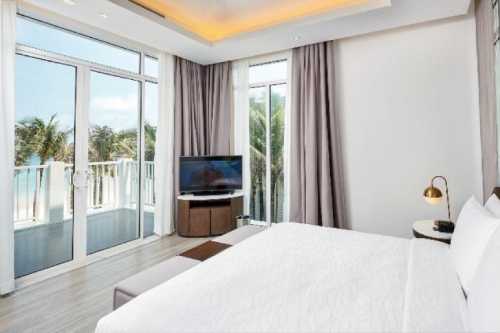 5. PREMIER VILLAGE PHU QUOC - MANAGED BY ACCOR HOTELS
Lying on the canal to the Southern tip of Phu Quoc, Premier Village Phu Quoc Resort is flanked by the sea on both sides. From here, visitors can easily reach famous Phu Quoc attractions, like Gam Ghi island, Sung Duc pagoda, or Hon Thom cable car. The resort is characterized by oriental style mixed with a contemporary touch. All 215 suites have private pools, a BBQ area, and a sea view balcony. Guests of the hotel can also swim in one of the resort's unique, multi-layer pools that connect both beach peninsulas at this luxury hotel in Phu Quoc. A visit to the hill-top Plumeria Spa is not only a perfect way to unwind and unwind, but also to watch both sunrise and sunset, regardless of the weather.
Address: Ong Doi Cape, An Thoi Ward, Phu Quoc, Kien Giang
Standard: 5 star
Agoda rating: 8.6
---
You may wish to check out our other recommendations in Phu Quoc