---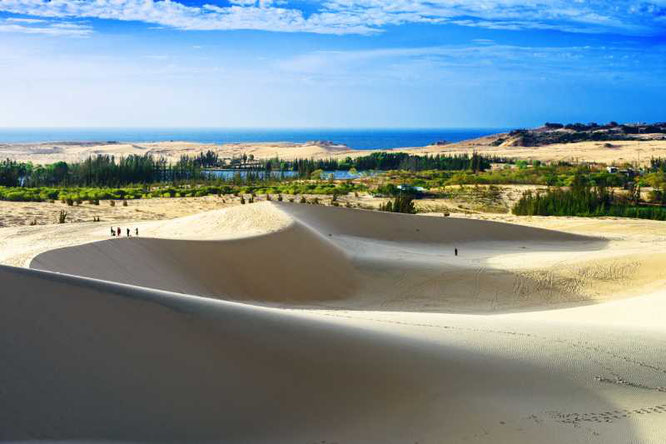 Disclosure: We may receive affiliate commission, at no extra cost to you, if you decide to purchase a product or service via some of the links found on our website.
1. WHERE IS MUI NE
Mui Ne is a quaint town in the city of Phan Thiet, which is about 200km away from Ho Chi Minh city. As a tourist town, it is busiest between December and April, and quietest during the rainy season. Mui Ne used to be a small fishing village on a remote stretch of coastline, but it now sees a lot more tourists than locals. In addition to the visitors who come just for a day trip, there are also equally as many who choose to stay over for a few nights. And before Covid19, the number of hotels, restaurants, and bars had also been increasing exponentially to meet the demand. For those who are coming here for the first time, there are numerous things to do in Mui Ne, as well as a variety of attractions ranging from beautiful beaches, tropical forests, and sand dunes to traditional villages, fishing ports, and ancient Cham ruins.
2. HOW TO GET TO MUI NE
There are no flights or trains going directly into Mui Ne. Apart from renting a private vehicle, the most convenient way to get to Mui Ne is via a sleeper bus from Ho Chi Minh. For 200k VND /person/way, these comfortable buses to Mui Ne will get visitors there in about 5 hours. Night trips are highly recommended, because you will be able to catch a quick nap, and arrive just in time to enjoy the beautiful sunrise.
3. VISIT THE BEST BEACHES IN MUI NE
Mui Ne is well known for its beautiful beaches, so if you are looking for the best beaches in Mui Ne, you will want to check out Bai Rang Beach, Hon Rom Beach, and Ganh Son Beach. Bai Rang is a great place to go swimming, sunbathing, and snorkelling. The water is crystal clear and the sand is white and soft. Hon Rom is known for its dramatic rock formations and excellent surfing conditions. It is also a great place to watch the sunset. Ganh Son is a secluded beach that is perfect for a relaxing day by the water. It is not as crowded as some of the other beaches, and you can find some great spots to swim and relax in the shade of the palm trees.
4. ENJOY GREAT FOOD AT THE BEST RESTAURANTS IN MUI NE
There are some great restaurants in Mui Ne, and the best ones are definitely worth checking out. At Forest Restaurant, you can enjoy a delicious mix of Vietnamese and Western cuisine. The Thai green curry is a real standout dish, and the restaurant itself has a really nice atmosphere. For meat lovers, Thung Bar & Grill is the place to go for some really good grilled meat. The Australian beef is especially tasty, and the staff is really friendly and welcoming. Last but not least, Cham Garden Restaurant is a great choice for seafood lovers. The seafood barbecue is definitely worth trying, and the restaurant has a really relaxed vibe.
5. CHECK OUT THE VIBRANT MUI NE NIGHTLIFE
There is no better place to spend an evening than at Joe's Cafe, if you are a party animal looking for nightlife in Mui Ne. Besides having a great vibe, you will also find that the drinks are cheap as well. There is also another great nightlife spot in the area called Deja Vu Bar & Restaurant, which has a really cool atmosphere and plays some really good music. Check out Pogo Beach Club if you are looking for something a little more laid-back. With a fantastic cocktail menu and beachside seating, the restaurant offers an amzing beachfront experience. Take in the ocean views while you drink and simply just immerse yourself in the moment!
6. SHOP IN LOCAL MARKETS IN MUI NE
A visit to the markets in Mui Ne is an excellent way to gain a deeper understanding of the culture of the region. There are three markets, the Mui Ne Fishing Village Market, Phan Thiet Central Market, and Rang Beach Market, and each of them has its own unique flavor. The Mui Ne Fishing Village Market is the smallest of the three, but it is definitely worth a visit for its fresh seafood. Phan Thiet Central Market is a little larger, and is a great place to buy souvenirs and local produce. Last but not least, you should consider visiting the Rang Beach Market, which is the most touristy of the three, but it is still worth a visit because of the vast variety of products on offer.
7. VISIT TOP ATTRACTIONS IN MUI NE
Mui Ne's Po Sah Inu Cham Towers is a great place to begin your exploration. You can spend an hour or so exploring the grounds of the towers, which is an excellent example of Cham architecture. After that, visit the Fairy Stream. If you visit Mui Ne, you cannot miss seeing this natural attraction. Swim in the cool waters of the stream as it winds its way through the jungle. End your day by checking out the Prince Castle. For good reason, this imposing structure is one of Mui Ne's most popular tourist attractions. Do not miss the chance to stroll around the grounds of the castle and take some photos while you are there.
8. EXPERIENCE UNIQUE ACTIVITIES IN MUI NE
The majestic Red and White Sand Dunes in Mui Ne are two great places to explore. And if you are interested in activities in Mui Ne that are a little more adventurous, you can also take a ride on an ATV, or on a sand sleigh down the sand dunes in Mui Ne! The cable car ride on the Ta Cu Mountains is another must-do that offers stunning views of the mountains and is a great way to get up close with the local nature. Finally, do not miss the Fisherman Show! It is a real cultural experience, and you will be able to see some traditional fishing techniques that are unique to the Vietnamese fishermen.
---
You may wish to check out our other recommendations in Mui Ne