---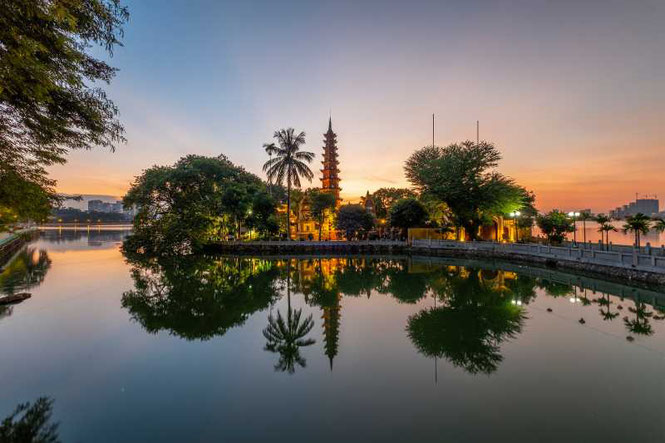 Disclosure: We may receive affiliate commission, at no extra cost to you, if you decide to purchase a product or service via some of the links found on our website.
Hanoi, the capital of Vietnam, is a city rich in history and culture, making it a must-visit destination for any traveler. As a Muslim traveler, you may wonder how accommodating the city is for those adhering to Islamic principles. Worry not, as Hanoi is a welcoming city for Muslim tourists, offering an array of options to cater to your needs. From halal food to prayer spaces, this guide will cover the essentials for a fulfilling Muslim travel experience in Hanoi.
Accommodation in Hanoi for Muslim Tourists
When it comes to finding a place to stay in Hanoi, we recommend that Muslim tourists choose a Muslim friendly hotel in Hoan Kiem lake, near the Old Quarter. These hotels are located close to attractions, amenities, and Halal restaurants in Hanoi, but away from nightlife. Some hotels in Hanoi cater to Muslim guests by providing prayer mats and a list of nearby mosques and halal restaurants. They may even offer halal food services in their in-house restaurants. A few well-known Muslim-friendly hotels in Hanoi include Sofia Boutique Hotel, Hanoi Serene Hotel, and Hanoi E Central Hotel. These hotels are not only known for their excellent services but also for their commitment to catering to the needs of Muslim guests. It's always a good idea to communicate your requirements to the hotel staff upon booking to ensure that they can provide you with the necessary services.
Visit Agoda.com for reviews and the best deals on Muslim friendly hotels in Hanoi
Halal Food in Hanoi
Finding halal food in Hanoi is not as challenging as one might think. With the increasing number of Muslim tourists visiting the city, many restaurants have adapted their menus to cater to the halal market. You can now find a variety of halal or vegetarian eateries in Hanoi, serving both local and international cuisines. You'll find halal food stalls at popular tourist spots, such as the Old Quarter and Hoan Kiem Lake. Some famous halal restaurants in Hanoi include D'Lions Restaurant, P.K Spice Restaurant, and Little India Restaurant. These restaurants offer a diverse range of cuisines, from Vietnamese and Malaysian to Indian and Middle Eastern, ensuring that there's something for everyone. In addition to halal-certified restaurants, you can also find Muslim-owned eateries in Hanoi. These establishments may not have official halal certification, but they adhere to Islamic dietary guidelines by serving only halal ingredients. A quick online search or inquiry at your accommodation can help you locate the nearest Muslim-owned food establishments.
Visit Agoda.com for reviews and the best deals on Muslim friendly hotels in Hanoi
Transportation in Hanoi
When it comes to getting around Hanoi, Muslim travelers have several options to choose from. Taxis are a popular option for getting around Hanoi. They are widely available and metered, ensuring that you pay a fair price for your journey. Be sure to choose a reputable taxi company, such as Mai Linh or Vinasun, to avoid scams or inflated fares. You can also use ride-hailing apps like Grab or Be for added convenience and safety. Motorbike taxis, or "xe om," are also a quintessential mode of transport in Hanoi. They offer a quick and exciting way to navigate the city's traffic and narrow streets. However, they may not be suitable for everyone, particularly if you have concerns about safety or modesty.
Visit Agoda.com for reviews and the best deals on Muslim friendly hotels in Hanoi
Historical and Cultural Attractions in Hanoi for Muslim Tourists
Hanoi is a city steeped in history and culture, and there are plenty of attractions for Muslim tourists to explore. The city's rich past is evident in its architecture, museums, and cultural sites, providing an immersive experience for visitors.
The Temple of Literature is a must-visit site for history enthusiasts. This ancient temple, built in 1070, was dedicated to Confucius and served as Vietnam's first university. Today, it stands as a symbol of the country's rich educational and cultural heritage.
The Vietnam Museum of Ethnology is another excellent destination for those interested in learning about the country's diverse ethnic groups. The museum houses a vast collection of artifacts, photographs, and interactive exhibits, offering a comprehensive introduction to Vietnam's rich cultural tapestry.
For a deeper understanding of Vietnam's history, visit the Hoa Lo Prison Museum. This former prison, also known as the "Hanoi Hilton," was used by the French colonists to imprison Vietnamese revolutionaries and later by the North Vietnamese to hold American prisoners of war. The museum showcases the prison's history, conditions, and the stories of its inmates, providing a thought-provoking experience.
Visit Agoda.com for reviews and the best deals on Muslim friendly hotels in Hanoi
Must-see Landmarks in Hanoi for Muslim Tourists
Hanoi is home to several iconic landmarks that should not be missed during your visit. These landmarks not only hold historical significance but also provide a glimpse into the city's vibrant culture and daily life.
The Hoan Kiem Lake, located in the heart of Hanoi, is a picturesque spot surrounded by lush greenery and charming colonial-era buildings. The lake is a popular gathering place for locals and tourists alike, and you can often find people practicing tai chi, playing chess, or simply enjoying the serene atmosphere.
The One Pillar Pagoda, a unique architectural gem, is another must-see landmark in Hanoi. Built in 1049, this wooden pagoda stands on a single stone pillar, symbolizing a lotus flower emerging from the water. The pagoda is a popular destination for both spiritual seekers and architecture enthusiasts.
The Hanoi Opera House, a stunning example of French colonial architecture, is a testament to Hanoi's rich cultural scene. The opera house hosts various performances throughout the year, from ballet and opera to traditional Vietnamese music and dance. Be sure to check the schedule and catch a show during your visit.
Visit Agoda.com for reviews and the best deals on Muslim friendly hotels in Hanoi
Day Trips from Hanoi for Muslim Tourists
In addition to its historical and cultural landmarks, Hanoi is also blessed with beautiful natural attractions, making it worthwhile taking day trips from Hanoi. These scenic spots provide a refreshing escape from the bustling city and offer a glimpse into Vietnam's diverse landscapes.
The West Lake, or "Ho Tay" in Vietnamese, is Hanoi's largest freshwater lake and a popular recreational area for both locals and tourists. The lake is surrounded by lush gardens, ancient temples, and luxurious villas, making it an ideal destination for leisurely strolls or picnics.
The Ba Vi National Park, located about 60 kilometers from Hanoi, is another must-visit natural attraction. The park is home to a diverse range of flora and fauna, as well as stunning mountain landscapes. Visitors can hike to the park's highest peak, Mount Ba Vi, or explore its numerous trails and waterfalls.
The Perfume Pagoda, a complex of Buddhist temples built into the limestone cliffs of the Huong Tich Mountains, is a unique natural attraction that combines both spiritual and scenic elements. The journey to the pagoda involves a serene boat ride along the Yen River, followed by a hike or cable car ride up the mountain. The panoramic views and mystical atmosphere of the pagoda are well worth the effort.
Visit Agoda.com for reviews and the best deals on Muslim friendly hotels in Hanoi
Off-the-Beaten-Path Attractions in Hanoi for Muslim Tourists
If you're looking to explore Hanoi beyond its popular tourist attractions, the Hanoi Ceramic Mosaic Mural, stretching over 6 kilometers along the Red River dyke, is a hidden gem that showcases the artistic talents of the local community. The mural, created by both Vietnamese and international artists, features colorful and intricate designs that depict Vietnam's history and culture.
The Long Bien Bridge, a historic cantilever bridge built during the French colonial period, offers a fascinating glimpse into Hanoi's past and present. The bridge, which was heavily damaged during the Vietnam War, is still in use today and serves as a symbol of the city's resilience. A stroll across the bridge offers stunning views of the city and the Red River.
The Duong Lam Ancient Village, located about 50 kilometers from Hanoi, is a well-preserved example of traditional Vietnamese architecture and rural life. The village is home to centuries-old houses, temples, and pagodas, offering visitors a rare opportunity to step back in time and experience the charm of old Vietnam.
Visit Agoda.com for reviews and the best deals on Muslim friendly hotels in Hanoi
Best Ways to See the Sights of Hanoi for Muslim travelers
To make the most of your stay in Hanoi, consider joining a Muslim friendly group tour or arranging a private tour tailored to your interests. Guided tours can provide valuable insights into the city's history, culture, and hidden gems, making your visit more enriching and memorable.
Muslim Hanoi tour operators offer various packages that cater specifically to Muslim travelers, ensuring that your experience is both enjoyable and respectful of your faith. These tours often include visits to mosques, halal restaurants, and shopping centers that cater to Muslim customers.
Alternatively, you can explore Hanoi independently using public transportation, taxis, or rented bicycles. This allows you to set your own pace and itinerary, ensuring that you have the freedom to discover the city's many attractions at your leisure.
Visit Agoda.com for reviews and the best deals on Muslim friendly hotels in Hanoi
Conclusion: Why Hanoi is a Must-Visit Destination for Muslims
Hanoi is a captivating city that offers a wealth of experiences for Muslim travelers. Its rich history, vibrant culture, and stunning natural attractions make it a must-visit destination for anyone seeking a unique and enriching travel experience. With its growing number of Muslim-friendly accommodations, halal food options, and accessible transport options, Hanoi is an increasingly welcoming destination for Muslim tourists. So why wait? Start planning your unforgettable Muslim travel Hanoi adventure today!
---
You may wish to check out other articles related to Muslim travel in Hanoi