---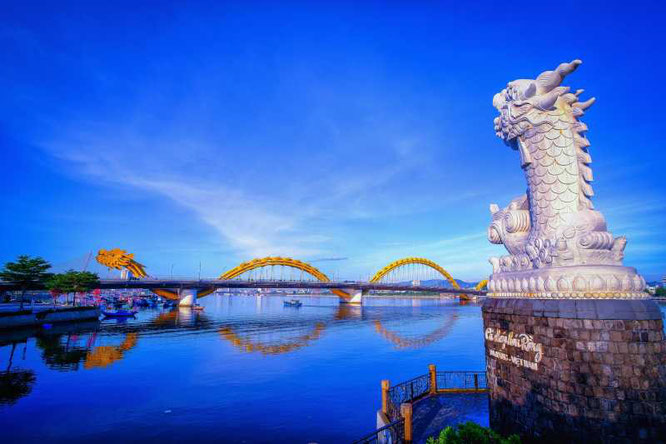 Disclosure: We may receive affiliate commission, at no extra cost to you, if you decide to purchase a product or service via some of the links found on our website.
‍Welcome to Da Nang, Vietnam's captivating coastal gem that effortlessly blends the allure of pristine beaches with the rich tapestry of cultural heritage. This thriving city promises a treasure trove of unforgettable experiences, just waiting for you to explore. With its mesmerizing natural landscapes, tantalizing culinary delights, and vibrant local culture, Da Nang is the ultimate destination for travelers seeking a unique and immersive adventure. Whether you're a history buff, a beach lover, or a food enthusiast, there's something for everyone in this enchanting coastal haven. So pack your bags and get ready to embark on an unforgettable journey as we unveil the top 10 must-dos and hidden gems of Da Nang, the crown jewel of Vietnam's stunning coastline.
Exploring the Pristine Beaches In Da Nang
Da Nang's coastline is lined with an array of stunning beaches that are perfect for sunbathing, swimming, and water sports. One of the most locally loved beaches is Xuan Thieu Beach, a spectacular yet non-touristy beach that will leave you breathless with its stunning beauty! Away from the tourist crowds, this untouched paradise is a haven for those seeking tranquility and an authentic experience. Xuan Thieu Beach is a treasure trove of golden sands, crystal-clear waters, and swaying palm trees.
Another must-visit beach is Hoa Hiep beach, which boasts a more serene and secluded atmosphere compared to the bustling My Khe Beach. Located 7km southwest of Da Nang, this non-touristy beach offers an unspoiled getaway for those looking to escape the crowded and commercialized beaches. Surrounded by lush green mountains and features gentle waves, Hoa Hiep beach is the perfect destination for a truly authentic and unforgettable beach experience.
For those seeking an off-the-beaten-path beach experience, head to Son Tra Peninsula, where you'll find Bai Bac, a secluded cove with calm waters and a peaceful vibe. This hidden gem is perfect for a romantic picnic, snorkeling, or simply enjoying the tranquility of nature. The peninsula is also home to the endangered Red-Shanked Douc Langur, so keep your eyes peeled for a chance to spot these rare primates in their natural habitat.
Visit Agoda.com for reviews and the best deals on Hotels In Da Nang City
Must-Visit Historical Sites and Landmarks In Da Nang
Da Nang is a treasure trove of historical and cultural landmarks that provide a fascinating insight into the city's rich heritage. One of the most iconic sites is the Dragon Bridge, a 666-meter-long bridge that spans the Han River. The bridge is designed to resemble a dragon, and it is illuminated by thousands of LED lights every night. On weekends and during special events, the bridge even breathes fire and water, creating a truly spectacular sight.
History buffs will be enthralled by the Museum of Cham Sculpture, which houses the world's most extensive collection of Cham artifacts, dating back to the 7th century. The museum's exquisite sculptures, intricate carvings, and informative exhibits provide a captivating glimpse into the history and culture of the ancient Cham civilization, which ruled Central and Southern Vietnam for over a thousand years.
Another must-visit historical site is the Imperial City of Hue, a UNESCO World Heritage site located just a few hours' drive from Da Nang. This sprawling complex features well-preserved palaces, temples, and ancient buildings that once served as the seat of power for the Nguyen Dynasty. As you wander through the beautifully manicured gardens and ornate structures, you'll feel as though you've been transported back in time to the height of Vietnam's imperial age.
Visit Agoda.com for reviews and the best deals on Hotels In Da Nang City
Cultural Experiences and Local Traditions In Da Nang
Immersing yourself in Da Nang's local culture is an essential part of any visit to this captivating city. To gain a deeper understanding of Vietnamese traditions, be sure to visit the Linh Ung Pagoda, a magnificent Buddhist temple complex that boasts stunning architecture, intricate carvings, and breathtaking views of the city and coastline. The pagoda's crowning glory is a towering 67-meter-tall statue of the Goddess of Mercy, which is visible from almost anywhere in Da Nang and serves as a symbol of protection and serenity.
Another cultural experience not to be missed is a visit to Non Nuoc Stone Carving Village. Immerse yourself in the rich history and unique craftsmanship of this remarkable village, known for its exquisite stone sculptures and intricate carvings. Here, you'll witness highly skilled artisans transforming raw marble and stone into breathtaking masterpieces, using techniques passed down through generations. Lose yourself in the maze of workshops and galleries, each showcasing an array of magnificent creations, from delicate accessories to awe-inspiring statues.
For a truly immersive cultural experience, consider taking part in a Vietnamese cooking class or participating in a traditional tea ceremony. These hands-on activities will allow you to engage with local customs and traditions, while also providing you with the opportunity to learn new skills and make lasting memories.
Visit Agoda.com for reviews and the best deals on Hotels In Da Nang City

Adventure Activities and Outdoor Pursuits In Da Nang
Da Nang offers a plethora of adventure activities and outdoor pursuits for thrill-seekers and nature lovers alike. One of the most popular activities is hiking in the nearby Bach Ma National Park, a protected area that boasts a diverse range of flora and fauna, as well as stunning natural landscapes. The park's challenging trails will lead you past cascading waterfalls, lush forests, and breathtaking viewpoints, providing ample opportunities for photography and birdwatching.
Another exhilarating outdoor pursuit is ziplining at the Ba Na Hills, a popular resort area that offers a range of adrenaline-pumping activities, such as a 700-meter-long zipline and a thrilling alpine coaster. The Ba Na Hills are also home to the iconic Golden Bridge, a 150-meter-long pedestrian bridge that appears to be held aloft by two giant stone hands. This architectural marvel offers incredible views of the surrounding mountains and is a must-visit attraction for any adventurous traveler.
Water sports enthusiasts will be delighted by the array of activities available along Da Nang's pristine coastline, including snorkeling, scuba diving, jet-skiing, and parasailing. The crystal-clear waters and abundant marine life make Da Nang an ideal destination for underwater exploration, while the warm tropical climate and gentle sea breezes provide perfect conditions for wind and water-based sports.
Visit Agoda.com for reviews and the best deals on Hotels In Da Nang City
Discovering Local Cuisine and Street Food In Da Nang
Da Nang's culinary scene is a melting pot of flavors and influences, offering a tantalizing array of dishes that are sure to delight your taste buds. To truly experience the city's gastronomic delights, be sure to sample some of the local specialties, such as Mi Quang, a delicious noodle dish made with rice noodles, savory broth, and a variety of toppings, including shrimp, pork, and quail eggs. Another must-try dish is Banh Xeo, a crispy rice flour pancake filled with shrimp, bean sprouts, and pork, served with a tangy dipping sauce. Click here for list of local Vietnamese restaurants in Da Nang.
For a more casual dining experience, head to the bustling street food markets, where you'll find vendors serving up a mouthwatering array of dishes at affordable prices. Don't miss the opportunity to try some freshly grilled seafood, such as succulent prawns or tender squid, served with a zesty dipping sauce and a side of fragrant herbs. Additionally, be sure to sample some of the city's famous dessert offerings, such as Che, a sweet soup made with a variety of ingredients, including fruit, tapioca, and coconut milk.
To deepen your appreciation for Vietnamese cuisine, consider signing up for a guided food tour, which will take you to some of the city's best street food spots and hidden culinary gems. These tours often provide insightful commentary on the history and culture of Da Nang, as well as offering the chance to interact with friendly locals and learn more about their culinary traditions.
Visit Agoda.com for reviews and the best deals on Hotels In Da Nang City
Experiencing Da Nang's Vibrant Nightlife
When the sun sets, Da Nang comes alive with a vibrant nightlife scene that offers something for everyone. From lively bars and clubs to more laid-back lounges and cafes, there's no shortage of options for a memorable night out in this bustling city. For a truly unique experience, head to the Sky36 Bar, a swanky rooftop lounge that boasts panoramic views of the city and an extensive cocktail menu. This sophisticated venue is the perfect spot to sip on a refreshing drink while soaking up the glittering cityscape below.
For a more traditional nightlife experience, make your way to the bustling Riverside area, where you'll find a plethora of bars, pubs, and clubs catering to a diverse range of tastes and preferences. Popular venues include the Bamboo Bar, which offers live music and a lively atmosphere, and the Waterfront, a stylish bar and restaurant with a chic outdoor terrace overlooking the Han River.
If you're looking to dance the night away, head to one of Da Nang's vibrant nightclubs, such as New Phuong Dong, a local favorite that plays a mix of international and Vietnamese hits. Alternatively, for a more laid-back evening, consider attending a traditional Vietnamese water puppet show or an outdoor cinema screening, both of which offer a captivating glimpse into the city's rich cultural heritage.
Visit Agoda.com for reviews and the best deals on Hotels In Da Nang City
Da Nang's Hidden Gems and Off-The-Beaten-Path Attractions
While Da Nang's popular attractions are certainly worth a visit, the city also boasts a number of lesser-known gems that are well worth seeking out. One such hidden gem is the Da Nang Cathedral, also known as the Pink Church, a stunning Gothic-style structure that features an eye-catching pink façade and a towering bell tower. This beautiful church is a testament to the city's diverse architectural influences and offers a serene respite from the bustling streets outside.
Another off-the-beaten-path attraction is the Da Nang Street Art Village, a vibrant and colorful district that showcases the city's thriving art scene. Wander through the narrow alleys and admire the many murals and graffiti that adorn the walls, or visit one of the numerous workshops and galleries to learn more about local artists and their creative processes.
For nature lovers, the Monkey Mountain, also known as Son Tra Mountain, offers a peaceful escape from the city and the chance to encounter some of Vietnam's most fascinating wildlife. Take a leisurely hike through the lush forests, or rent a motorbike and explore the mountain's winding roads and stunning viewpoints. Keep an eye out for the endangered Red-Shanked Douc Langur, as well as a variety of other species, such as macaques, deer, and a diverse array of bird life.
Visit Agoda.com for reviews and the best deals on Hotels In Da Nang City
Conclusion
With its captivating blend of natural beauty, rich cultural heritage, and mouthwatering cuisine, Da Nang is a destination that truly has something for everyone. Whether you're seeking adventure, relaxation, or an immersive cultural experience, this enchanting coastal city is sure to leave a lasting impression. From its stunning beaches and iconic landmarks to its vibrant nightlife and hidden gems, Da Nang is a must-visit destination for any discerning traveler seeking an unforgettable adventure in Vietnam.
---
You may wish to check out our other recommendations in Ho Chi Minh