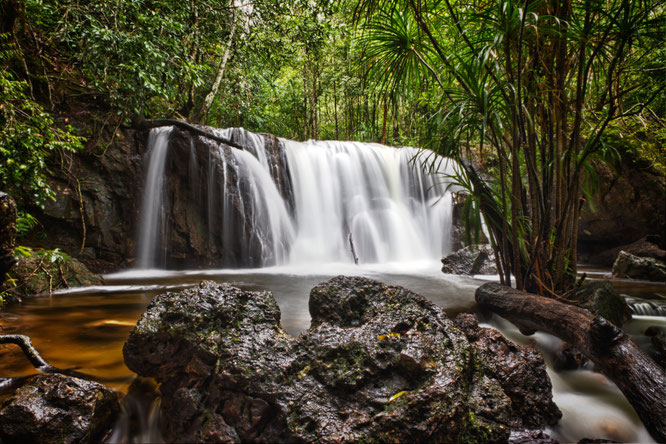 WHERE IN THE WORLD IS PHU QUOC ISLAND?
With the easing of travel restrictions in Vietnam, it comes as no surprise that Phu Quoc island has been earmarked to spearhead the recovery of tourism in Vietnam. Apart from being the country's biggest island, Phu Quoc has seen an exponential growth economically due to its booming tourism sector. Yet, outside of Vietnam, not much is known about this quaint and unassuming island. That is certainly expected to change in the next few months, as Vietnam prepares to receive its international visitors once again. Geographically, Phu Quoc is situated off the Gulf of Thailand, about 380km westwards of Ho Chi Minh city
HOW DO I GET TO PHU QUOC ISLAND?
There are several ways to get to Phu Quoc:
By international flight. List of cities offering direct flights to Phu Quoc can be found here
By domestic Phu Quoc flights from Tan Son Nhat aiport (Ho Chi Minh city) to Phu Quoc airport. Travel time takes about 1hr - take the hassle out of travel with Klook airport transfers
By car door to door from Ho Chi Minh city. Travel time takes about 8hrs
By night coach and ferry from Ho Chi Minh city. Travel time takes about 11hrs getting from Mien Tay bus station (Ho Chi Minh) – Rach Gia – Ha Tien ferry terminal – Phu Quoc island
WHAT THINGS ARE THERE TO DO ON PHU QUOC ISLAND?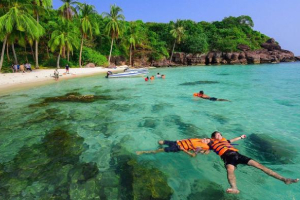 Explore some of the most beautiful islands you will ever see
Located on the south-east coast of Phu Quoc, An Thoi town is an absolutely stunning collective of 15 islets, only 5 of which are inhabited. For that reason, its pristine wilderness has still been kept very much intact. An Thoi islands is very famous with divers for its numerous gorgeous coral reefs and mesmerizing tropical fish, which are easily seen through the crystal clear waters. It is also home to the mysterious Dugong and other rarely found sea life. Tourists who come here can usually be seen swimming, fishing, and kayaking in Phu Quoc. In recent times, there has been a lot of talk of development to the area, so be sure to visit before it gets tainted by tourism footprints. An Thoi islands is accessible only by ferry.
Book an island hopping experience with Klook.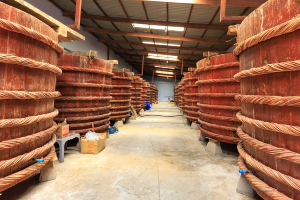 Visit the fish sauce factories
A major contributor to Phu Quoc's economy is its manufacturing and distribution of fish sauce worldwide. Phu Quoc produces an astonishing 12 million litres of fish sauce each year, and has around 85 factories on the island. There are 3 factories that you may visit, the most popular one being Khai Huan Phu Quoc fish sauce factory, which is located near the market. Step into the factory and you will soon be greeted by the overpowering smell of fermenting fish. Get past that, and the sight of big vats awaits. The traditional process of making fish sauce is very simple yet artisanal, and makes a very interesting study into why this is the no.1 product that Vietnamese people simply cannot do without.
Book a half day tour including a visit to the fish sauce factories with Klook.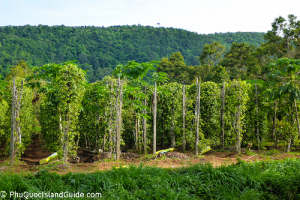 Visit the pepper farms
Another famous local produce of Phu Quoc is black peppercorn, which is unique to that found in other parts of Vietnam.  Many farms still use labour intensive traditional methods to grow and yield these spices, but much has been done to introduce more organic and sustainable methodologies. Interestingly, many farms are also embracing pepper cultivation as a form of ecotourism, and have even opened up homestays for those who are keen to find out more.
Book a half day tour including a visit to the pepper farms with Klook.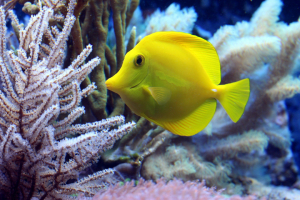 Get up close and personal with marine life
Phuc Quoc island has the best (and most rare) marine life in all of Vietnam, making it an ideal place for underwater enthusiasts to explore. Diving and snorkelling opportunities are aplenty around the island, and you can even obtain your PADI certification here. There is a huge variety of marine animals such as nudibranchs, cuttlefish, octopus, scorpion fish, various crustaceans, anemones, and moray eels swimming around. Do note however, that scuba diving here is not world class, and not recommended for professionals. On the other hand, the water is calm and crystal clear, which also makes for a great sea walking experience.
Book a sea walking ticket at Namaste Coral Park with Klook.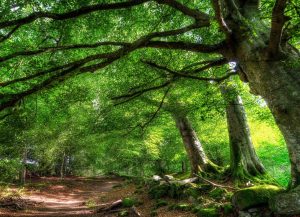 Immerse yourself with Mother Nature
Phu Quoc National Park makes up more than half of Phu Quoc island. It spans over 314,000 square metres and was declared a UNESCO Biosphere Reserve in 2010. You can find all sorts of unique flora and fauna, huge (and we mean huge) towering trees, and over 200 animal species. Though most of the park has been made off limits by the Vietnamese government for research purposes, you can still participate and enjoy many activities such as hiking, camping, discovering wildlife, photography and bird-watching. For the adventurous hiker, we challenge you to trek up to the peak of Mount Heaven – the 2nd highest mountain in Phu Quoc (as the tallest mountain is currently a restricted zone).
Book a half day tour including a visit to the national park with Klook.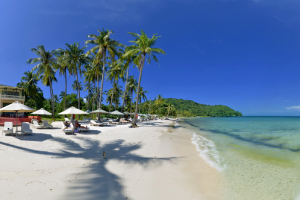 Chill out on Phu Quoc's stunning beaches
All visitors coming to Phu Quoc island do so to escape the hustle and bustle of the city, in exchange for some sun, sand, and sea. Needless to say, every article on Phu Quoc will point you to some of the world's best beaches, right here in Vietnam. Imagine soft, warm sand right under your feet, and crystal clear, calm waters in the horizons. There's certainly no better place to be on earth. The entire coastline of Phu Quoc measures about 150km, with over 20 unspoilt beaches visited mostly by locals. Here are our favourites:
Bai Sao beach stands out as the best beach for its snowy white sand
Long beach on the west side is popular for its beautiful sunsets
Ganh Dau beach is well hidden by a spectacular array of coconut trees
Rach Vem (or starfish) beach for its population of star fish sitting on the water's edge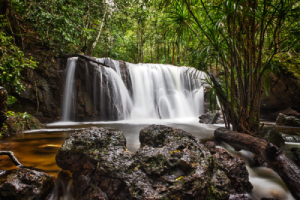 Explore pristine nature around a relaxing waterfall
Suoi Thanh waterfall is one of the two largest waterfalls in Phu Quoc, and is surrounded by lush greenery, natural caves, and rock pools. Besides trekking through the jungles, other popular activities with nature lovers include camping, having a picnic, or simply swimming in one of the many small natural pools. Look closer and you will be amazed by the variety of fauna and flora that exists here. As with all waterfalls, the best time to visit would be during the rainy season of May-September, where water volume is at its peak. A visit to Suoi Thanh waterfall is highly recommended as it is in close proximity to the other key attractions in Phu Quoc. Entry to the waterfall will cost 5,000VND.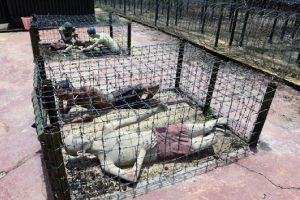 Share stories of Vietnam's past at Phu Quoc prison
Phu Quoc Prison, or "Coconut Tree" prison, is a visually discomforting, but true depiction of the imprisonment of Northern Vietnamese soldiers during the Vietnam war. It is now a museum showcasing life-size mannequins in detention, previously used instruments of torture, and photographs capturing the brutalities of war. The most famous sites in this prison are the "tiger cages". Though not the most flattering means of reliving a country's history, Phu Quoc prison does tell of many interesting stories that will not be found in textbooks, and the harsh reminders of Vietnam's turbulent past. The prison is open 7.30-11am / 1.30-5pm daily and costs 3,000VND (0.13usd) Vietnamese Dong per person. Guided tours are available in English, French, and Vietnamese.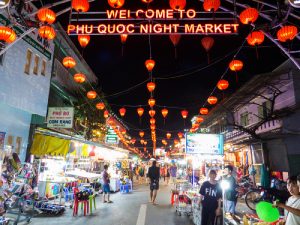 Enjoy a sumptuous seafood supper at a night market
If tasting delicious seafood and local street snacks is your thing, then you ought to pay a visit to the Dinh Cau night market. Prices are somewhat higher than at the local restaurants, but the freshness and quality is assured. Dinh Cau night market also offers shopping till late at night, but honestly, this is not the go-to place to grab souvenirs. On most evenings, you will find stalls here bustling with tourists trying to snag a great deal. T-shirts, handicrafts, and accessories are the most popular items on sale here, but if you are looking for something unique to bring back home, the locally produced fish sauce, black pepper, and dried seaweed make excellent gifts. Beware of pearl necklaces being touted as the real deal, they are not. Dinh Cau night market is opened every night of the week between 5 to 10 pm.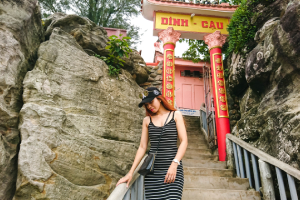 Take in spectacular mountain and sunset views
Dinh Cau Rock was constructed in 1937 to commemorate Thien Hau (the goddess of the sea), whom locals believe offers protection to fishermen heading out to sea. Located just 5 mins away from the Dinh Cau night market, the rooftop terrace of the temple allows visitors a glorious view of the beach, especially at sunset, and the neighbouring islands. Located just beside the temple is a brightly coloured lighthouse and Buddhist shrine, which is a very popular photo taking spot for tourists from all over the world. Do always be mindful to dress respectfully when visiting any temple in Vietnam. The temple is opened daily between 7am to 6pm.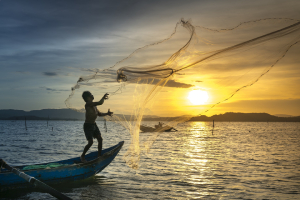 Experience life as a local in a fishing village
For many residents living on Phu Quoc island, their main source of income comes from fishing, and diving for pearls and sea cucumber. Ham Ninh Village is the perfect portrayal of everyday life of the local fishermen. And if you enjoy fresh produce from the sea, this is the place to savour affordable and authentic local cuisine that is uniquely Phu Quoc. The views of the mountain, the large collection of colourful traditional fishing boats, and the splendid sunset completes this worthwhile experience.
---
You may wish to check out our other recommendations