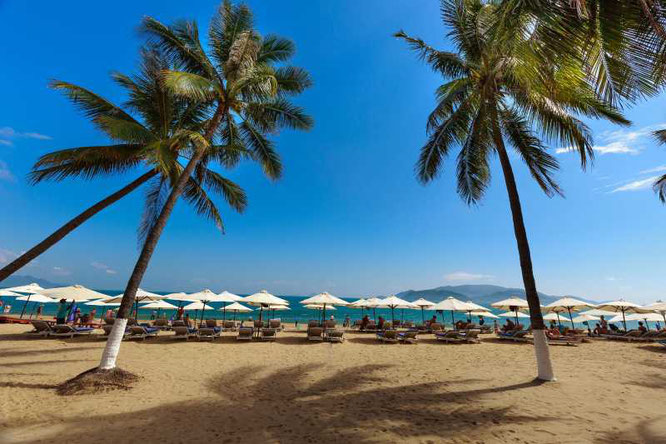 Disclosure: We may receive affiliate commission, at no extra cost to you, if you decide to purchase a product or service via some of the links found on our website.
Imagine a paradise where crystal-clear waters gently lap against pristine shores, lined with lush palm trees and golden sands that stretch as far as the eye can see. Welcome to the breathtaking coastal landscapes of Vietnam – a land of hidden gems waiting to be discovered. Escape the hustle and bustle of city life and embark on an unforgettable journey through the top beaches in Vietnam. Delve into this tropical haven and uncover the secrets of Vietnam's most enchanting coastal retreats, from secluded coves perfect for romantic getaways to bustling beachfronts teeming with excitement. So pack your bags, grab your sunscreen, and join us as we explore the best-kept secrets of Vietnam's awe-inspiring shoreline. Your dream coastal escape awaits.
Best Time To Visit Vietnam's Beaches
When planning your coastal escape to Vietnam, it's essential to consider the best time to visit its stunning beaches. The country's diverse climate means that different regions experience varying weather patterns, so it's crucial to take this into account to make the most of your beach vacation. Generally speaking, the ideal time to explore the beaches of Vietnam is from February to April, when the weather is warm and sunny with little rainfall. However, the specific timing may vary depending on the region you plan to visit.
In North Vietnam, the best time to hit the beaches is during the summer months, from May to August. This is when the region enjoys the warmest temperatures and the least amount of rain. Central Vietnam, on the other hand, tends to experience its best beach weather from February to May. During this time, the region has minimal rainfall and moderate temperatures, making it perfect for beachgoers. For those looking to explore the beaches of South Vietnam, the peak season runs from December to April, when the area basks in glorious sunshine and balmy temperatures.
While the weather can play a significant role in determining the best time to visit Vietnam's beaches, it's also important to consider the cultural events and festivals that take place throughout the year. By timing your visit to coincide with these events, you'll not only enjoy the country's stunning shoreline but also have the opportunity to immerse yourself in Vietnam's rich cultural heritage.
North Vietnam Beaches: Unspoiled Charm
The northern coastline of Vietnam is characterized by its dramatic landscapes, rugged cliffs, and unspoiled charm. For those seeking a tranquil retreat from the bustling city life, the beaches of North Vietnam offer the perfect escape. One such beach is Bai Tu Long Bay, a lesser-known cousin of the famous Ha Long Bay. With its pristine waters, limestone karsts, and untouched islands, Bai Tu Long Bay is an ideal destination for those seeking tranquility and natural beauty.
Another hidden gem in North Vietnam is Co To Island, located in Quang Ninh province. This remote island is home to unspoiled beaches, crystal-clear waters, and lush green forests. With its lack of tourist infrastructure and limited accessibility, Co To Island offers a truly authentic and off-the-beaten-path experience for adventurous travelers.
For a more lively beach scene, head to Cat Ba Island in Ha Long Bay. This popular destination is known for its beautiful beaches, such as Cat Co 1, Cat Co 2, and Cat Co 3, which boast golden sands, turquoise waters, and a range of watersports and activities. Additionally, Cat Ba Island is home to the fascinating Cat Ba National Park, where visitors can explore the island's unique flora and fauna.
Central Vietnam Beaches: Cultural Experiences and Natural Wonders
Central Vietnam is home to some of the country's most iconic beaches, boasting a perfect blend of cultural experiences, natural wonders, and world-class amenities. One of the most famous beaches in this region is My Khe Beach, located in the vibrant city of Da Nang. With its white sands, crystal-clear waters, and excellent facilities, My Khe Beach is an ideal destination for families and beach lovers alike. The beach is also conveniently located near several cultural attractions, such as the ancient town of Hoi An and the Marble Mountains, offering visitors a rich and diverse experience.
Another must-visit beach in Central Vietnam is An Bang Beach, situated just a short distance from the UNESCO World Heritage Site of Hoi An. This stunning beach boasts golden sands, palm-fringed shores, and a charming fishing village that provides a glimpse into traditional Vietnamese life. With its laid-back atmosphere, An Bang Beach is the perfect destination for those seeking relaxation and cultural immersion.
For a truly unique beach experience, head to the extraordinary Phu Yen province, home to the one-of-a-kind Ganh Da Dia beach. This geological wonder features an array of striking basalt rock formations that create a surreal, otherworldly landscape. The dramatic cliffs and crystal-clear waters make Ganh Da Dia a must-see destination for nature lovers and photographers alike.
South Vietnam Beaches: Tropical Paradise and Vibrant Nightlife
The southern coastline of Vietnam is renowned for its idyllic beaches, tropical climate, and vibrant nightlife. One of the most famous beach destinations in South Vietnam is Nha Trang, a bustling city that offers a wide range of activities, accommodations, and dining options. The main attraction in Nha Trang is its stunning crescent-shaped beach, which features powdery white sands, azure waters, and a lively promenade lined with bars, restaurants, and nightclubs. Aside from sunbathing and swimming, visitors to Nha Trang can also explore the nearby islands, such as Hon Mun and Hon Tam, which offer excellent opportunities for snorkeling and scuba diving.
For a more laid-back beach experience, venture to Mui Ne, a charming fishing village located in the Binh Thuan province. Mui Ne is famous for its long stretches of sandy beaches, rolling sand dunes, and excellent surfing conditions. The area is also home to several unique attractions, such as the Fairy Stream, a shallow stream that winds through a surreal landscape of colorful rock formations. Visitors to Mui Ne can also explore the nearby fishing village, where they can witness the traditional way of life and sample fresh seafood dishes.
Another popular beach destination in South Vietnam is Phu Quoc Island, located off the coast of Cambodia. This tropical paradise boasts over 150 kilometers of coastline, dotted with secluded coves, picturesque fishing villages, and luxurious resorts. The island is also home to several natural wonders, such as the Phu Quoc National Park and the Suoi Tranh Waterfall, where visitors can hike, swim, and explore the lush forests. In the evening, Phu Quoc comes alive with a range of dining and entertainment options, including night markets, seafood restaurants, and beach bars.
Off-the-Beaten-Path Beaches in Vietnam
While Vietnam is home to several iconic beaches, there are also plenty of hidden gems waiting to be discovered. For those seeking an off-the-beaten-path experience, head to Con Dao Island, located off the southern coast of Vietnam. This remote island boasts untouched beaches, crystal-clear waters, and a fascinating history. Once used as a prison island during the French colonial period, Con Dao now offers visitors a chance to explore its natural beauty and learn about its dark past.
Another unique beach destination in Vietnam is Ly Son Island, located in the Quang Ngai province. Known as the "Kingdom of Garlic," Ly Son Island is famous for its garlic and onion cultivation, as well as its stunning beaches. The island boasts several secluded coves, such as To Vo and Be, which offer a peaceful and unspoiled beach experience. Visitors to Ly Son Island can also explore the nearby volcanic landscapes, where they can witness the island's unique geology and learn about its cultural significance.
Responsible Tourism and Eco-Friendly Beach Destinations
As more and more travelers flock to Vietnam's beaches, it's crucial to consider responsible tourism practices and eco-friendly options. Several beach destinations in Vietnam are implementing sustainable initiatives to preserve their natural beauty and protect the environment. One such destination is Cu Lao Cham Island, located off the coast of Hoi An. This UNESCO Biosphere Reserve is home to several eco-friendly resorts and activities, such as snorkeling and kayaking tours that promote environmental awareness. Visitors to Cu Lao Cham Island can also participate in beach clean-up programs and learn about the island's conservation efforts.
Another eco-friendly beach destination in Vietnam is Phu Quoc Island, which has implemented several initiatives to reduce plastic waste and promote sustainable tourism. The island has banned single-use plastics, such as straws and bags, and encourages visitors to bring their reusable containers and bags. Additionally, several resorts on the island have received eco-certifications for their sustainable practices, such as waste management and energy conservation.
Beaches in Vietnam that Have Made Movies Appearances
Vietnam's stunning beaches have also caught the attention of filmmakers, with several iconic movie scenes filmed on its shores. One such beach is Bai Xep, located in the Quy Nhon province, which was featured in the Oscar-nominated film, "The Lover." This secluded beach boasts white sands, turquoise waters, and a relaxed atmosphere, making it the perfect destination for a romantic getaway.
Another famous beach location in Vietnam is Halong Bay, which has been featured in several movies, including "Pan," "Kong: Skull Island," and "Indochine." This UNESCO World Heritage Site is known for its stunning limestone karsts, emerald waters, and traditional floating villages, offering a truly unique and cinematic experience.
Conclusion
Vietnam's beaches offer a perfect blend of natural beauty, cultural experiences, and modern amenities, making it an ideal destination for every type of traveler. From the unspoiled charm of North Vietnam to the vibrant nightlife of South Vietnam, there is something for everyone to discover. By exploring the off-the-beaten-path destinations and supporting eco-friendly initiatives, visitors can also contribute to the preservation of Vietnam's stunning coastline. So grab your sunscreen and embark on an unforgettable journey through Vietnam's hidden gems – your dream coastal escape awaits.
---
You may wish to check out our other recommendations