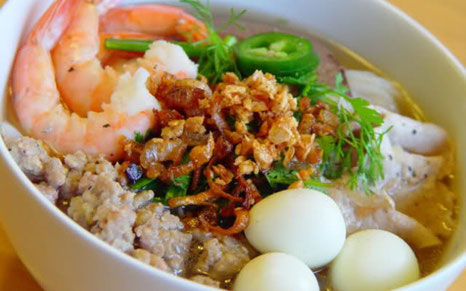 Chinatown in District 5 is home to most Chinese Vietnamese living in Saigon. These Chinese are very proud of their heritage and have even set up schools and markets to preserve their culture. This uniqueness is best demonstrated along Tran Hung Dao and Nguyen Trai street in which red lanterns are hung in front of literally every house as an indication that a Chinese family resides within these 4 walls. And since the Chinese are famous for being very business inclined, you will find district 5 to be a booming and dynamic business hub where all kinds of products from clothes to foodstuffs can be found.
More interestingly, the culinary art available in this area is not only restricted to Chinese cuisines. A whole plethora of many other Asian flavors are being served in this district as well. So, if you are wondering where to eat in Ho Chi Minh, Chinatown is definitely a good place for you to tickle those taste buds and compare. And here's a few recommendations to help start you off.
Ty Lum Hu Tieu Nam Vang - Phnom Penh Noodle Soup
93 Huynh Man Dat str., Ward 7, Dist. 5
+848 3923 5904
Stemming from its Cambodian-Chinese roots, this delicious dish is a combined recipe that the Vietnamese have 'borrowed' and modified into what it is today. Nam Vang is Phnom Penh in Vietnamese, and the southern part of Vietnam has Khmer roots. Hu tieu is a Chinese-Southeast Asian style noodle soup made with a pork bone broth but cooked without fish sauce. "Hu tieu Nam Vang" has its special savory tastes served with boneless pork, pork ribs, pork offal, shrimp, squid, wonton dumplings, fried garlic, fried shallot, and/or scallion and quail egg. This type of hu tieu can be eaten either with soup or dry.
Samyan Seafood Restaurant - Thai-Chinese flavors
382E Tran Hung Dao B str., Dist. 5 (Updated on 14 Jan 2018: this shop has moved to 102-104 Le Lai, Ben Thanh ward, Dist. 1)
+848 3925-9010
http://www.samyanseafood.vn/
Located in District 5 center, Samyan offers many Thai-Chinese flavors, including traditional cuisine and seafood recipes. Their best offers of crab, fish, and shrimp dishes hails from over 20 years of experience since the opening of their first outlet in Bangkok, Thailand. Their legacy continues in Ho Chi Minh city with a Thai chef at the helm, coupled with fresh glorious seafood, and a reasonably priced menu to match.
Co Do (Old Imperial Capital) Restaurant - Vietnam Imperial dishes
3A Ton Duc Thang Street, Ward 3, Dist. 5
+848 3835 6347
Specializing in Hue dishes, this restaurant is designed with a touch of both traditional and modern styles. And with many years of experience in dishing out Hue recipes, this has to be one of the very best that Chinatown has to offer. As in centuries ago where hue dishes was served to royalty, this is as close as you will get to savouring food fit for a king.
Korean Udon
102N An Duong Vuong str. , Dist. 5
+848 3835 3103
You may think that this is just a small restaurant located on An Duong Vuong street, but as the saying goes 'big surprises may come in small packages. Many of its korean customers who frequent the outlet have testified that this 'feels just as good as home', which speaks volumes of a small restaurant situated thousands of miles away from Korea. Most popular udon choices are offered here with free soft drinks.
Sushi Express - Japanese sushi
756 Tran Hung Dao str., Ward 2, Dist. 5
+848 3924 5881
This restaurant is set in a spacious location with many unique Japanese themes for you to choose from. Enjoy your meal in themed settings such as Samurai, Geisha, Sumo, etc. There are over 150 Japanese recipes on the sushi bar to delight your palates.
When it comes to Asian food, you will definitely be spoilt for choice in Chinatown. So do take some time off to explore this side of Ho Chi Minh city, and we guarantee your stomachs that it will be well worth the effort.
---
You may wish to check out our other recommendations in Ho Chi Minh