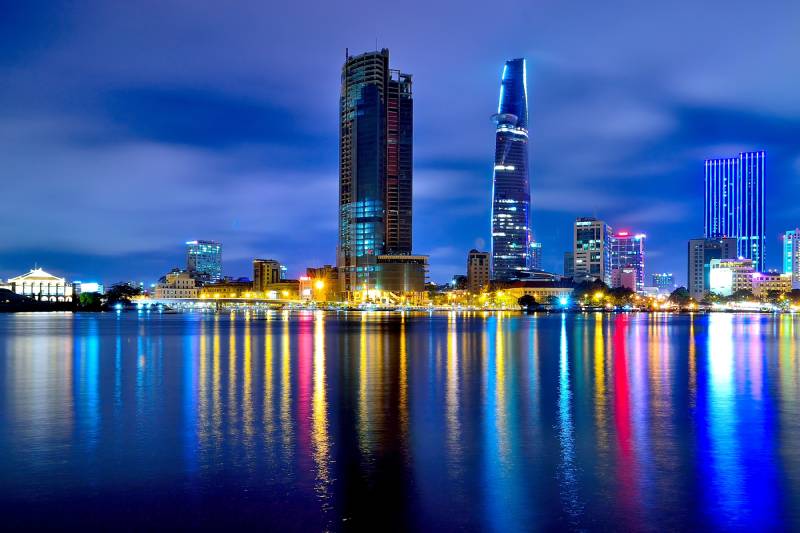 Disclosure: We may receive affiliate commission, at no extra cost to you, if you decide to purchase a product or service via some of the links found on our website.
Your life is an adventure and travelling is the magic carpet that takes you on it. The culture, the customs and especially the nightlife of big cities will awaken your curiosity and satisfy your strong thirst for exploration. When the sun sets, the lights of skyscrapers, restaurants and shopping malls shine on the darkest corners of the city, bringing the city alive. Both tourists and locals can take part in recreational activities such as enjoying delectable local food or simply taking a spin around the city center to feel the welcoming atmosphere of Ho Chi Minh city. There are endless ways to spend your time in the city that never sleeps, but these are just a few of our recommendations.
1. Enjoy a panoramic view of Saigon
Unlike neighboring cities like Bangkok or Singapore, Ho Chi Minh may not be very well associated with panoramic or magnificent skyline views of the city. However, with the sprouting of skyscrapers and high-rise buildings, there are now more amazing spots for you to enjoy the ever-changing city backdrop from different angles. Rooftop bars are usually very popular with those who wish to take in the unforgettable view of Ho Chi Minh at night, as they open late into the night and beyond, Alternatively, if you prefer a quiet evening without the booze, do check out the Saigon skydeck of the Bitexco Financial Tower. Located on the 49th floor, this observatory offers visitors a 360 scenic view of the city till 9pm daily. Get the best admission tickets deals for Saigon Skydeck on Klook.
Colours of Vietnam recommends: Bitexco Financial Tower - Address: 36 Ho Tung Mau St, Ben Nghe Ward, District 1
2. See the real Vietnam in 60 mins
Looking for an art performance in Ho Chi Minh which perfectly reveals the quintessence of Vietnam's culture and beauty? You're highly recommended to go to the "AO Show" - a breakthrough "Cirque de Soleil meets Vietnam" performance which takes place only several times per month in the historic Saigon Opera House. Prices start at 630,000vnd (30usd) onwards. Through a spectacle of lights, coupled with a fascinating set, the audience can't help but be entranced by this magical acrobatic performance. And with a bit of imagination, they can also experience themselves walking on a small and breezy country road of southern Vietnam, being lost in an old town of Hanoi, or floating on a basket boat in a lotus swamp while suddenly hearing a piece of traditional chants. Well worth the time and money if you would like to feel the real Vietnam in 60minutes! Get up to 10% off admission tickets for the AO show on Klook.
Colours of Vietnam recommends: Saigon Opera House - Address: 54-56 Hoa Dao, Ward 2, Phu Nhuan District
3. Stretch your vocal cords by practicing Karaoke
Asians have a strong passion for singing, and the Vietnamese are most definitely not exceptions. In fact, they spend most of their free time enjoying Karaoke, especially during the weekends. Vietnamese people take advantage of every holiday and occasion to gather with their friends and family members, to show off their singing and dancing talents. In fact, karaoke has become such a favourite of the locals, that they now even enjoy it in the comfort of their own homes, using a makeshift system comprising of a microphone, speaker, and Youtube. As a tourist, you will be glad to know that every district in this city has a karaoke outlet, some even situated side by side of each other. These places are family-friendly (Note: the dodgy karaoke bars in Ho Chi Minh are not called "karaoke" to the locals) and most open late into the night. The more premium joints are lavishly decorated, and carry the best sound systems. Most karaokes serve food and beverages (including alcoholic), which makes it a great venue for a gathering or party. 
Colours of Vietnam recommends: Nice Karaoke - Address: 201 Điện Biên Phủ, Ward 6, District 3
4. Join the locals in a game of night football
The Vietnamese's love for football is simply undeniable. With hardcore fans all across the country, it's no wonder that football is an integral part of daily Vietnamese life, and is played late into the night. Football fields can be found in nearly every corner of Ho Chi Minh City, making it extremely convenient for any passerby to participate in a match. Playing football while on a holiday trip may sound odd; however, it offers tourists an opportunity to interact with the locals, making the experience an even more immersive one. When it comes to enjoying a sport, language is not a barrier.  Do not be embarrassed to just walk up, and approach the locals to participate in their games. It might feel awkward initially, but we promise you won't regret it. It's truly one of the best ways to feel the welcoming atmosphere of Vietnam. Besides, it's a great way to burn off those extra calories from a whole day of feasting! 
Colours of Vietnam recommends: Phú Thọ Pitch - Address: 219 Lý Thường Kiệt, Ward 15, District 11.
5. Converse with the locals over a cup of iced coffee
Unlike many people who only enjoy coffee in the morning to kick start their day, the locals drink coffee up to five times a day, for any reason at all. In fact, drinking coffee is so deeply rooted in their culture, that it becomes instinctive to do so, more than a need. Having an aromatic cup of hot coffee in the evening is a great way for you to relax and unwind after an exhausting day of exploring the city. Simply sit back, relax, and enjoy a conversation with your local friends. And if you don't have any, coffee joints are the best places to make some new ones. Not only does conversing with locals help you better understand the Vietnamese culture, it enhances the whole community experience. With an increasing number of coffee shops in Saigon opening 24-hours, each coffee joint you visit is sure to provide you with a different sensory experience. 
Colours of Vietnam recommends: Thuc coffee - 156B Pasteur, Ben Nghe Ward, District 1 | Den Da coffee - Address: 182 Pasteur, Ben Nghe Ward, District 1
READ ALSO >> 9 Things To Do In Ho Chi Minh That Are Absolutely FREE
6. Experience Saigon's lively nightlife with some beer and music
For those who thrive on loud music and big crowds, head down to Bui Vien walking street to experience one of the most electrifying atmospheres in Vietnam. Here, both sides of the street (about 500m long) are lined with a dazzling array of interesting shops, restaurants, bars, and hotels. Bui Vien really starts to come alive only after 7pm. Start your Saigon nightlife experience by enjoying some of Vietnam's special local brews, at one of the many sidewalk cafes or bars. It is no exaggeration to say that this street is by far, the most popular hangout area amongst young Vietnamese and tourists seeking entertainment in Ho Chi Minh. As part of Bui Vien's vibrant and dynamic nightlife, you will also find local aspiring artists performing here every evening. This is where you can learn more about Vietnamese music and their performing arts - 2 very important aspects of Vietnamese culture. However, just a gentle reminder that you should always keep your valuables and belongings in check in crowded places.
Colours of Vietnam recommends: Bui Vien backpackers street - Address: Bui Vien street, District 1
7. Savour authentic Vietnamese street food
Every day, thousands of street-side eateries open late into the night, to serve you amazing and affordable authentic Vietnamese dishes. This is why food tours are best done when the sun goes down, allowing you to truly enjoy and understand "Vietnamese flavour". You can either choose to dine in open-air restaurants, or simple stalls on sidewalks, each offering a different gastronomic experience. True foodies will tell you that the most delicious food are found inside the narrow alleys rather than the high-end restaurants. While this may be true, factors like hygiene and safety should also be taken into consideration, especially at night. Street food is more than just about filling your stomachs - it's also the atmosphere and ambience, and what makes Vietnamese eating culture so unique. For many, eating together represents bonding with co-workers, business associates, and the community. Explore Vietnamese street food once, and you will realize there's so much more to discover beyond Banh Mi and Pho.
Colours of Vietnam recommends: Nguyen Hue Walking street - Address: 22 Nguyễn Huệ, Bến Nghé, District 1
8. Snag a great bargain at the Ben Thanh night market
Ben Thanh market is one of the oldest and most iconic landmarks in Ho Chi Minh, and plays an important role in its vibrant city life from early morning till late at night. In the day, you can find a variety of bargains in the indoor market such as lacquer ware and handicrafts. The Ben Thanh night market may appear to be smaller in comparison with the day market, but it definitely doesn't fall short in terms of its products and prices. There, one can find goods such as clothes, shoes, watches and bags at affordable prices. In fact, you could probably enjoy better discounts when the stalls are about to close. The market is conveniently located in central downtown, and is surely the first place you should visit when searching for local products and fake branded goods. And, if you are a supper person, there is a wide range of food stalls on site, selling delicious street food and seafood, if you don't mind paying touristy prices.
Colours of Vietnam recommends: If you are a fan of markets, you may like to check out our recommendations for 8 Markets In Ho Chi Minh For The Best Local Shopping Experience 
9. Enjoy sumptuous fresh seafood while watching a street performance
If you are a seafood lover, Vinh Khanh street in district 4, or "seafood street" as it known to locals, is the place to satisfy all your cravings. Not only are the people there cheerful and friendly towards tourists, the seafood options there are unbelievably fresh, and cooked in an authentically Vietnamese style. Choose from a dizzying array of crab, prawns, octopuses, and clams, cooked to perfection. While waiting for the dishes to be prepared and served, you can have a seat and listen to music by local artists or enjoy mesmerising dance performances. Enjoying local music and tasty food at the same time? We think that's one great way to kill two birds with one stone. You don't have to travel to a coastal town to savour fresh seafood as Vinh Khanh street has everything you're craving for. Be it oysters, lobsters, or scallops, your taste buds will surely be in for a treat. 
Colours of Vietnam recommends: Ốc Oanh534 Vĩnh Khánh, Phường 8, District 1.
10. Take a walk along Saigon river
If you want to take a break from the hustle and bustle of the city, you can spend some time enjoying a leisurely stroll along the river bank. Everyone needs a breather sometimes, plus you'll get to see a more serene side of Ho Chi Minh. It's the simple things in life that make us happy– enjoy the wind rushing through your hair or looking up to the night sky. Occasionally, you might even see a small group of university students gathering around and playing the guitar. If you don't mind, you can join them for a live acoustic, one of the best ways to befriend the locals and to immerse yourself in the moment.
Colours of Vietnam recommends: Landmark 81 park (also featured in 9 Things To Do In Ho Chi Minh That Are ABSOLUTELY Free)
11. Chill out at the Saigon water bus station
Bach Dang wharf, as it was more commonly known back in the days, used to be an important port of call for trading goods throughout the city's history. These days, it is no longer a bustling center for commercial activities. Instead, it has become a popular destination for many urban residents. The whole comprises a park, a water bus station connecting District 1 to Thu Duc district, as well as a riverside coffee shop on the campus, where you can enjoy music shows on weekends. Bach Dang wharf is especially beautiful at night. And situated next to it is a 5-star yacht restaurant shimmering with bright lights, which adds to the whole romantic atmosphere. If you want to relax and unwind, take a walk here or simply enjoy a conversation over coffee in the nearby park.
12. Take in breathtaking views of the Saigon river from the Thu Thiem bridge
Another location on our list that is ideally situated across the beautiful Saigon River, is Thu Thiem bridge. This is a popular place for young people to meet up for gatherings with friends, or to bring their partners on romantic dates. With the cool breeze providing much comfort on hot summer days, many youngsters simply come here to while their afternoons away. But when the sun sets, that's when the magic starts. That is why many prefer to visit just after dusk, when the stunning moonlight slowly replaces the scorching rays of the sun. Couples often choose this place for their dates, where they can take a leisurely walk on the bridge and enjoy a few snacks. The bridge has wide sidewalks on both sides, where you can comfortably sit and enjoy the cool breeze along the river. It's also a great place to view the brilliant city at night from another angle.
Please watch this space as we continue to cook up more great ideas for you, for your next trip to Vietnam. And if you are planning to make a trip further up north, here's an awesome and comprehensive guide on 12 Things to Do in Hanoi. Do remember to let us know what you think of these recommendations, by commenting in the section below. We look forward to welcoming you to Vietnam again soon.
---
You may wish to check out our other recommendations in Ho Chi Minh