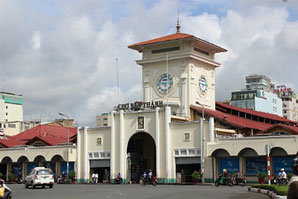 Disclosure: We may receive affiliate commission, at no extra cost to you, if you decide to purchase a product or service via some of the links found on our website.
Officially opened in 1859, and renovated after a major fire in 1870, the Ben Thanh market or Cho (pronounced as 'Jer') Ben Thanh as it is known locally, has evolved to become somewhat of an icon in Saigon. This area was originally a swamp called Marais Boresse which was filled in by the French. The front side or the South was called Place Cuniac while the North, East and West were Rue d'Espagne, rue Viénot and rue Schroeder respectively. Fast forward about 150 years, and Ben Thanh market today, is arguably the most well-known shopping area in Vietnam - known to those living outside of Vietnam. 
Where is Ben Thanh market?
Undoubtedly, Ben Thanh market is a market that serves mostly, and most tourists. Hence, it is expected that the market prices are between 10-20% higher than other local shopping places. It is situated about 30min away from Tan Son Nhat international airport. Anyone coming to Ho Chi Minh city would visit this place at least once during their stay. The market is located in the heart of District 1, where most tourists would congregate. Surrounding it are hundreds of hotels and restaurants, together with other amenities such as massage parlours, tailors, and beauty salons, which is no wonder why this is a popular place for all first time visitors. Ben Thanh day market's opening hours are from early in the morning till about 6pm in the evening. The night market then takes over from about 7pm till 10pm. A Google location map of the location can be found here.  And for our Muslim friends, the famous Malaysian street with all the Halal restaurants and baju kurung tailors is located here as well.
Is bargaining for the best deals allowed at Ben Thanh market?
As you step into the main entrance of the grand clock tower, you are immediately greeted by a maze of stalls peddling goods from apparels and souvenirs, to interesting local foods and kitchenware. It's time to put your bargaining power to the test, and off your go – for a ball of a time. Prices here can go as low as 70% off the original price quoted, so feel free to walk away if you are not getting a 40% discount at least. The start of their opening hours, and just when the stalls are about to close are your best bets to snag a good deal. Stall owners here are generally friendlier than the ones you will encounter at other shopping areas, so as long as you are not overly aggressive, it is likely that you will find something nice for a satisfactory price.
What are the best things to buy from Ben Thanh market? 
For a first time tourist to Vietnam, this is shoppers' paradise. The most popular items sold here are T-shirts, bags, and handicrafts. As a gauge, you should not be paying more than VND150,000 (approx. 8USD) for handicrafts, no matter how exquisite the stall owners make the pieces out to be. T-shirts and other apparel are priced from VND50,000 up. Do not be surprised to see a 'Polo Ralph Lauren' or 'Valentino' going for as low as 10USD. Bags also seem like a good deal here, but do buy at your own risk. We do observe that the quality of apparels found in Vietnam tend to be a lot better than the ones found elsewhere.
Traditional food, drinks, and snacks are aplenty in the market. The most recommended food here is the "banh beo", a traditional dish made from rice. Another is "bun suong", a kind of noodles which is very popular in the market. And if you can't wait to get your hands on Vietnam's national dish, Pho, you can find about 5-8 stalls here that sell it. Prices are generally the same across most stalls, so you won't find much variation of more than 2,000vnd ($0.10usd).
If you want to buy something as souvenirs for family friends, this is the place to do so. Our list of top 10 giveaways include:
Coffee powder – from the world's 2nd biggest importer of coffee powder
Cashew nuts – significantly cheaper
Sunflower seeds – as above
Silk – scarves, purses, night wear, or wallets made of well-known Vietnamese silk
Lacquerware – miniature vases inspired by French heritage, and made of high quality lacquer
Bamboo products – baskets, table mats that handcrafted and eco friendly
Artwork – affordable yet world renown
Vietnamese conical hat – because it's interesting to see a foreigner wearing one
Rice paper – you can eat it like a burrito
Tea – not as popular as its caffeine infused cousin, but slowly gaining worldwide recognition
There are many new shops that have recently opened nearby, selling the same items above. You may also wish to check them out for prices and variety.
Can I really buy X-stock from Ben Thanh market?
There have been many rumours of x-stock (rejected stock from well known brands) being retailed at this market. The truth is, many brands such as Converse, Nike, and Adidas are produced in Vietnam. However, there is a big difference between x-stock, and products being reproduced from siphoned material. For the latter, there's almost no QC (quality control) on the workmanship. Hence, it would take an expert eye to determine if these goods are indeed original rejects, or quality fakes. Yet, many have been satisfied with their purchases, considering that you only pay about 10% of the price you would have to pay in store.
How to avoid paying more than you should in Ben Thanh market?
As mentioned above, the rule of thumb is that you should always start bargaining at 50%, and never settle for less than 30%. Alternatively, the rear area inside the market belongs to COOP Mart Corporation, a credibly fixed price outlet selling anything from clothes to souvenirs. For bargaining addicts, this place is off limits to price negotiations. You may still snatch a good deal here, but do take a walk around the other places first. Besides that, you may also wish to transact in VND instead of USD. It is unimaginable that any of these stall owners would have a forex calculator in their heads. Chances are, the amount that you are quoted has been rounded off northwards.
Other things to note while shopping at Ben Thanh market
First and foremost, always keep a close watch on your valuables. As with all crowded places, a moment's distraction offers petty thieves the best opportunity to have a go at your belongings. And while you are walking in the vicinity of the market, you may be approached by people peddling anything from sunglasses, to watches, to even coconuts. You will never get the best deals from these guys, though the difference may only be a couple of dollars. Stay away from touts that offer you Cyclo rides! These rides from hell could cost you up to 100usd for 10 mins. If you really wish to experience riding on a Cyclo, do find a legitimate company that provides this service. As a last note, we would also like to add that the jewellery shops around Ben Thanh market offers some of the best currency exchange rates in Ho Chi Minh city.
Happy shopping!
---
You may wish to check out our other recommendations in Ho Chi Minh