---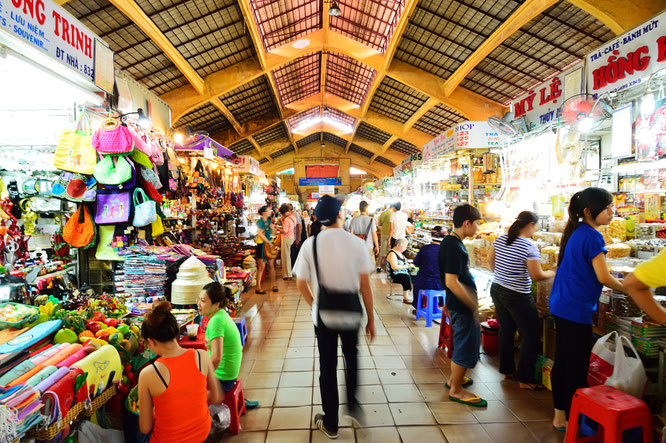 Disclosure: We may receive affiliate commission, at no extra cost to you, if you decide to purchase a product or service via some of the links found on our website.
Ho Chi Minh city is fast emerging as one of the most intriguing shopping destinations in Southeast Asia. But unlike its counterparts in Singapore, Bangkok, or Kuala Lumpur, shopping here is not represented by gigantic shopping malls, or neon-lighted streets lined with fancy boutiques. Instead, many locals prefer to hunt down trends and bargains in markets which have not succumbed to the temptation of tourists dollars (eliminating Ben Thanh market and Saigon Square from the list). These markets in Saigon not only offer foreign visitors the best deals, but also an opportunity to interact with the locals, and to observe their lifestyles first hand.
Hence, if you plan on striking out to Ho Chi Minh city for some serious retail therapy, do check out 8 of our favorite local markets below, that are seldom featured in mainstream websites. We cover the best day and night shopping areas, flea markets, and even specialty markets selling food and Asian antiques. Enjoy the best value shopping experience in Ho Chi Minh city, when you shop like a local!
Best Flea Markets in Ho Chi Minh City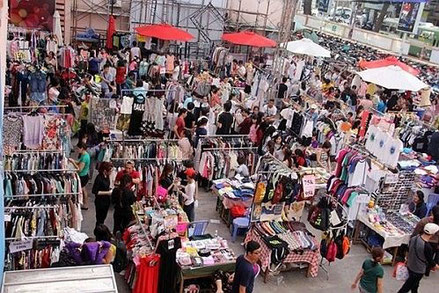 SAIGON FLEA MARKET – THE MOST FAMOUS FLEA MARKET IN HO CHI MINH
The first name that pops into our minds, whenever there is an urge to grab some trendy items at an affordable price, is the Saigon Flea Market. This is one of the biggest names in the list of best shopping markets in Saigon for young consumers. Since its opening in 2011, Saigon Flea Market has been well known for an explosive assortment of handmade fashion, accessories, and local Vietnamese street food. It is one of our favorite weekend outing spots, where you will always find crowds of young people strolling around hundreds of stalls filled with unique products and handmade vintage items. So, if you are looking for the best shopping market in Saigon, head to Saigon Flea Market right away and you will not return disappointed.
Address: 107 Ton Dat Tien Street, Tan Phong Ward, District 7, Ho Chi Minh City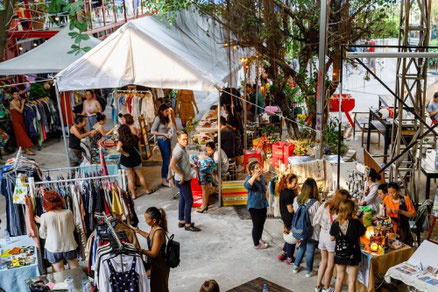 THAO DIEN FLEA MARKET – A PARADISE FOR BOHEMIAN AND VINTAGE FASHION
The second place you should not miss is Thao Dien Flea Market. Located in the Western neighborhood of Saigon's District 2, Thao Dien Flea Market is home to a wide range of clothing and streetwear options including preloved clothes, homegrown labels, bespoke hippie bits, and colorful Bohemian accessories. The market is catered specially to those with a strong fashion sense, and are not afraid to show off their unique individual styles. A majority of these brands come from local designers whose purpose is to unleash your fashionista soul. Prices range from 5-15usd, which is significantly cheaper than what you would find in shops. And if you would also like to indulge your taste buds, the Saigon flea market offers a wide variety of food options, which you can enjoy al fresco, in a relaxing outdoor environment.
Address: 188 Nguyen Van Huong Street, District 2, Ho Chi Minh City
Best Night Markets in Ho Chi Minh City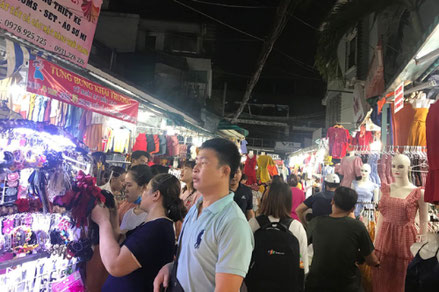 HANH THONG TAY NIGHT MARKET – THE BIGGEST NIGHT MARKET IN SAIGON
As one of the biggest and busiest local markets in Saigon, Hanh Thong Tay is a real paradise for shopaholics - with a diversity of premium fashion items offered at affordable prices. By 5pm each day, the market is ready to welcome a huge crowd of people, flocking here from every corner in town, to hunt for the best deals. Hanh Thong Tay market is normally off the radar for many tourists, since it is not located in the center of town. However, this also means that you will likely be able to snag some great deals here as well. Hanh Thong Tay is a mecca of fashion goodies including handbags, clothes, shoes, and accessories. Bargaining is a common sight at the market, but you may need a local Vietnamese companion if you wish to nail the negotiation. And after a long day of shopping, there is full-on street food scene surrounding the market to feed your cravings.
Address: Quang Trung Street, Ward 11, Go Vap District, Ho Chi Minh City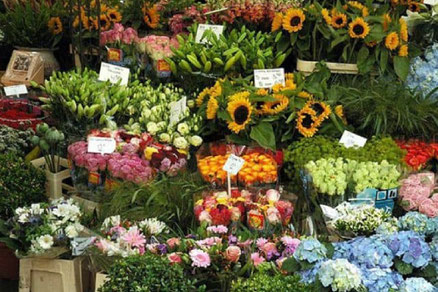 HO THI KY FLOWER MARKET – AN ASSORTMENT OF COLORS AND SCENTS
Shopping during a vacation is a guilty pleasure that need not be limited to just food, fashion, and gifts. You could also consider checking out an authentic after dark experience that the locals truly enjoy. Located in the heart of Ho Chi Minh City, Ho Thi Ky is a vivid flower market that only comes to life when night falls. Beyond doubt, this market is the Walmart of wholesale fresh flowers. The busiest time at the market comes around 10pm, and the crowds only thin out after 3 in the morning. Dominating a large area of checkered alleyways, Ho Thi Ky welcomes you with an explosion of colors, fragrance, noises, and traffic. Imageries of the locals working the scenes tirelessly to make deals, add to the unique charisma of this market, which cannot be found elsewhere.
Address: Ho Thi Ky Street, District 10, Ho Chi Minh City
Best Shopping Markets in Ho Chi Minh City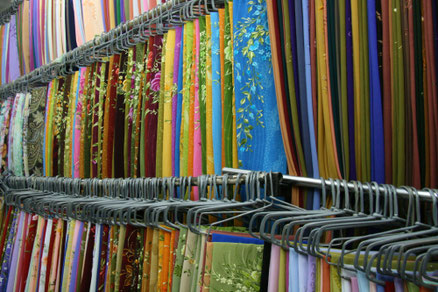 AN DONG MARKET – THE MOST POPULAR WHOLESALE MARKET IN HO CHI MINH
Encompassing a large square lot in the heart of Cho Lon (Saigon's Chinatown), An Dong market is an enormous, rusty white building where most of its goodies are sold in bulk. It is the daily go-to place for shops in town looking to spice up their inventory with the latest fashion trends. Stall owners in Ben Thanh market and Saigon Square are also thought to purchase most of their stock from here. Unassuming in its exterior, this 4-storey market houses an extensive collection of clothing, footwear, accessories, fabrics, jewellery, and handbags. Shops here are unlikely to entertain orders of 1-2 pieces. For smaller quantities, you may also visit the nearby An Dong Plaza. And while fashion and apparel dominate the upper floors, a local wet market and food court at the basement offers visitors the option to try out Vietnamese food, and other popular local produce, including fruits and snacks.
Address: Cong Truong An Dong, Ward 9, District 5, Ho Chi Minh City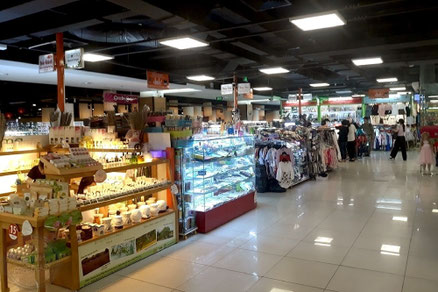 SENSE MARKET / THE NEW PLAYGROUND – THE COOLEST HIDDEN UNDERGROUND SHOPPING SPOT
This is the first underground market in Saigon, which has also been taking both local and international media by storm. Even though Sense Market sits on a golden location smack dab in the heart of Saigon, it is usually overlooked by tourists. This is because the whole complex lies underneath a park, and many people would pass by without even noticing its existence. Sense Market is considered a game-changer as it offers a never-before-seen shopping experience. The highlight of the market is definitely The New Playground, a hippie inspired fashion complex housing a wide assortment of homegrown boutiques. Wandering around The New Playground, you will catch glimpses of many new icons in the city's local fashion scene, dedicated to the millennial and Gen-Z generations. Saigon Swagger, Dirty Coins, Banawa, Janet, and Errorist are a few to be named. So, if you are hunting for young, trendy, and distinctive local apparel that speaks volumes of your style, Sense market is the right place to be!
Address: 4 Pham Ngu Lao Street, Pham Ngu Lao Ward, District 1, Ho Chi Minh City
Best Specialty Markets in Ho Chi Minh City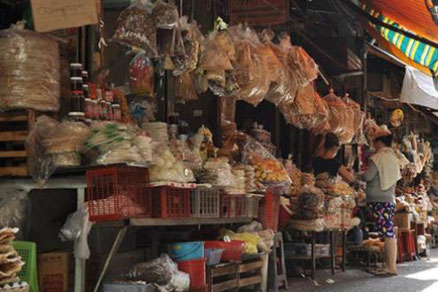 BA HOA MARKET – A HIDDEN GEM FOR BIG FOODIES
As we move from fashion to food, one cannot leave Vietnam without visiting its markets dedicated to culinary excellence. And one such place, is a little-known food bazaar located on the outskirts of Saigon, offering authentic cuisines native to the Quang region of Central Vietnam. Ba Hoa Market is an off-the-beaten-path food market in Ho Chi Minh city that has been around since 1967. What you will find in this specialty market is a wide range of Quang's authentic cuisines - Mi Quang, Hoi An grilled pancake, steamed cupcake, and snow-flaked cake, just to name a few.  Also available in the market are other goodies which are imported directly from the Central regions. This allows tourists, who do not have the opportunity to visit the central regions of Vietnam, to take a culinary journey instead.
Address: Tran Mai Ninh Street, Ward 12, Tan Binh District, Ho Chi Minh City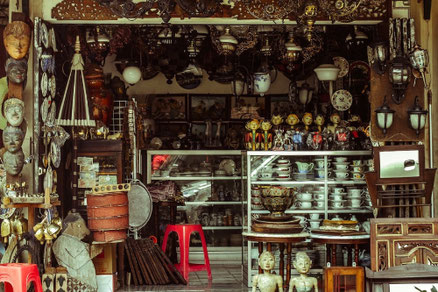 LE CONG KIEU ANTIQUE MARKET – THE MOST DIVERSE COLLECTION OF ANTIQUES IN SAIGON
For ardent collectors of antiques, you will surely be hypnotized when visiting Le Cong Kieu Antique Market. Le Cong Kieu is a narrow and short street located just a few steps away from the iconic Ben Thanh Market. It is made up of numerous households and stalls selling all sorts of trinkets, knick knacks, sculptures, and other hard to find Asian antiques. For both collectors and window-shoppers alike, a visit to Le Cong Kieu offers visitors a #throwback into the past. The collections on display range from colorful pop art illustrations hanging by the old military maps, to Chinese porcelain and American class rings. Interestingly, some of the stall owners do not even know the true value of the items they are selling. This street only grew in prominence during the 80s, when financial problems swept through the city, and forced many residents of Le Cong Kieu Street to put up their old precious items for sale. Because of that, a booming antique trade was born, which marked a new beginning for this area.
Address: Le Cong Kieu Street, Nguyen Thai Binh Ward, District 1, Ho Chi Minh City
Shopping in Saigon is not just about bringing home a few trivial keepsakes. What we also hope to share through this list, is a peek into the life of a Vietnamese, and to encourage more visitors to spend a day like a local. Let us know your market of choice from the list above and get ready to rock the city in your own way.
---
You may wish to check out our other recommendations in Ho Chi Minh