---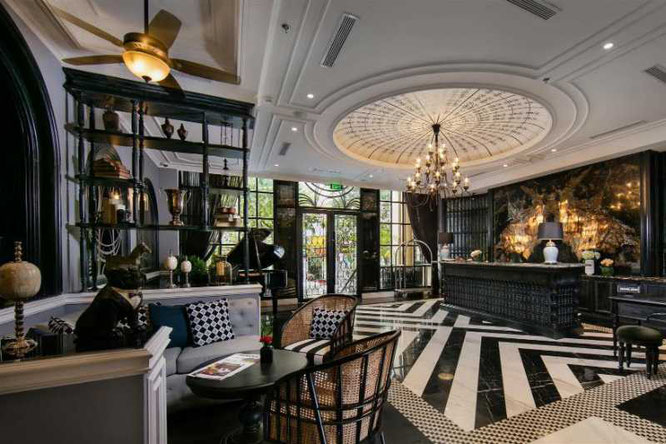 Disclosure: We may receive affiliate commission, at no extra cost to you, if you decide to purchase a product or service via some of the links found on our website.
As the capital of Vietnam, Hanoi is a wonderful city with a colourful history and legacy, making it an attractive place to visit for tourists. Over the years, Hanoi has also evolved from being mainly a financial hub, to offering tourists more to see and do on the arts, fashion, and lifestyle fronts. Naturally, this shift has led to an influx of younger affluent visitors, with a taste for the finer things in life. As a result, Hanoi has also seen many boutique hotels sprouting up in the last few years. While slightly more pricey, these boutique hotels certainly offer much more than just a bed and breakfast  So, if you are planning a visit to find great things to do in Hanoi, make sure that you check out this curated list of 10 Fabulous 4 and 5 Star Boutique Hotels In Hanoi Old Quarter.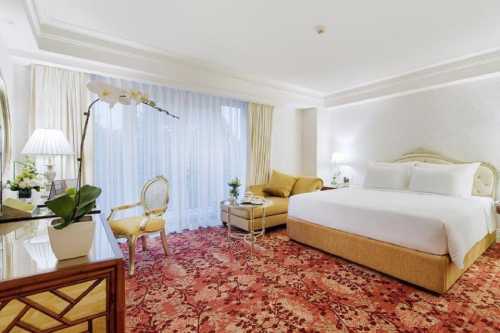 1. APRICOT HOTEL
Visit the Apricot Hotel in Hanoi and discover the history of French Indochina. This 5 star boutique hotel in Hanoi has 123 rooms feature original artworks and sculptures created by Vietnamese artists in the feudatory era. Its blend of culture, heritage, art, and life makes it just as much a place of contemplation as a five-star hotel. Key attractions like the Water Puppet Theater and Ngoc Son Temple are located just 10 minutes away. After a day of sightseeing, you may also unwind in the Atelier Lounge with its own afternoon tea menu. Visit the cozy library on the ninth floor, where you can tuck in with a good read while on vacation. 
Address: 136 Hang Trong, Hoan Kiem, Hanoi Old Quarter

Standard: 5 stars

Agoda rating: 8.8
2. HANOI LA SIESTA HOTEL & SPA
Hotel Hanoi La Siesta Hotel & Spa, the first in the La Siesta chain, is just 15 minutes from the Hanoi Opera House. Stepping into this Hanoi boutique hotel, it is evident that Asian architecture served as its main design inspiration. It features a warm interior with an Oriental touch. The Hanoi La Siesta Hotel & Spa offers a variety of rooms and suites for both short and long stays. At the onsite restaurant, Red Bean serves contemporary, innovative Vietnamese cuisine that you won't find anywhere else. You can also enjoy cocktails at Moonlight Sky Bar, with great views overlooking Hoan Kiem lake and Long Bien bridge.
Address: 94 Ma May, Hoan Kiem, Hanoi Old Quarter

Standard: 4 stars

Agoda rating: 9.4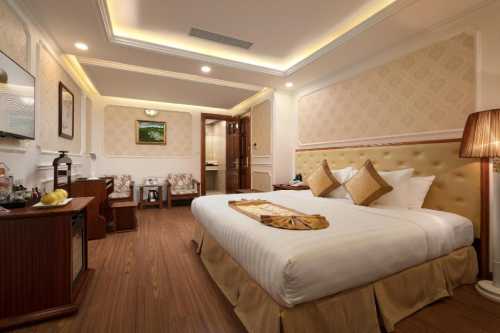 3. THE LIGHT HOTEL
With its charming building and elegant interiors, The Light Hotel stands out as a stopover in the Old Quarter of Hanoi. This 4-star boutique hotel sits close to many famous places such as Hoan Kiem lake, Trang Tien plaza, History Museum, and Dong Xuan market. There are 89 rooms and suites at the Light Hotel, all decorated in cream and gold with antique European-style interiors imported from Europe. You will feel warmly welcomed in The Light Hotel with all the necessary amenities and facilities. There is also an infinity swimming pool on the rooftop, as well as an open bar for you to gasp at the stunning panoramic views of the city.
Address: 128-130 Hang Bong, Hoan Kiem, Hanoi Old Quarter

Standard: 4 stars

Agoda rating: 8.8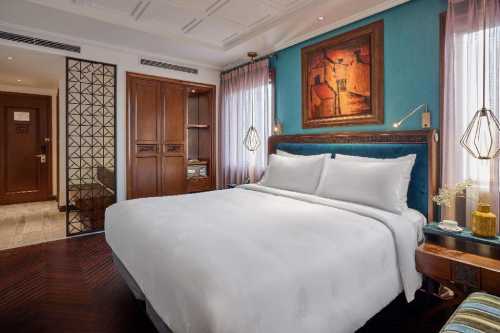 4. HANOI PERIDOT HOTEL
Located near Hoan Kiem lake on Bat Su street, this gorgeous boutique hotel in Old Quarter offers a perfect stay for visitors seeking a stylish getaway. In the lobby, you can feel the clean and beautiful décor, decorated with traditional and luxurious items. Dolls, statues, and fabric pictures all reflect the strong vibes of Vietnamese culture. There is a high-level aesthetic sense as well as handpicked amenities in each room, each of which is detailed and designed. In addition, the rooms are divided into a living room and bedroom, making it more spacious for families with kids. Wake up to the perfect morning with a coffee in hand, whilst watching the city from the balcony of the front rooms.
Address: 52 Bat Su, Hoan Kiem, Hanoi Old Quarter

Standard: 4 stars

Agoda rating: 8.9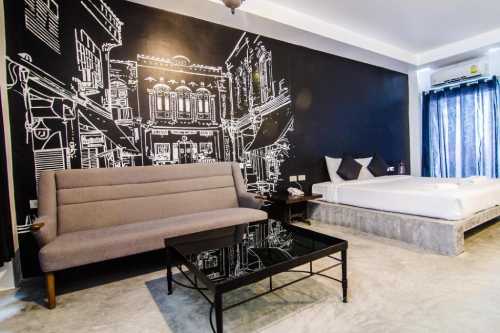 5. THE CHI BOUTIQUE HOTEL
At Nha Chung street, just steps from St. Joseph's Cathedral, the newly refurbished Chi Boutique Hotel is the unique place to stay right in the city's heart. The boutique hotel in Hoan Kiem blends modern design with Chinese architectural elements - from dark wood furniture and modern wall lanterns, to Asian symbols and dim sum restaurants. A variety of bedroom sizes are available for all types of visitors, and some of them even offer a exclusive view of St. Joseph's Cathedral. The stunning rooftop lounge serves food and drink, including breakfast, making it an excellent spot for watching the city unfold.
Address: 13 Nha Chung, Hoan Kiem, Hanoi Old Quarter

Standard: 4 stars

Agoda rating: 8.9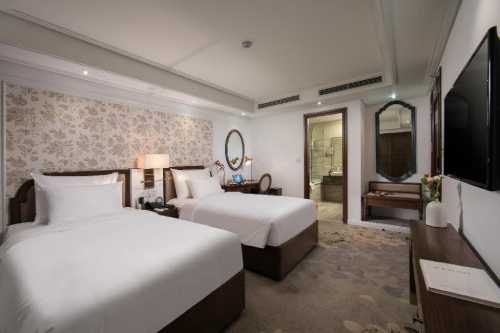 6. THE ORIENTAL JADE HOTEL
Another highly recommended luxurious boutique hotel with a cathedral view is the Oriental Jade Hotel. Upon entering, the black marble floor and white walls adorned with warm yellow light will make you feel like you are walking into a chamber hallway. The rooms, on the other hand, are brighter white with carpet floors, making the space more luxurious and the furniture more colorful. In the hotel's restaurant, you can choose from a variety of a la carte dishes that are both Asian and Western. A rooftop pool and a small bar will allow you to enjoy the romantic city while enjoying tasty drinks.
Address: 92-94 Hang Trong, Hoan Kiem, Hanoi Old Quarter

Standard: 5 star

Agoda rating: 9.4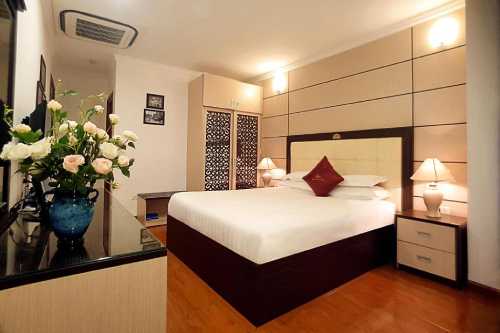 7. GOLDEN CYCLO HOTEL
Golden Cyclo Hotel is located on Ha Trung street, just half a kilometer from St. Joseph's Cathedral and Sword Lake, and is reminiscent of the old Hanoiism that once dominated the city. This Hanoi Old Quarter hotel design is inspired by the traditional transportation of the Vietnamese capital, the cyclo. Warm yellow color permeates the common area, and the furniture used evokes a sense of nostalgia from the past. It has a variety of rooms, but the ones on the front side of the building offer the best view of the old quarters. An extensive buffet is available at the hotel restaurant, which guarantees to bring some of the exceptional tastes of Hanoi into its menus.
Address: 36 Ha Trung, Hang Bong, Hoan Kiem, Hanoi Old Quarter

Standard: 4 stars

Agoda rating: 9.0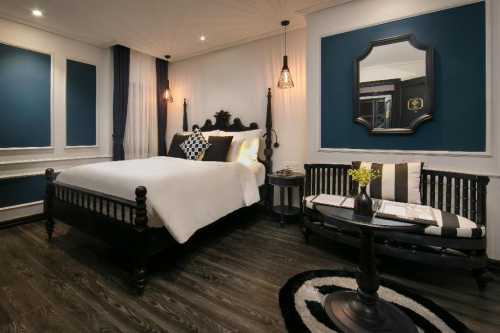 8. JM MARVEL HOTEL & SPA
JM Marvel Hotel & Spa is located in the heart of the city, making it very convenient to explore at one's own leisure. The Vietnam Military History Museum and Vietnamese Women's Museum are both within a kilometer. This elegant boutique hotel in Hanoi offers a stylish and contemporary look, - a charming hideaway for any visitor. From the fittings to the decorations, the entire space embodies a classic European design. In spite of this, many elements of Hanoi are also being incorporated into the overall experience. Rooms are warm and romantic; many of which come with balconies, for a stunning view of the city. There is a luxury spa, restaurant, and rooftop bar to complete your stay.
Address: 16 Hang Da, Cua Dong, Hoan Kiem, Hanoi Old Quarter

Standard: 4 stars

Agoda rating: 9.3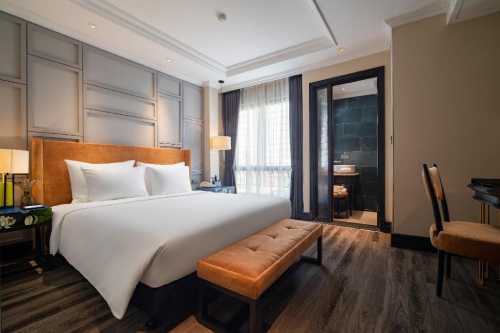 9. SOLARIA HOTEL HANOI
Solaria, another Hanoi boutique hotel across from St. Joseph's Cathedral, is an inspiration in design and architecture. As you walk by any part of the hotel, it depicts a different color of Vietnamese culture - from the yellow walls in the lobby to the blue marble floors in the restaurant. The hotel's elegant rooms are decorated in yellow and white with bamboo furniture. On the rooftop, you can find the most refined drinks at the bar which is open in the day and throughout the night. Also available is a luxurious spa where guests are always treated with the utmost care.
Address: 22 Bao Khanh, Hang Trong, Hoan Kiem, Hanoi Old Quarter

Standard: 4 stars

Agoda rating: 9.4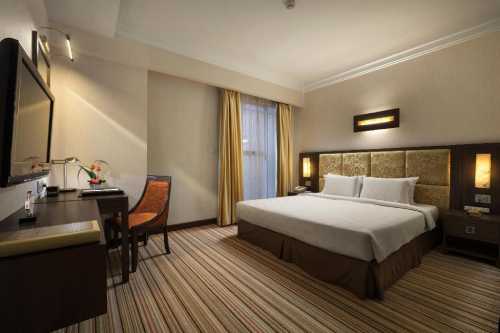 10. SILK PATH HOTEL HANOI
The design of this exquisite boutique hotel in Hanoi will definitely catch your attention as you walk along Hang Bong street. Located on an old quarter street with many shops, you can easily explore the neighborhood to eat street food, shop for local things, and visit the night market. Its bright yellow design and wooden furniture give it a luxurious feel, like an old Vietnamese palace. Rooms come in a variety of sizes, some with views of the streets in the old quarter. In the restaurant, you will find fine-quality dishes served by chefs with a high standard of quality. After a day of exploring the city and walking, you can relax in the spa with well trained staff.
Address: 199 Hang Bong, Hoan Kiem, Hanoi Old Quarter

Standard: 4 star

Agoda rating: 8.5
---
You may wish to check out our other recommendations in Hanoi