---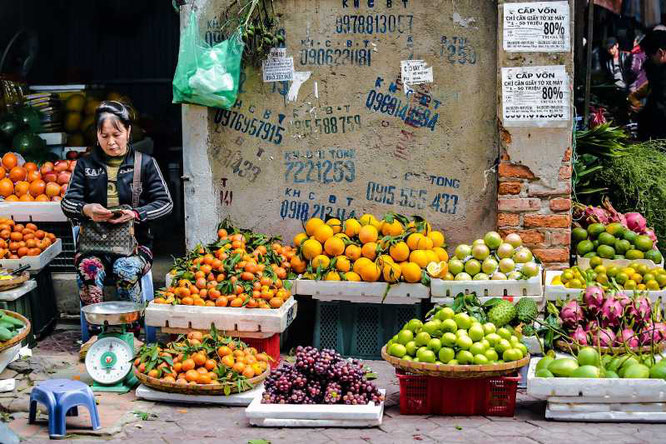 Disclosure: We may receive affiliate commission, at no extra cost to you, if you decide to purchase a product or service via some of the links found on our website.
Ready to go shopping in Hanoi? You are in for a treat. The city is home to some of the best markets in all of Vietnam. But with so many markets to choose from, it can be tough to know where to start. That's why we have put together this comprehensive guide, which is one of the most popular things to do when in Hanoi among locals and tourists alike. We will give you an overview of each market, tell you what you can find there, and help you decide which market is right for you.
DONG XUAN MARKET
Dong Xuan Market is the largest indoor market in Hanoi, offering a wide range of products within its four-story Soviet-style building. For those who are unfamiliar with its layout, it can be a bit overwhelming. There are several sections to the market, so it is advisable to have an idea of what you are looking for before entering. A bustling wet market section is located on the ground floor, where locals can purchase fresh seafood, meats, and vegetables. On the upper levels, you will find a wide variety of printed t-shirts, fabrics, uniforms, luggage stands, and much more, all of which are available at wholesale prices. If you are looking for an authentic local shopping experience, Dong Xuan Market is the place to be. 
Address: Dong Xuan Street, Hoan Kiem, Hanoi, Vietnam
Opening hours:  6am to 7pm daily
HANG DA MARKET
Hang Da Market is located within a three-storey building, where visitors can find a wide range of imported wines, second-hand clothing, and high-quality fabrics at very reasonable prices. The market was built in 1937, and has witnessed many significant events throughout its history. Hang Da market in Hanoi is also easily accessible to many famous places such as Ba Dinh Square, Ho Chi Minh Mausoleum, Saint Joseph's Cathedral, and Vietnam Women's Museum. It is open from 5 a.m to 9 p.m daily, but the best time to visit this indoor market is in the early morning, when you can enjoy a delicious local Vietnamese breakfast without the roaring crowds.
Address: 1 Pho Hang Da, Hoan Kiem, Hanoi, Vietnam
Opening hours:  5am to 5pm daily
HANOI WEEKEND NIGHT MARKET
Each weekend, the Hanoi Weekend Night Market is held in the Old Quarter starting from Hang Dao Street and continuing towards Dong Xuan Market. Among the many items on sale in the market are handicrafts, ceramics, porcelain, fashionable clothing, and more. This is a must-visit place if you are planning to buy souvenirs for your loved ones. Besides shopping, there is a wide variety of popular local food available to tingle your palates. Famous Hanoian dishes such as Bun Thang, La Vong grilled fish, and Bun cha can be found at reasonable prices. We recommend visiting on Saturday evenings, where Vietnamese opera performers and street musicians showcase their myriad of talents – all of  which makes this market in Hanoi even more vibrant!
Address: Hang Dao Street, Hoan Kiem, Hanoi, Vietnam
Opening hours: 8pm to 11pm from Friday-Sunday
HOM MARKET
Known as Hanoi's largest fabric market, Cho Hom Market is the preferred shopping destination for local tailors and tourists seeking the best materials in Hanoi, to make their own customized clothing. This market can be found on the corner of Pho Hue and Tran Xuan Soan Street, on the right side of the intersection. Also, one of the most famous and best-selling fabrics in Hanoi is silk. So, if you are planning to buy some Vietnamese silk as gifts, Cho Hom Market (on the second floor) is one of the best places to find what you are looking for. But don't forget to flaunt your bargaining skills, and you might be able snag a great deal, especially for a bigger purchase.
Address: 293 Tran Nhan Tong, Hai Ba Trung District, Hanoi, Vietnam
Opening hours: 6am to 5pm daily
QUANG BA FLOWER MARKET
The most notable feature of the Quang Ba Flower Market is that it is the largest flower market in Hanoi, where fresh flowers are gathered from all over Vietnam, as well as from across the world. In addition to rows of colourful daisies and cherry blossoms, the stalls also offer roses, orchids, sunflowers, and more that are available separately or in bouquets. The market is particularly vibrant (and beautiful) before Tet Nguyen Dan (Vietnamese New Year) and other Vietnamese holidays, so you may wish to drop by during these occasions to soak in the festive atmosphere. Whether you are a flower enthusiast or an early riser, make sure to include Quang Ba Flower Market on your travel itinerary.
Address: Au Co Street, Tay Ho, Hanoi, Vietnam
Opening hours: 2am to 2pm daily
LONG BIEN MARKET
If you are looking for a market in Hanoi that has everything, you need to check out Long Bien wholesale market. This 20-year old market is the largest wholesale market in Hanoi, and the second-largest market in the north of Vietnam, after the Dong Xuan market. The place is huge, and it is packed with vendors selling everything from clothes and souvenirs, to fresh produce and seafood. Goods are sourced from all over the Northern provinces, and re-distributed to markets across the whole of Vietnam. The vibrant scenes, authenticity of interactions, and bustling trading exchanges make Long Bien market an interesting experience for foreign tourists.
Address: 189 Hong Ha, Ba Dinh District, Ha Noi
Opening hours: 10pm to 6am daily
---
You may wish to check out our other recommendations in Hanoi