---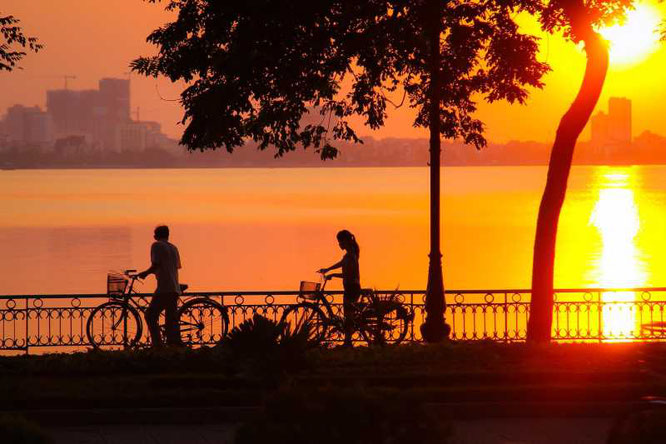 Disclosure: We may receive affiliate commission, at no extra cost to you, if you decide to purchase a product or service via some of the links found on our website.
Tourists who visit Vietnam, must visit Hanoi, the capital city of Vietnamese culture. In addition to old traditions, customs, and anecdotes, Hanoi is also home to many remarkable travel experiences. With the help of city tours or Google, you'll be able to discover the most famous tourist attractions and best markets in Hanoi. However, where can visitors find Hanoi off the beaten track experiences in this beautiful city, which are off the tourist trail? - one might wonder. In every city, there are hidden gems that you can only discover if you're "in the know." Here are 8 top non-touristy things to do in Hanoi, if you are planning for a short stopover in the near future.
Enjoy a cup of coffee by the tracks on Hanoi Train Street
In a little street nestled within Hanoi's old quarter, it is not surprising to see trains running behind the porches of local houses. As a result, the street is often referred to as Hanoi Train Street. Though living near a train track may seem hectic, there is vibrancy and colour in the everyday lives of the people in this area. Many household coffee shops line the two sides of the track. And when no trains are passing through, visitors can sit on a stool on the tracks, enjoy coconut drinks or Vietnamese coffee, while listening to the locals strum songs on their guitar. These somewhat amusing sights make stunning photos.
Address: Allay 224 Le Duan, Kham Thien Ward, Dong Da District, Hanoi or 5 Tran Phu, Hang Bong Ward, Hoan Kiem District, Hanoi
Visit Agoda.com for reviews and the best deals on hotels in Hanoi
Carve your portrait on a thousand year-old traditional stamp
Mostly on Hang Quat or Hang Gai streets in Hanoi's old quarter, you can find many fourth-generation stamp makers making beautiful wooden stamps from small tables in front of vintage-looking shops. With simple and rustic materials, these craftsmen carve unique wooden trinkets with meticulous craftsmanship. The wooden stamps were widely used by kings and aristocrats in Vietnam during feudal times. But more than 1000 years later, the stamp artisans of Hanoi's old quarter are still preserving this old profession. However today, these stamps are popular with the locals as gifts. There are many designs to choose from, or, you may also get your portraits carved on the stamps for as low as 250,000 - 350,000 VND.
Visit Agoda.com for reviews and the best deals on hotels in Hanoi
Take stunning photos at the Red River Rock Flower Garden
To escape the hustle and bustle of Hanoi city, head to the Red River Rock Flower Garden, just 20 minute's drive from the city center. This place has a unique view of the Red River, the most famous river in the capital. In addition, it also boasts many stunning photo-taking spots, such as beautiful flowers in full bloom, a strawberry farm, and other bizarre backdrops decorated with old cars, boats, and painted tires, to produce a retro effect. Locals typically come here dressed in traditional Ao Dai, to take pictures with the different seasonal flowers, or to have a picnic. There are also several local shops and food stalls selling products at affordable prices.
Address: Alley 264 Au Co, Nhat Tan Ward, Tay Ho District, Hanoi
Visit Agoda.com for reviews and the best deals on hotels in Hanoi
Observe the Flag Salute Ceremony at Ba Dinh Square
For the past 20 years, the daily National Flag Salute Ceremony has been a special event for Hanoians and visitors alike. At 5:50 am every morning, 37 soldiers march and carry the national flag to the podium right in front of President Ho Chi Minh's Mausoleum. And at 6 am sharp, the flag will be raised together with the national anthem being played. For the locals, the ceremony symbolizes an honour and commemoration of the country's hard fought independence. And for foreigners, this interesting display is somewhat similar to the change of guard parades observed in palaces around the world.
Address: Hung Vuong, Dien Ban Ward, Ba Dinh District, Hanoi
Visit Agoda.com for reviews and the best deals on hotels in Hanoi
Grab Your Favorite Copies at the Bookworm Hanoi
As you can imagine, there aren't many all-English bookstores in Vietnam. A hidden gem for English-speaking book lovers, this modern bookstore, aptly named the Bookworm, displays almost all genres in new and second-hand editions. Located on one of the streets in Hanoi's old quarter, the two-floor Bookworm offers a quaint Vietnamese-style coffee shop, as well as an open reading area. Anyone is welcome to sit for as long as they wish, while enjoying a cup of coffee and a good read. On the second floor is a room dedicated to Vietnamese literature, history, and lifestyles. A great book makes for a great souvenir.
Address: 44 Pham Hong Thai, Truc Bach Ward, Ba Dinh District, Hanoi
Visit Agoda.com for reviews and the best deals on hotels in Hanoi
Create your own "sunset-inspired" menu at The Drunken Duck Bar & Grill
Besides Hanoi street food, which you can find in various corners of the old-quarter street, there are other night time dining experiences not to be missed. One such location is the The Drunken Duck Bar & Grill, which presents a full view of the famous historical West Lake. This western-style bar is perfect for couples who wish to watch the romantic sunset, or for a group of friends to make merry amidst its beautiful surroundings. What's also unique about this bar, is that they do not have a menu. Apart from a few signature dishes, the chef will only whip up delicious dishes based on what customers feel like having. This is a truly customized dining experience like no other, with a wonderful ambience to match.
Address: Alley 5 Tu Hoa, Quang An Ward, Tay Ho District, Hanoi 
Visit Agoda.com for reviews and the best deals on hotels in Hanoi
Bring out the creativity within you at Tipsy Art
Contrary to how it sounds, Tipsy Art is in no way associated with alcohol-induced paintings. Instead, it is a creative led experience that highlights the importance of values such as, life, friendships, spontaneous conversations, and memories. A ticket which costs 440,000 VND will get participants into the event, which has a different location each time. Other than an open mind and a willing heart, all other materials such as paints, brushes, canvas, and aprons, will be provided for. The facilitators are skillful, patient, and enthusiastic about inspiring everyone who joins the event. Besides producing your own souvenirs, this is a fantastic opportunity to make some new, like-minded local friends.
Address: Check out https://tipsyart.vn/ for the next event date / time / venue
Visit Agoda.com for reviews and the best deals on hotels in Hanoi
Support To He (Toy Figurine) making in Xuan La
"To He" are sculptured toys of the Northern region. With the emergence of computer and mobile games, traditional toys have long been overlooked as entertainment for kids. But in Xuan La village, there is still a group of craftsmen, who are working hard to preserve one of the fastest dying trades in the country. For over 300 years, these professionals have been preparing and molding dough to create different forms of To He. This skill requires meticulous planning and impeccable craftsmanship, and the process is a wonder to watch. Consider paying a visit and learning to make a To He, which will not just support the locals' livelihoods, but may help prolong the life of this traditional art for just another day.
Address: Xuan La Hamlet, Phuong Duc Commune, Phu Xuyen District, Hanoi
Visit Agoda.com for reviews and the best deals on hotels in Hanoi
---
You may wish to check out our other recommendations in Ho Chi Minh