---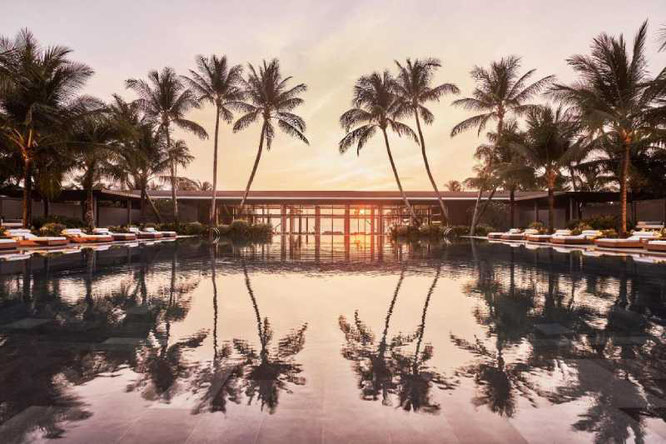 Disclosure: We may receive affiliate commission, at no extra cost to you, if you decide to purchase a product or service via some of the links found on our website.
Warm and comfortable all year round, Phu Quoc is a beautiful island that promises crystal clear waters and long sandy beaches for a dream vacation. While Phu Quoc island may not be as well known or popular as Phuket or Langkawi, it still has a lot to offer in terms of things to do. We will go even further to say that because it attracts significantly less number of tourists compared to the abovementioned destinations, Phu Quoc is better suited for a quiet beach getaway. As for the 'best area' to stay in - it all depends on what you plan to see and do. Getting around the island is pretty simple, so, to make the most of your holiday, choose the best hotels in Phu Quoc which offer stunning views and bespoke services. Check out our favourite picks for the 5 boutique hotels in Phu Quoc island for a resort-style dream vacation, to help you plan for your perfect getaway on this island in the Gulf of Thailand.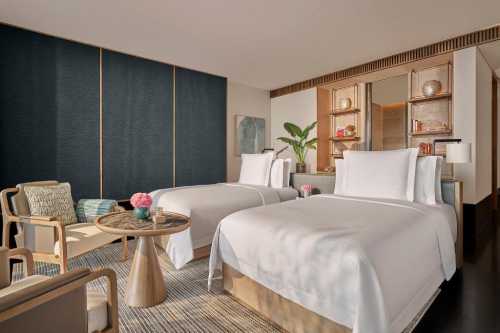 1. REGENT PHU QUOC HOTEL
With a harmonious blend of Asian and Western modern styles, Regent Phu Quoc is a very popular boutique hotel in Phu Quoc Viet Nam. Located in the center of Phu Quoc, visitors can visit Phu Quoc Prison, Tranh Waterfall, Ho Quoc Temple, or simply relax on Long Beach nearby. The Regent Phu Quoc has an impressive design, and offers a vibrant, bright, and airy atmosphere. Staying on Long Beach will make you feel as if you are far from civilization. If you love swimming, there are five colossal pools (with two on the rooftop), which excludes the private pools in all the villas. Besides SUP, kayaking, windsurfing, snorkeling, and water bicycles, you can also enjoy many complimentary activities at the beach. 
Address: Bai Truong, Duong To, Phu Quoc.

Standard: 5 star

Agoda rating: 9.7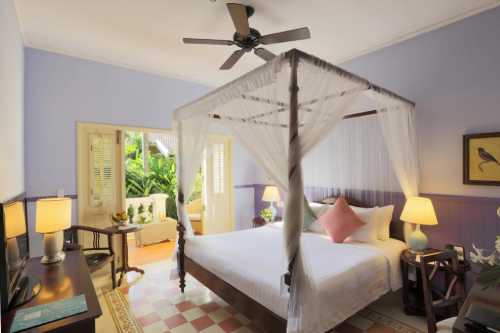 2. LA VERANDA RESORT PHU QUOC - M GALLERY
This hotel is considered to be one of the best Phu Quoc island boutique hotels by many visitors. Just 2km from Phu Quoc's center and closest to the night market, La Veranda Resort blends modern classic style with Vietnamese traditions. Its minimal French decor is surrounded by tropical gardens, making you feel relaxed as soon as you arrive. This boutique hotel also boasts an area dedicated to "Tranquil Wellness" – for its guests to wind down at the end of the day. The site houses a sauna, steam room, and hydrotherapy. There is also a yoga sala, fitness center, and an organic salon & nail corner for beauty lovers. And if you have green fingers, you might want to try picking fresh vegetables, herbs, and spices from the 1000m2 organic farm of the resort.
Address: Tran Hung Dao, Duong Dong, Phu Quoc.

Standard: 5 star

Agoda rating: 9.0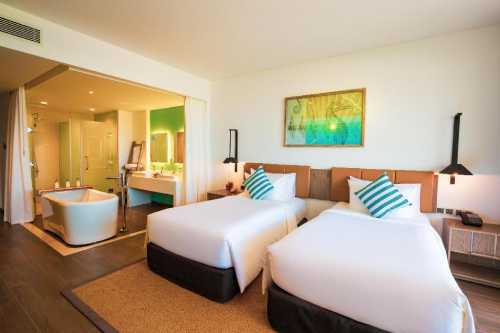 3. SEASHELLS PHU QUOC HOTEL & SPA
If you are looking for one of the best boutique hotels in Phu Quoc, Seashells is a place to consider - for its central location and island design concept. This hotel is only 20 minutes away from the international airport. The famous Long Beach and Duong Dong market are within walking distance, giving you full access to the island's vibrant nightlife. This beachfront hotel in Phu Quoc focuses on enhancing the island atmosphere, with most rooms featuring beach views and pine trees. You can swim in the sea, or at the shapeless swimming pool which runs across the length of the hotel. You can also visit the Sea Serenity Spa, or other facilities such as Cocoon Beach Lounge, Turtle Kid's Club, Boat Gym, and Shell Bakery-Cafe – all of which are complimentary for guests.
Address: 1 Vo Thi Sau, Duong Dong, Phu Quoc.

Standard: 4 star

Agoda rating: 9.0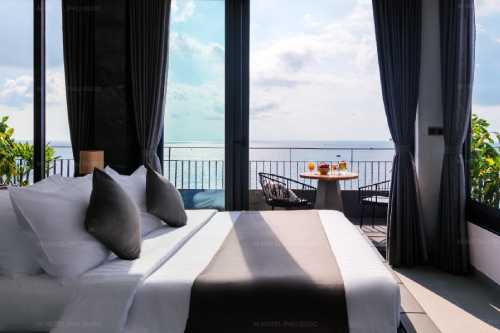 4. M HOTEL PHU QUOC
Despite not being a 5 star boutique hotel in Phu Quoc, M Hotel is still one of the most elegant hotels on the island. Located just 30 meters from Long Beach, this hotel is close to many attractions such as Phu Quoc Waterfall, Sung Hung Pagoda, Cao Dai Temple, and Cau Castle. A gray and white theme runs through the whole hotel. The furniture is modern and comfortable, and feels more classy rather than like a resort. For a luxurious experience, the rooftop ocean view suite is ideal as it offers a large balcony equipped with a dining table, outdoor bathtub, and seating area. In the M Sunset Restaurant, you can enjoy fantastic food and wine while watching the sunset. Or, you can order in and have the food delivered right to your doorstep. 
Address: 46 Tran Hung Dao, Cua Lap, Duong Dong, Phu Quoc.

Standard: 4 star

Agoda rating: 8.8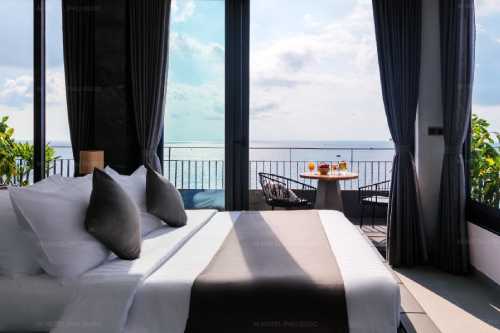 5. LAHANA RESORT PHU QUOC
This hilltop resort offers a rare experience worthy of a luxurious boutique hotel in Phu Quoc. The neighborhood includes Long Beach, Coco dive center, Rainbow divers, and the night market, making it the perfect place to enjoy both active Phu Quoc life and peaceful private time. Lahana is designed with a neutral warm yellow theme and natural furnishings like wood, bamboo, or stone. It features a 50-meter-long swimming pool overlooking Long Beach, and is surrounded by lush green forest. Additionally, you can dine at a restaurant that offers panoramic views. 
Address: 91/3 Tran Hung Dao, Duong Dong, Phu Quoc.

Standard: 4 star

Agoda rating: 8.9
---
You may wish to check out our other recommendations in Phu Quoc