---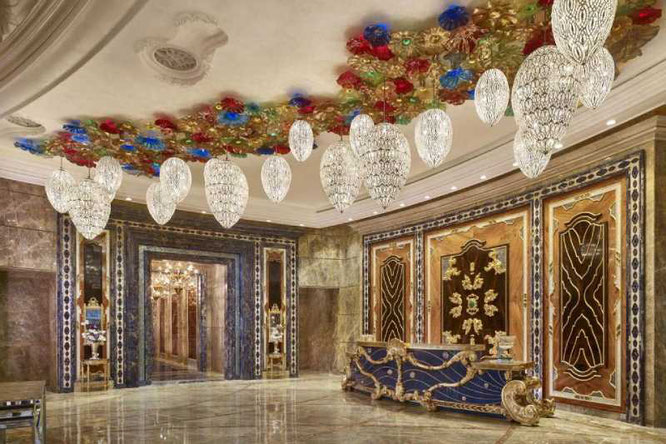 Disclosure: We may receive affiliate commission, at no extra cost to you, if you decide to purchase a product or service via some of the links found on our website.
As the economic center of Vietnam, Ho Chi Minh city has attracted more tourists and business travelers than anywhere else in the country. Consequently, it is not an understatement to say that hotels are popping up like mushrooms in this city, particularly in District 1. Boutique hotels especially, are fast gaining traction with visitors who have a discerning taste for aesthetics, and a unique ambience. These hotels in Ho Chi Minh are by no coincidence, located near best restaurants, popular attractions, and wonderful things to do in Ho Chi Minh. So if you are looking for a truly memorable stay, here are some of the best options for luxurious 4 & 5 star boutique hotels in Ho Chi Minh city District 1.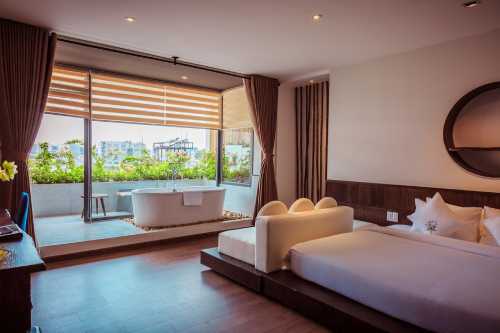 1. COCHIN ZEN HOTEL
There is no doubt that District 1 is one of the most vibrant areas of Ho Chi Minh city. But sitting in the midst of all this bustle, is a hotel that is truly "zen-like". Cochin Zen hotel strives to help its guests find divinity within themselves while traveling. Located on Thu Khoa Huan street, this boutique hotel near Ben Thanh market has a modern-nature-inspired design with soft earth tones that will evoke the essence of Zen in you. All its facilities such as spa, gym, swimming pool, bar, and restaurant are unsurprisingly influenced by Zen principles of balance and harmony.
Address: 44-46bis Thu Khoa Huan, Ben Thanh Ward, District 1, Ho Chi Minh city

Standard: 4 stars

Agoda rating: 8.8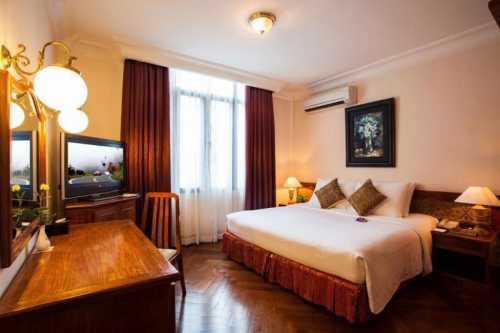 2. HOTEL MAJESTIC SAIGON
Hotel Majestic Saigon is the perfect place for anyone who appreciates nostalgia. As an (almost) century-old hotel, Hotel Majestic Saigon brings back memories of the luxury and magnificence of old Saigon. This 5-star hotel is an ideal location for panoramic views of the Saigon River, and is also just less than 1km to the Notre Dame Cathedral and Ben Thanh market. Stepping into Hotel Majestic Saigon, you will see the classical Parisian opulence still present in this place, with columns, domes, chandeliers, and windows representing the French style. This boutique hotel in Ho Chi Minh currently has 175 bedrooms, including 29 luxury rooms decked with antique furniture for that special touch.
Address: 01 Dong Khoi, Ben Nghe Ward, District 1, Ho Chi Minh city
Standard: 5 stars
Agoda rating: 8.5
3. THE ODYS BOUTIQUE HOTEL
Indochine architectural beauty is evident at the Odys Boutique Hotel - a journey back to the "Pearl of the Far East" over 100 years ago for visitors. The hotel was designed by the famous designer Nguyen Hoai Huong, and is located on one of the city's most colourful streets, making it an ideal location for sightseeing in the city. Staying at this gorgeous Ho Chi Minh boutique hotel, you will see many hand-sculpted lotus flowers all over the place, which together with the refined cedar wood furniture in golden and blue, provides guests with a relaxing sense of harmony. The unique Bup restaurant is a must-visit for its highly acclaimed Asian and European fusion dishes.
Address: 67-69 Nguyen Thai Binh, Nguyen Thai Binh Ward, District 1, Ho Chi Minh city
Standard: 4 stars
Agoda rating: 8.4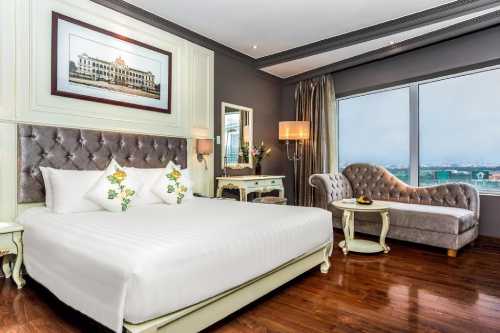 4. SILVERLAND JOLIE HOTEL
Silverland Jolie Hotel is a popular stopover among tourists coming to Ho Chi Minh city, because of its easy commute and great location. Located in the city center, this hotel is surrounded by many famous landmarks, high-end malls, the Saigon Opera House, and of course, Ben Thanh Market. In addition to the world-class in-house restaurant and the fantastic gym, a complimentary private airport transfer is available upon request for a bespoke experience. Moreover, who doesn't adore a lovely boutique hotel with a minimalistic color scheme? Silverland Jolie is a monochromatic hotel with its rooms sparsely decorated in the shades of black, white, and brown elevating the hotel's elegance.
Address: 4D Thi Sach, Ben Nghe Ward, District 1, Ho Chi Minh city
Standard: 4 stars
Agoda rating: 8.3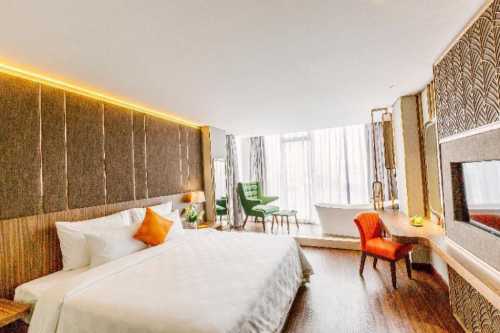 5. WINSUITES SAIGON HOTEL
Winsuites Saigon hotel is one of the best luxury choices for your trip to Ho Chi Minh city, if you wish to find a premium hotel near famous attractions such as Ben Thanh market, Fine Art Museum, Opera House, and Takashimaya. Fitted with high ceilings, chandeliers, and European furniture, this boutique hotel in District 1 gives off luxurious vibes and a warm atmosphere. Winsuites Saigon Hotel is best known for its suites, ranging from 4 different types in which you will experience dignified services and amenities. Other featured facilities include an infinity pool, private gym, meeting rooms, event rooms, and two outstanding Vietnamese cuisine restaurants, Viet Pho Premium Restaurant and Central Restaurant.
Address: 32 Le Lai, Ben Thanh Ward, District 1, Ho Chi Minh city
Standard: 4 stars
Agoda rating: 8.8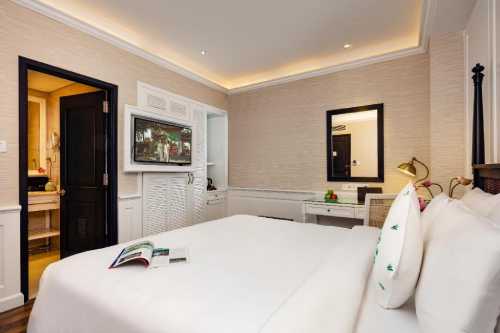 6. ALAGON D'ANTIQUE HOTEL AND SPA
Alagon D'Antique Hotel & Spa is one of the hotels in the popular Alagon hotel chain, featuring a blend of history and French colonial design. Located on one of the busiest streets in District 1, Ly Tu Trong, most popular places and attractions are just a walk away. Hand-picked French artworks and colonial-style marble baths are included in all rooms. There are also old telephones and antique furnishings which adds to the overall elegance of this Ho Chi Minh boutique hotel. Everything is carefully chosen and adorned harmonically. Staying at this hotel, guests can have free access to the rooftop sauna, jacuzzi, swimming pool, and outdoor garden with a tranquil setting.
Address: 301-303 Ly Tu Trong, Ben Thanh Ward, District 1, Ho Chi Minh city
Standard: 4 stars
Agoda rating: 8.5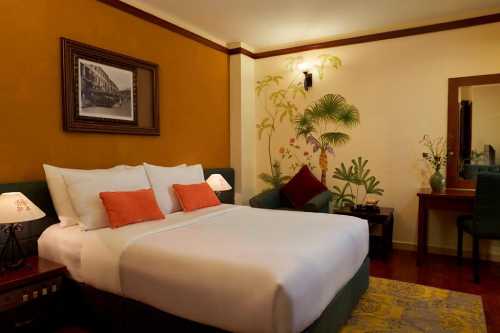 7. PROSTYLE HOTEL HO CHI MINH
Standing a short distance from the Saigon Opera House, Prostyle Hotel Ho Chi Minh city offers guests a somewhat middle eastern vibe. Stepping into the lobby and common areas, tourists will straightaway be transported into an "Aladdin-like" world, with furniture like couches, tables inspired by Eastern castles, walls, and curtains dressed in gold and pastel colors. The rooms are relatively simple yet cozy, with a brown theme completed with wooden floorings. A partition separates the bedroom and a small living room, making it feel just like home. This boutique hotel in Ho Chi Minh also provides delicious afternoon tea with sweets to complete a doozie experience. 
Address: 26 Thi Sach, Ben Nghe Ward, District 1, Ho Chi Minh city
Standard: 4 stars
Agoda rating: 8.4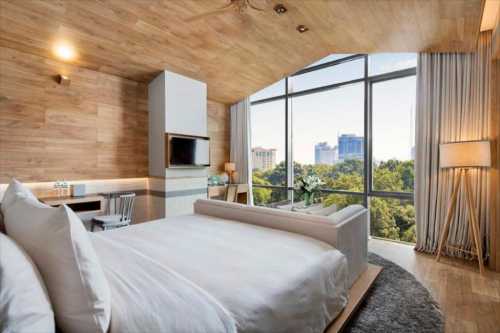 8. FUSION SUITES SAIGON
Located a kilometer away from the Independence Palace, Fusion Suites Saigon is a perfect getaway for those who appreciate simple Scandinavian style. The classy boutique hotel in Ho Chi Minh and its rooms are white-grey minimal, created with elegant furniture mixed with photographs and large windows to capture natural lights. For every night booked in Fusion Suites, guests will be treated to a free body, foot, or facial massage. In this hotel, you can start your day by requesting breakfast to be served in your room or by the swimming pool. Within Fusion Suites Saigon sits a small cafe, which makes it a great place to hang out with  friends and family.
Address: 3-5 Suong Nguyet Anh Street, Ben Thanh Ward, District 1, Ho Chi Minh city
Standard: 4 stars
Agoda rating: 8.9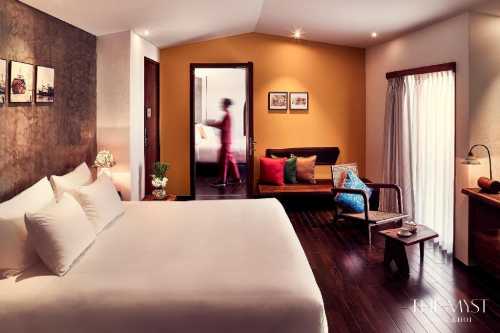 9. THE MYST DONG KHOI
Located on the famous Dong Khoi street, just 490m away from the City Hall, The Myst is designed to look like a collage art building. The outside is slightly chaotic, where windows are not in line, and walls are decorated with different layers of plotted trees. At the same time, the inside atmosphere of this boutique hotel is calm, coming from wooden furniture, from the stairs, the lobby to the rocking chair, lighten with vintage yellow desk lamps. There is a rooftop pool, wooden pool lounges interleaved with small trees, and a cozy bar with unique Saigonese cocktails, a perfect place to relax and enjoy the taste of the city.
Address: 6-8 Ho Huan Nghiep, Ben Nghe Ward, District 1, Ho Chi Minh city
Standard: 5 stars
Agoda rating: 8.9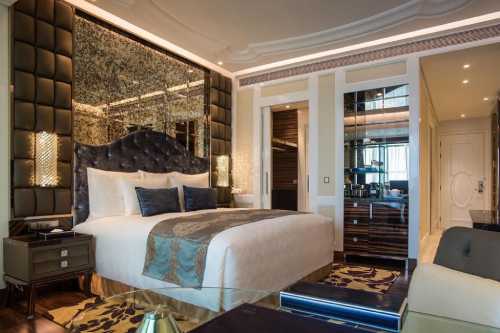 10. THE REVERIE SAIGON
Sitting atop the Times Square building, with a view of the whole district 1 underneath, The Reverie Saigon is an easy pick amongst the best boutique hotels in the city center. Every corner of the hotel, from the rooms, common area, spa, and restaurants, reflects luxury Italian design mixed with classical European artistry and the finest craftsmanship. The top two floors of this boutique hotel near the Saigon river, are luxury duplex apartments decorated with golden, iconic furniture. Besides essential amenities, staying in the Reverie Saigon also entitles guests to a chance to cruise along the Saigon river on a luxury yacht - the Monte Carlo 6.
Address: 22-36 Nguyen Hue, Ben Nghe Ward, District 1, Ho Chi Minh city
Standard: 5 stars
Agoda rating: 9.4
---
You may wish to check out our other recommendations in Ho Chi Minh