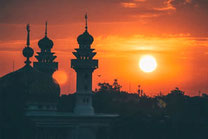 The presence of Islam in Vietnam was recorded as early as 650 A.D. , but it was not until the 17th century, and again in the 19th century, did Vietnam see a widespread of Islamic influence in the country. Islam is primarily the religion of the Cham people, an ethnic minority related to the Malays, who mostly originated from Cambodia.
Though the Muslims were largely oppressed in the past, modernization has seen a large change in the attitudes of the Vietnamese. These days, religious acceptance in Vietnam has led to a healthy respect for all religions, and has seen a huge increase in the number and diversity of religious groups. The steady increase in the number of mosques which can be found in all parts of Vietnam, and more so in Ho Chi Minh city, is testimony of its commitment to a Muslim friendly environment.
Here are our pick of the most popular 5, in no order of preference, which are in close proximity to Muslim friendly hotels, and most tourism related activities.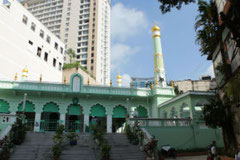 1. CENTRAL SAIGON MOSQUE (also known as Dong Du mosque or Masjid Muselman)
One of earlier and more impressive mosques in the city, the Saigon Central Mosque was built in the 1930s by the Indian Muslim community living in Ho Chi Minh. Boasting a well maintained interior and magnificent architecture, this mosque also offers a solemn and tranquil atmosphere; ideal for Muslim worshippers from all over the world. The mosque is in walking distance to Ben Thanh market. 
Address: 66 Dong Du Street, District 1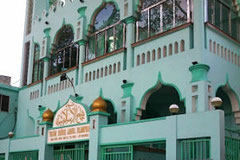 2. AL RAHMAN MOSQUE
The earliest mosque In Vietnam, built in 1885, now sits proudly at the heart of Ho Chi Minh's busiest district. Every Friday, this mosque sees swarms of worshippers, coming mainly from Malaysia and Indonesia. Its great location, coupled with its beautifully designed exterior, makes the Al Rahman mosque very appealing to Muslims travellers, and architecture lovers alike.
Address: 45 Nam Ky Khoi Nghia, District 1
3. CHO LON MOSQUE
In a district largely dominated by the Chinese-Buddhist community, it is very interesting to see a mosque(almost) rubbing shoulders with pagoda and temples. Cho Lon is more famous to many, as being the crown of Chinatown in Ho Chi Minh city. Hence, do stop by if you are a Muslim, and also plan to check out this area in Ho Chi Minh.
Address: 641 Nguyen Trai Street, Ward 11, District 5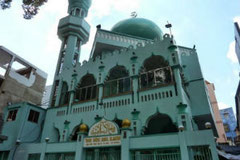 4. JAMIUL ISLAMIYAH  MOSQUE (also known as Nancy Mosque)
Another very popular mosque in Ho Chi Minh city, is the Jamiul Islamiyah mosque or Nancy Mosque. Catering mostly to the local Muslims, the mosque is considered to be one of the most primary mosques in all of Vietnam.  Foreign Muslim visitors here can take the opportunity to interact with someone in the same faith, but from another country.
Address: 495B Tran Hung Dao Street, Cau Kho Ward, District 1
5. JAMIYAH ISLAMIC MOSQUE
The Jamiyah Islamic mosque is a place of divine worship for the Cham people who mostly practice Islam. Besides being a main prayer center, the mosque is also widely regarded as the representative office for Muslims in Ho Chi Minh city. Besides a worship hall, there is also a special area downstairs dedicated to the Islamic education for children.
Address: 52 Nguyen Van Troi, Phu Nhuan District
Contrary to popular belief and common knowledge, Vietnam does in fact, welcome and supports religious integration in its society. We have seen how pagodas, churches, and now even mosques become cornerstones of tourism activities in the city. Another benefit of being a mosque near Ben Thanh market, is that they are all surrounded by amazing Vietnamese Halal certified restaurants. So, if you are not planning on having touristy meals throughout your stay, these stalls are great alternatives you should also consider.
---
You may wish to check out other articles related to Muslim travel in Ho Chi Minh