---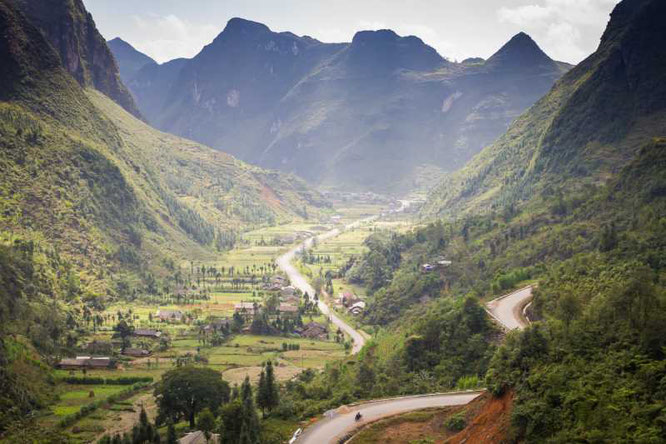 Disclosure: We may receive affiliate commission, at no extra cost to you, if you decide to purchase a product or service via some of the links found on our website.
It has been over 2 years since Vietnam closed its borders to most of the world. Like many countries, Vietnam has had to re-evaluate and reinvent its tourism industry, in the face of uncertainties brought about by Covid19. So how has travel in Vietnam adapted? Interestingly, this has led many tourism leaders to make one full circle back to what Vietnam is naturally endowed with – beautiful natural landscapes, history, and culture. From fascinating mountains in the north, to tropical beaches in the south, Vietnam ticks many checkboxes if you wish to get away from overcrowded cities and mass tourism. And for that reason, we have not included Ho Chi Minh or Hanoi in this list. There are numerous top places to visit in Vietnam, but some destinations simply cannot be missed. This article will give you full guidance on the 10 best places to visit in Vietnam in 2022. Do read through this list to get the most out of your vacation - when borders finally open again.
BEST PLACES TO VISIT IN NORTH VIETNAM
1. VINH PHUC
Just 80km away from Ha Noi, Vinh Phuc is your go-to destination if you simply wish to immerse yourself in nature. Once setting foot here, don't miss a chance to visit the vast and wild Tam Dao Mountains. Boasting cool temperature all year round, Tao Dao Mountains is popular with locals who wish to enjoy refreshing air and stunning scenery. Also, you can visit the holy, grandiose Tay Thien Truc Lam Monastery hidden inside majestic Ba Vi Mountain. All year round, Vinh Phuc showcases the same magnificent beauty for visitors to come and admire.
Key highlights: Tam Dao National Park, Dai Lai Lake, Me Linh Flower Market, Huong Canh Pottery, The Musky Lake.
2. NINH BINH
Located not very far from Vinh Phuc, Ninh Binh is known and loved for its limestone karsts, serpentine rivers, and lush scenery. If you are an adventurous type of person, you will have an instant crush on Ninh Binh, appropriately nicknamed 'Ha Long Bay on land'. Start exploring Ninh Binh from the Trang An caves and grottoes, which is heavenly stunning and not like any other attractions you have seen before; while Cuc Phuong National Park will seduce you with its wildlife and natural beauty.
Key highlights: Trang An, Thung Nham Bird Park, Bai Dinh Pagoda, Tam Coc - Binh Dong, Cuc Phuong National Park.
3. HA LONG BAY
Ha Long Bay is no stranger to all the travel addicts, thanks to its gorgeous emerald-hued waters, beautiful islands, and wonderful waterside caves. From adventurous locations to unwind spots, Ha Long Bay has something for everyone. You can partake in all sorts of activities including scuba diving, kayaking, hiking, and rock climbing around Cat Ba National Park; or get on boat cruises to best experience the natural wonder of Ha Long Bay. Summer is the best time to visit this place, otherwise, you may need to keep an eye on the weather forecast all the time.
Key highlights: Tuan Chau Island, Quang Ninh Museum, Cua Van Fishing Town, Bai Tho Moutain, Cat Ba National Park.
Enjoy the best Agoda.com deals and flexibility for hotels in Hanoi and North Vietnam
BEST PLACES TO VISIT IN CENTRAL VIETNAM
4. HUE
Hue is home to some of the most impressive pagodas, historical sites, and wonderful natural settings in Vietnam. Once the ancient capital of Vietnam, Hue tells of its rich history surrounding the imperial rule during the feudal era. One of its highlights is the majestic Imperial Palace, a citadel within a citadel which houses the emperor's residence, temples and palaces, and the main buildings of state. Hue also boasts many traditional dishes, which are unique to this part of Vietnam, and are not necessarily easily found elsewhere.
Key highlights: Dong Ba Market, Hue Imperial Palace, Signature Hue Beef Noodles, Lang Co Bay, Lap An Pond.
5. DA NANG
Known as one of the largest cities alongside Ha Noi and Ho Chi Minh City, Da Nang might not be as crowded as them both, but you will find yourself falling in love with this city for its pristine beach, magnificent mountains, attractions around the city, and many heritage sites. Make your way to Ba Na Hills with the main highlight attraction being the Golden Bridge, from which you can admire the stunning landscape surrounded by clouds and mountains.
Key highlights: Ba Na Hills, The Marble Moutain, My Son Sanctuary, Dragon Bridge, Linh Ung Pagoda.
6. NHA TRANG
Another of the most popular tourist destinations to visit in Viet Nam is Nha Trang, and for good reason. Famous for its palm-lined beaches, crystal-clear water, and vivid white sand, Nha Trang see throngs of sea loving enthusiasts every year. There are numerous resorts here, such as Vinpearl Land, of which you can spend a day enjoying various entertainment, wildlife, or activities. Alternatively, you can also pay a visit to The Nation Oceanographic of Vietnam, to feast your eyes on more than 20,000 live and preserved specimens in marine life.
Key highlights: Vinpearl Land, Ponagar Tower, Long Son Pagoda, The Nation Oceanographic of Vietnam.
7. PHU YEN
Just a 4-hour drive from Nha Trang, Phu Yen has even more charming and wild beaches with fewer tourists - which fits perfectly for those who want to escape the crowd and simply enjoy nature. You could try camping out on Dai Lanh beaches to catch a glimpse of the rising sun over the mountains. This breathtaking spectacle is certainly worth staying up all night for. Seafood is another great reason to come to Phu Yen. Vung Ro Port has the most value-for-money, freshest, and juiciest seafood you have ever tasted. To avoid overcast and stormy weather, do remember to visit only during the summer and spring seasons.
Key highlights: Mang Lang Church, Dai Lanh Lighthouse, Nhan Tower, Van Hoa Highland, Vung Ro Port.
8. DA LAT
Da Lat is perfect for anyone who wishes to escape the heat. With year-round cool weather and idyllic scenery of misty valleys, lush pine trees, and colorful flower fields, there is so much to see in Da Lat. You can start off by visiting Lang Biang Mountain to admire the scenery by day, then head off to the Da Lat Market for all sorts of handicrafts, silk embroidered items, and authentic street food at night. One of our favorite things to do here is wander around Da Lat main street to truly enjoy the beautiful French colonial architecture from the last dynasty of Vietnam.
Key highlights: Da Lat Station, Night Market, Da Lat Flower Market, Lang Biang Mountain, Bao Dai Mansion, Clay Town.
Enjoy the best Agoda.com deals and flexibility for hotels in Da Nang and Central Vietnam
BEST PLACES TO VISIT IN SOUTH VIETNAM
9. KIEN GIANG
Known for its scenic coastline and numerous island paradises, Kien Giang is also famous its fascinating rice fields, and fishing towns, from which you can observe the culture of Vietnamese people. The star of the show is undoubtedly Phu Quoc Island, which is the first destination to be conditionally opened for tourism since the pandemic. Visitors to the island can enjoy a wide selection of places to visit, and things to do in Phu Quoc. On top of that, you will find some of the best seafood in Vietnam here as well.
Key highlights: Phu Quoc Island, U Minh Thuong National Park, Pirate Island, Nam Du Island
10 BEN TRE
Located in Mekong Delta, Ben Tre is a major exporter of tropical fruits across Asia, and is nicknamed "The land of Coconuts". Needless to say, the must try delicacies found here include a variety of coconut made products, and if you have the stomach for it, the infamous coconut worms (despite being banned in Vietnam). Do not leave without visiting the Cai Lon - Cho Lach Flower & Fruit Market, where you can find all kinds of interesting tropical fruits, and truly experience the upbeat ambiance of Ben Tre traditional market.
Key highlights: Cai Lon - Cho Lach Flower & Fruit Market, Phung Islet, Vam Ho Bird Park, Lang Be Fish Town.
11. CAN THO
Exotic cuisine, breathtaking views, with amazingly warm and friendly people, is how we would best introduce Can Tho in the shortest way. Not only a delightful destination to visit, Can Tho is also the largest provincial city, as well as a commercial hub of the south. Here, you can immediately feel the relaxing and cheerful ambiance all around, especially from the biggest floating market of Viet Nam - Cai Rang. We also highly recommend visiting Ninh Kieu Wharf – an iconic scene that is bustling and attractive with bright lights after nightfall.
Key highlights: Cai Rang Floating Market, Binh Thuy Vintage House, Bang Lang Bird Park, Ninh Kieu Wharf, Ong Pagoda.
12. CA MAU
Cau Mau is named "The end of the country" as this is the Southernmost tip of Vietnam. With three of its sides bordering the sea, you can admire magnificent forests, vast seas, and enjoy picturesque sunsets. One of the national landmarks in Ca Mau that you definitely have to visit is the U Minh Ha National Park. Explore the wetland ecosystem on a canoe, with plenty of flora and fauna the wetland ecosystem with plenty of flora and fauna to admire.
Key highlights: U Minh Ha National Park, Ca Mau Floating Market, Da Bac Island, Thi Tuong Pond, Hon Khoai Island, Ca Mau Mangrove Forest.
Enjoy the best Agoda.com deals and flexibility for hotels in Ho Chi Minh and South Vietnam
Vietnam is indeed a beautiful and peaceful country with an astonishing mix of natural highlights and cultural diversity. Whenever visiting this small-yet-fascinating country, get ready to be greeted with all the kindness, warmth, and curiosity (of course, in a positive way). Check out one of the best places to visit in Vietnam on our list, and you will be sure to come back for more.
---
You may wish to check out our other recommendations