---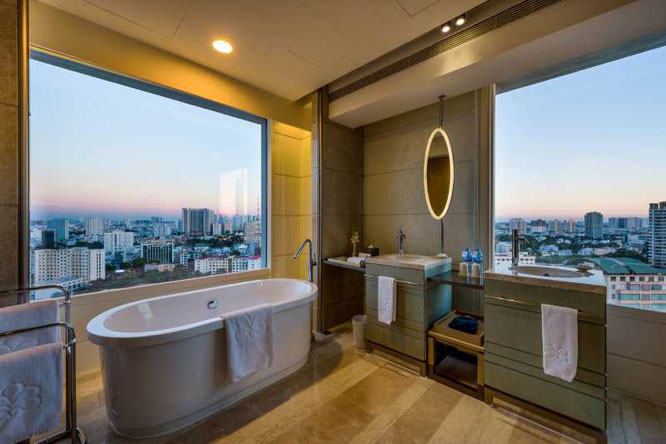 Disclosure: We may receive affiliate commission, at no extra cost to you, if you decide to purchase a product or service via some of the links found on our website.
Traveling and exploring Ho Chi Minh city can be such a welcoming experience, whether with family or friends, or even alone. And at the end of a long day, there's no better way to relax your weary body, then by soaking yourself in a bathtub filled with bubbles and a relaxing scent. Similar to our write up on 10 hotels with bathtubs in Hanoi, we have profiled a list of 10 hotels with bathtubs near Ben Thanh market, District 1, which will surely help you feel rejuvenated in preparation for next day's adventures.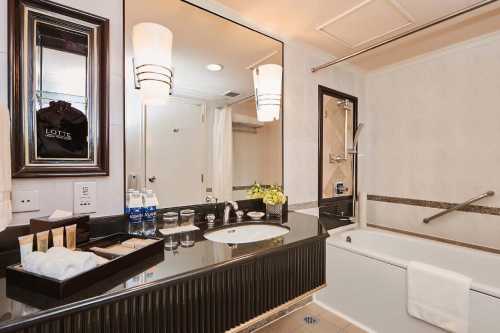 1. LOTTE HOTEL SAIGON 
Fronting the scenic Saigon River, and only a 5 minutes walk to the famous Opera House, Lotte Hotel Saigon is one of the most beloved 5-star hotels in Ho Chi Minh city. With its breathtaking resort settings, and distinctive architectural interior, the hotel exudes an aura of luxury and tranquility. Here at the Lotte Hotel Saigon, the Legend Healing Spa is not to be missed - a sanctuary which offers services ranging from Aroma massages and Swedish massages, to treatments requiring specialized techniques. You can also enjoy amazing dining experiences at the Atrium Café buffet restaurant, Asian cuisine at Crystal Jade Palace, or Japanese cuisine at Yoshino.
Address: 2A-4A Ton Duc Thang Street, Ben Nghe Ward, District 1
Standard: 5 stars
Hotel with bathtub available: in all rooms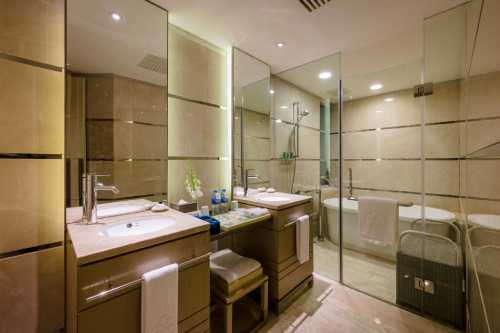 2. HOTEL NIKKO SAIGON 
Away from the hustle and bustle of the city, Hotel Nikko Saigon is a true representation of refined Japanese hospitality, bearing a touch of elegance and warmness. Here, you will find ultimate comfort in its service excellence, huge rooms, and delightful F&B options. At the La Brasserie, an international buffet restaurant, the concept of eating fresh and eating healthy is emphasized. And over at the Ming Court, you can also explore Chinese cuisine with a Taiwanese touch, with all sorts of Dim Sum to tantalize your taste buds. To help you unwind, Ren Spa, the hotel's in-house spa, offers a range of professional services at affordable prices.
Address: 235 Nguyen Van Cu Street, Nguyen Cu Trinh Ward, District 1
Standard: 5 stars
Hotel with bathtub available: in all rooms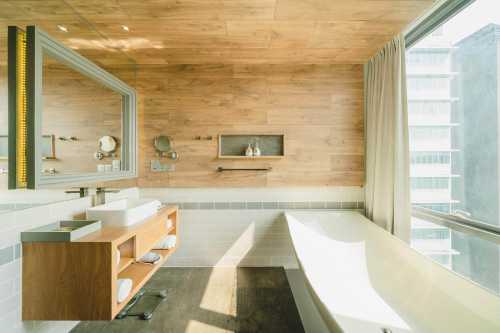 3. FUSION SUITES SAIGON 
Situated in the heart of District 1, Fusion Suites Saigon is just steps away from Ho Chi Minh city's oldest park, and a mere 15-minute walk from the famous Ben Thanh market. This down-to-earth all-suite hotel is designed to give the modern urban adventurer 'a home away from home'. Try out the Fresh Restaurant & Coffee for a relaxed, casual dining experience which prioritizes its menu on locally sourced ingredients. You can also visit The Poke Cafe to enjoy some of their signature poke bowls, or simply create your own. Guests should not miss their Daily Spa Journey - a rejuvenating body or foot massage for each night of your stay when selecting their premium rates.
Address: 3-5 Suong Nguyet Anh Street, Ben Thanh Ward, District 1
Standard: 4 stars
Hotel with bathtub available: in all rooms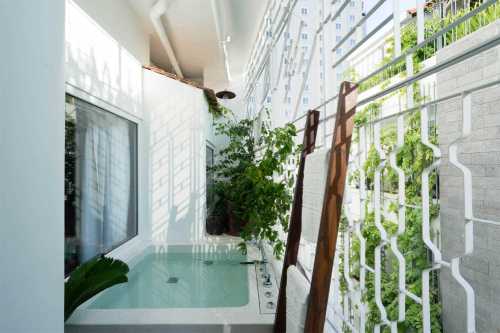 4. THE MYST DONG KHOI 
Step through the doors of The Myst Dong Khoi, and you will immediately experience a sense of homeliness and luxury at the same time. The ylang-ylang-scented air cools, hushed modern spaces, and walls adorned with traditional Vietnamese paintings and carvings, all come together to capture this charismatic city's storied past. Soothe your body and soul at the KL Spa, or take a dip in the stunning rooftop infinity pool. For dining options, visit the Bason Cafe where creative local flavors bring Saigon's culinary heritage to light, The Nest for fine Vietnamese and European cuisine, or Bar Bleu with its dazzling city views.
Address: 6-8 Ho Huan Nghiep Street, Ben Nghe Ward, District 1
Standard: 4 stars
Hotel with bathtub available: in all rooms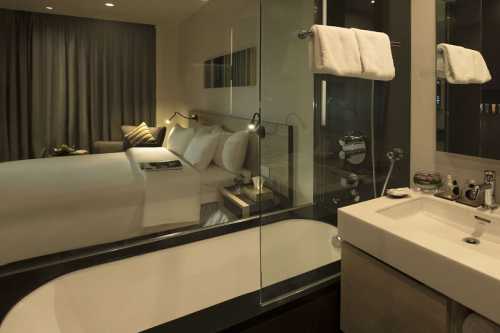 5. LIBERTY CENTRAL SAIGON CITYPOINT
Standing at the intersection of Pasteur and Le Loi streets, Liberty Central Saigon Citypoint reflects the energy of Saigon's Central Business District, as well as the vibrant nightlife venues in the city. It is also situated around key landmarks such as Ho Chi Minh city museum, Takashimaya, and Union Square. Pamper yourself at The Spa, enjoy innovative cocktails at the Above Sky Bar, or take a dip in the infinity rooftop swimming pool while indulging in the breathtaking panoramic skyline views. Liberty Central Saigon Citypoint is also the first and only hotel in Ho Chi Minh to offer an in-house cinema, so do check out some of the latest movie releases.
Address: 59 Pasteur Street, Ben Nghe Ward, District 1
Standard: 4 stars
Hotel with bathtub available: in all rooms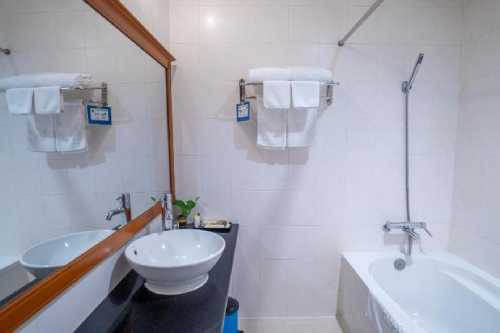 6. OSCAR SAIGON HOTEL
Oscar Saigon Hotel has a history of over 30 years, and is one of the most representative profiles among International Hotels in Ho Chi Minh city. Its location on Nguyen Hue Avenue makes it a perfect stay for anyone looking to be close to iconic attractions, entertainment, and of course, Ben Thanh market. As a major participant in the international arts scene, Oscar Saigon Hotel frequently plays hosts to outdoor arts and exhibitions, folklore musical events, and annual fashion shows. When you are here, we recommend dropping by the Le Cyclo Restaurant situated on the ground floor, for an unforgettable taste of delectable Asian and European fare.
Address: 68A Nguyen Hue Street, Ben Nghe Ward, District 1
Standard: 3 stars
Hotel with bathtub available: in all rooms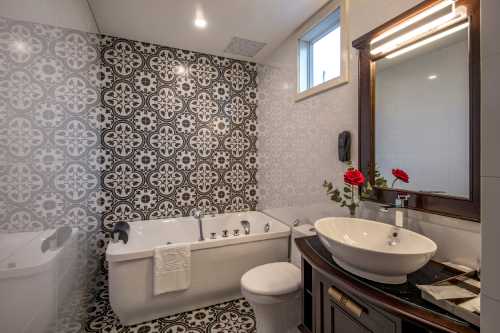 7. THE ODYS BOUTIQUE HOTEL 
The Odys Boutique Hotel is a collaboration between Vietnamese arts and culture, which is strongly manifested in all its decorations and services it provides. Hotel fittings, which bear the markings of nobility, are representations of the impeccable quality of service it strives to uphold, yet keeping the atmosphere warm and cosy. At the Bup restaurant, Vietnamese authenticity is further reinforced in its cuisine, which is to be savoured with a 360-degree view of Saigon. And for those looking for a great place to chill at night, look no further than the rooftop Sky Lounge,  which serves Vietnamese snacks alongside an extensive choice of wine and live music performances that you should definitely check out.
Address: 65-67-69 Nguyen Thai Binh Street, Nguyen Thai Binh Ward, District 1
Standard: 3 stars
Hotel with bathtub available: in all rooms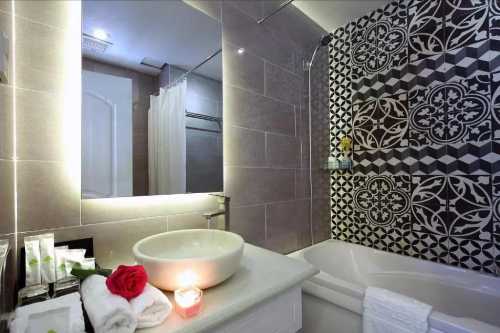 8. ME GUSTAS CENTRAL HOTEL
Me Gustas Central hotel is a great choice for singles and young couples who are keen to immerse themselves in the lifestyle and culture of the local Vietnamese people. Conveniently located just a few minutes away from Walking Street, this affordable and professional hotel offers front row seats to bustling street views, day and night. And for anyone looking for a quick sampler of what Ho Chi Minh city has to offer, you will be glad to know that Me Gustas is just a stone's throw away from some of the most popular attractions, iconic landmarks, and best restaurants in the city.
Address: 19-21 Dong Du Street, Ben Nghe Ward, District 1
Standard: 3 stars
Hotel with bathtub available: in all rooms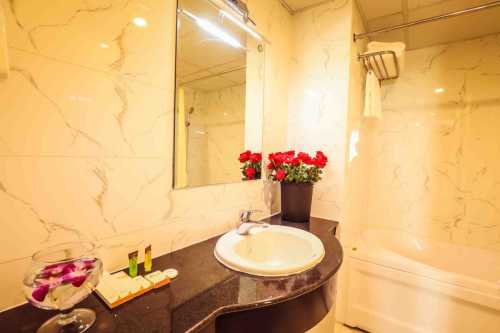 9. ALUNA BEN THANH HOTEL
Being outstanding in the tourist area nearby Ben Thanh Market, Aluna Hotel is designed in the neoclassical style with such a romantic and luxurious ambiance. At Aluna Hotel, don't miss a chance to experience their Aluna Restaurant which serves traditional Vietnamese and International cuisine in a modern atmosphere. What more interesting here is that they do offer cooking classes for guests who are interested in learning to prepare Vietnamese food.
Address: 48-50 Nguyen An Ninh Street, Ben Thanh Ward, District 1
Standard: 3 stars
Hotel with bathtub available: in all rooms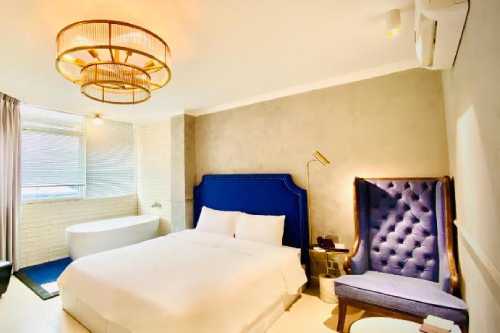 10. A IN HOTEL DEL LUNA
Located smack in the middle of Bui Vien Walking Street and Nguyen Hue Walking Street, with all sorts of street food and nightlife activities to explore, A In Hotel Del Luna is definitely a great stay for those who are always on the move. Its chic designs and neon coloured interior also makes the hotel one of the most eye-catching around, and is a fan favourite for taking Instagram photos. So, if you are looking for affordable accommodation that is an attraction in itself, do check out the A In Hotel Del Luna, before it becomes too popular.
Address: 126 De Tham Street, Cau Ong Lanh Ward, District 1
Standard: 2 stars
Hotel with bathtub available: in all rooms
We hope the suggestions above will help you have a more enjoyable and memorable trip when visiting Ho Chi Minh city. Besides those steamy, stunning bathtubs, the hotels that we have listed are in very close proximity to great food and activities. So let us know what you think, and if you happen to have more recommendations, we will be glad to feature them too.
---
You may wish to check out our other recommendations in Ho Chi Minh