---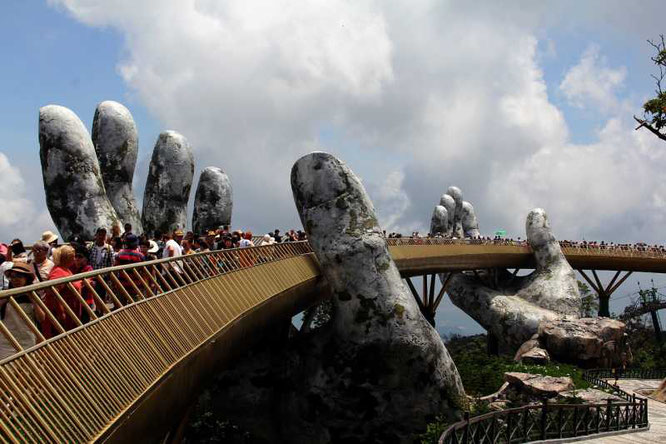 Disclosure: We may receive affiliate commission, at no extra cost to you, if you decide to purchase a product or service via some of the links found on our website.
‍Da Nang offers a unique blend of natural wonders, cultural heritage, and modern attractions. From pristine beaches and lush mountains to ancient temples and bustling markets, this vibrant city promises an unforgettable experience for every traveler. In this complete overview, we will delve into the mesmerizing charms of Da Nang, uncovering its rich history, vibrant culture, and top attractions, and unique things to do. Whether you're a nature enthusiast, a history buff, or simply a traveler seeking new adventures, Da Nang is sure to delight and surprise you at every turn.
Overview of Da Nang
Da Nang, located in the central part of Vietnam, is the country's fifth-largest city. It boasts a rich history as an important trading port during the ancient Cham civilization and played a crucial role during the Vietnam War. Today, it has transformed into a thriving tourist destination, attracting visitors from all over the world. Da Nang experiences a tropical monsoon climate, with the best months to visit being from February to May when the weather is warm and dry. To get to Da Nang, you can fly directly to Da Nang International Airport, which offers both domestic and international flights. Another option is to take a train or bus from major cities in Vietnam, such as Hanoi or Ho Chi Minh City.
Visit Agoda.com for reviews and the best deals on Hotels In Da Nang City
Best Area to Stay at in Da Nang
When it comes to choosing accommodation in Da Nang, you'll be spoiled for choice. The city offers a range of options, from luxury resorts and beachfront hotels to budget-friendly hostels and guesthouses. One of the best areas to stay in Da Nang is My Khe Beach, which is known for its beautiful sandy shores and crystal-clear waters. This area offers a mix of high-end resorts and mid-range hotels, as well as a vibrant dining and nightlife scene. If you prefer to be closer to the city center, the Han River area is a great choice. Here, you'll find a variety of accommodation options, ranging from boutique hotels to international chains. This area is also home to popular attractions like the Dragon Bridge and the Han Market, making it a convenient base for exploring Da Nang.
Visit Agoda.com for reviews and the best deals on Hotels In Da Nang City
Getting around in Da Nang
Getting around Da Nang is a breeze, thanks to its efficient transportation system. Taxis are readily available and can be hailed on the street or booked through ride-hailing apps like Grab. Motorbike taxis, known as xe om, are also a popular mode of transportation in the city. If you prefer to explore at your own pace, renting a motorbike or bicycle is a great option. For longer distances, you can make use of the city's public buses, which connect various parts of Da Nang. Another unique way to get around is by taking a ride on the Han River Ferry, which offers a scenic and affordable mode of transportation. Overall, transportation in Da Nang is convenient and affordable, allowing you to explore the city and its surrounding areas with ease.
Visit Agoda.com for reviews and the best deals on Hotels In Da Nang City
Exploring the Delicious Food Scene in Da Nang
No visit to Da Nang is complete without indulging in its mouthwatering food scene. Vietnamese cuisine is known for its fresh ingredients and bold flavors, and Da Nang is no exception. You can start your culinary adventure by trying some of the city's famous street food. From banh mi (Vietnamese baguette sandwich) and banh xeo (Vietnamese savory pancake) to pho (Vietnamese noodle soup) and bun cha (grilled pork with noodles), the options are endless. In addition to the best Vietnamese restaurants in Da Nang, Da Nang also offers a diverse range of international flavors. You can find everything from Japanese sushi and Korean barbecue to Italian pizza and American burgers. For those with specific dietary requirements, there are also plenty of halal restaurants and vegetarian options available. To truly immerse yourself in the local food culture, don't miss a visit to the Han Market. This bustling marketplace is a treasure trove of fresh produce, spices, and local delicacies. You can sample exotic fruits, purchase aromatic Vietnamese coffee, or even try your hand at cooking traditional Vietnamese dishes with the help of the friendly vendors.
Visit Agoda.com for reviews and the best deals on Hotels In Da Nang City
Shopping in Da Nang
If you're a shopaholic, Da Nang won't disappoint. The city offers a wide range of shopping experiences, from vibrant street markets to modern shopping malls. One of the most popular shopping streets in Da Nang is Han Market. Here, you can find a wide variety of goods, including clothing, handicrafts, souvenirs, and fresh produce. Bargaining is expected, so be prepared to negotiate forthe best prices. For a more upscale shopping experience, head to one of the city's modern shopping malls. Vincom Plaza and Lotte Mart are two of the most popular options, offering a mix of international and local brands. These malls also feature entertainment facilities, such as cinemas and arcade centers, making them a great place to spend a few hours. If you're looking for a unique shopping experience, don't miss the night markets in Da Nang. These markets come alive after sunset and offer a vibrant atmosphere where you can shop for clothes, accessories, and local handicrafts while enjoying street performances and sampling delicious street food.
Things to Do at Night in Da Nang
When the sun sets, Da Nang transforms into a lively city with a vibrant nightlife scene. Whether you're looking for a relaxing evening by the beach or an exciting night out on the town, there is something for everyone. For a peaceful evening, head to My Khe Beach and enjoy a leisurely stroll along the shoreline as you watch the sunset. You can also join a yoga class on the beach or simply relax with a refreshing drink at one of the beachfront bars. If you're in the mood for some excitement, explore the bustling streets of the city center. The Bach Dang Street area is known for its lively bars and clubs, offering a mix of live music, DJ performances, and themed parties. The Dragon Bridge is another must-visit spot at night, as it comes alive with a dazzling display of lights and fire on weekends. For a more cultural experience, catch a traditional water puppet show at the Han River Theater. This unique art form originated in northern Vietnam and involves puppets performing on water, accompanied by traditional music and storytelling.
Top Tourist Attractions in Da Nang
Da Nang is home to a plethora of tourist attractions that showcase its natural beauty and cultural heritage. One of the must-visit destinations is the Marble Mountains, a cluster of five limestone hills with caves, pagodas, and panoramic views of the city. You can explore the caves and climb to the top of the mountains for breathtaking vistas. Another iconic landmark in Da Nang is the Dragon Bridge, which spans the Han River. This impressive bridge is not only a marvel of engineering but also a symbol of the city's prosperity. Every weekend, the dragon-shaped bridge comes to life with a mesmerizing display of lights and fire, attracting both locals and tourists. For history enthusiasts, a visit to the Museum of Cham Sculpture is a must. The museum houses an extensive collection of ancient Cham artifacts, including sculptures, pottery, and jewelry. It offers a fascinating insight into the Cham civilization, which once thrived in the region. If you're looking for a tranquil escape, head to Son Tra Peninsula, also known as Monkey Mountain. This natural reserve is home to diverse flora and fauna, as well as pristine beaches and hiking trails. You can visit the Linh Ung Pagoda, which houses a giant statue of the Goddess of Mercy and offers panoramic views of the coastline.
Visit Agoda.com for reviews and the best deals on Hotels In Da Nang City
Beaches and Water Activities in Da Nang
Da Nang boasts some of the most beautiful beaches in Vietnam, making it a paradise for beach lovers and water sports enthusiasts. My Khe Beach is the most popular beach in Da Nang, with its long stretch of golden sand and calm waters. You can relax on the beach, swim in the crystal-clear waters, or try your hand at water sports like surfing, kayaking, and jet-skiing. For a more secluded beach experience, head to Non Nuoc Beach. This pristine beach is located at the foot of the Marble Mountains and offers a peaceful retreat away from the crowds. You can enjoy sunbathing, beach volleyball, or simply unwind with a good book. If you're interested in diving or snorkeling, the nearby Cham Islands are a great option. These islands are known for their vibrant coral reefs and diverse marine life. You can take a boat tour from Da Nang to explore the underwater wonders and enjoy a day of snorkeling or scuba diving.
Visit Agoda.com for reviews and the best deals on Hotels In Da Nang City
Must-visit Festivals in Da Nang
One of the most anticipated events is the Da Nang International Fireworks Festival, held annually during the months of May and June. The festival takes place at the beautiful Han River, where spectators can enjoy spectacular firework displays from different countries, captivating the audience with its stunning visual spectacle. Another festival that shouldn't be missed is the Da Nang Lantern Festival, celebrated during the Mid-Autumn Festival in September. The city is adorned with beautiful lanterns of all shapes and sizes, and locals and tourists gather along the streets and riverbanks to release colorful lanterns into the night sky. The atmosphere is filled with joy, as children carry paper lanterns and participate in traditional games and performances. For those seeking a taste of traditional Vietnamese culture, the Da Nang International Lion Dance Festival is a must-see. Held in July, lion dance troupes from various countries converge in Da Nang to showcase their acrobatic skills and vibrant lion dance performances. The streets come alive with the sounds of drums and cymbals, creating a lively and energetic ambiance.
Visit Agoda.com for reviews and the best deals on Hotels In Da Nang City
Day Trips and Excursions from Da Nang
Da Nang serves as a perfect base for exploring the surrounding areas, which are equally captivating. One popular day trip is to the ancient town of Hoi An, located just 30 kilometers south of Da Nang. Hoi An is known for its well-preserved ancient buildings, colorful lanterns, and vibrant riverside market. You can wander through the narrow streets, visit historical sites such as the Japanese Covered Bridge and the Assembly Hall of the Fujian Chinese, and even try your hand at lantern making. Another nearby destination worth visiting is the Ba Na Hills. Located about an hour's drive from Da Nang, Ba Na Hills is a mountain resort that offers breathtaking views, French colonial architecture, and an amusement park. You can take a cable car ride to the top of the hills, visit the famous Golden Bridge, and explore the Fantasy Park, which features thrilling rides and games. For nature lovers, a trip to the Hai Van Pass is a must. This scenic mountain pass offers panoramic views of the coastline and the surrounding mountains. Rent a motorbike or join a guided tour to experience the beauty of this iconic route.
Visit Agoda.com for reviews and the best deals on Hotels In Da Nang City
Emergency Contacts and Embassy Contacts in Da Nang
While Da Nang is generally a safe city for travelers, it's always good to be prepared and have emergency contacts on hand. In case of any emergencies, the local emergency hotline is 113. For medical emergencies, you can contact the Da Nang Hospital at +84 236 3822 631. If you require assistance from your embassy, the nearest embassy to Da Nang is the Embassy of the United States in Hanoi. You can reach them at +84 24 3850 5000. It's advisable to register your travel plans with your embassy before your trip, so they can provide you with the necessary support if needed.
Visit Agoda.com for reviews and the best deals on Hotels In Da Nang City
Conclusion
Da Nang is a hidden gem in Vietnam that offers a diverse range of attractions and experiences. From its stunning natural landscapes and rich cultural heritage to its vibrant food scene and lively nightlife, this city has something for everyone. Whether you're exploring the caves of the Marble Mountains, shopping at the Han Market, or simply relaxing on the pristine beaches, Da Nang promises an unforgettable adventure. So, pack your bags and get ready to discover the enchanting charms of Da Nang, Vietnam's hidden gem.
---
You may wish to check out our other recommendations in Ho Chi Minh