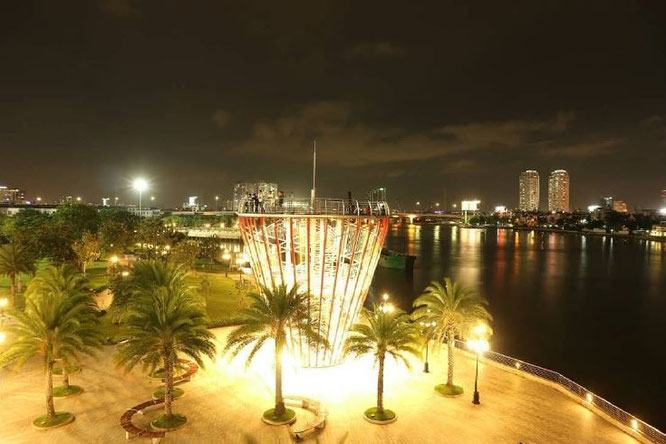 Travelling is beautiful yet brutal, forcing you to trust strangers and lose sight of the familiar comfort of your home. As William Least Heat-Moon once said, when you're travelling, you are what you are right there and then. People don't have your past to hold against you. If you're looking for a new destination to add to your bucket list, then Ho Chi Minh city, a lovely city in Southeast Asia, is inviting you to explore. In this article, we'll be recommending to you 10 free things to do around District 1 (that is not Ben Thanh market), that you should visit during your time in this awesome city - all at little or no damage to your wallets.
Window shop along Dong Khoi street
You may find that Saigon's traffic is extremely heavy, with millions of motorbikes riding along the narrow streets on a daily basis. Among hundreds of roads in this city, it is possible to say that Dong Khoi Street is one of the popular social, cultural, and historical streets. Even after 150 years of witnessing Saigon's ups and downs, it remains one of its most significant and important streets. This street used to be located in one of the most important bodies of the French government when Saigon was colonized. Now, it has become a street filled with luxurious shops, restaurants and hotels. Dong Khoi Street is conveniently located in front of the Opera House, so why not explore it while you're there? After all, window shopping doesn't cost a cent.
Explore Nguyen Hue walking street and the incredible cafe apartment
Nguyen Hue Walking Street was the first ever walking street to be established in Saigon. It used to be a large canal connecting the Saigon river to the city named the Charner canal, after the French Commander. In 1956, the street was renamed Nguyen Hue Boulevard, and has kept the name ever since. There are no admission fees, and we highly recommend visiting this walking street as one of the best things to do at night, when Saigon turns into a bright and lively city. There, you will have great photo opportunities with the view of Bitexco Building – the second tallest building in Saigon, as well as the unique Café Apartment, an old apartment building turned hipster haven.
Visit the 1st underground market in Ho Chi Minh
If you're sick of visiting regular markets, why not try one underground? Sense Market is the first underground market in the city, located only 5 minutes away from Ben Thanh Market by foot. The market spans a whopping 11.000m2, including a food court, shopping mall as well as other facilities. With a combination of tradition and modernity, the food court, known as the Asiana Food Town, is a cozy place for you to enjoy some delicacies. There are approximately 100 dining options, offering dishes from Vietnam, Laos, Cambodia, Japan, Singapore, India, etc. With over 300 seats, not being able to find a place to dine surely won't be an issue! The market also has convenience stores, foreign currency exchange and a wide variety of retail stores. If you're not planning to spend here, just feel free to walk around leisurely!
READ ALSO >> 8 Markets In Ho Chi Minh For The Best Local Shopping Experience
Walk barefooted at the 30/4 park
This park is located near famous attractions such as the renowned Notre Dame Cathedral, Turtle Lake and City Post Office. Locals usually gather here to meet up and have a chit-chat session while enjoying a cup of "Bệt coffee". Bệt is a local word which means you sit on the ground without chairs. It's one way to enjoy the simple things in life, because the best things in life are free. Often, groups of students will gather play instruments there, and even indulge in a small karaoke session. Though unassuming, this parks is also a hotspot for couples to take their wedding photos. The scenic and peaceful environment of the park invites many to take a leisurely stroll, get some morning exercise done, and play sports with their fellow family and friends. If you're looking for a place to relax in the morning that is free, this is the ideal spot for you.
Chill out at the Saigon water bus station
Also known as Bach Dang wharf, this place used to be an important port of call for trading goods throughout the city's history. Now, it has become a popular destination for many urban residents. It comprises a park, a water bus station connecting District 1 to Thu Duc district, as well as a riverside coffee shop on the campus, where you can enjoy music shows on weekends, all at no cost. It's an ideal place to visit to enjoy Saigon at its fullest, and is especially beautiful at night. Next to it is a 5-star yacht restaurant shimmering with bright lights, adding to the whole atmosphere. If you want to relax and unwind, take a walk here or simply enjoy a conversation over coffee in the nearby park.
Learn more about the Viet-Chinese community in the Hao Sy Phuong alley
Hao Sy Phuong is an alley located in District 5. Although it is not too difficult to find this alley, many people end up passing by it without realizing it. This alley is where the community of Vietnamese-Chinese people live together, so visitors come across a lot of Chinese people along the block. Many youngsters, especially photographers, come here to experience this nostalgic feature of the city filled with unique architecture. Away from the hustle and bustle of the city, people living here enjoy life at their own pace– without rush, dust, or noise, though they're merely a few steps away from the main street. For more than 100 years, Hao Sy Phuong has remained an idyllic place for both its residents and tourists. It's easy to get to and explore, and won't cost you anything.
READ ALSO >> Sleepless Saigon: 12 Ideas On Things To Do At Night In Ho Chi Minh
Immerse yourself in sights and sounds, at Ho Chi Minh's oldest Binh Tay market
Binh Tay Market is a huge wholesale market located in the largest Chinatown area in Ho Chi Minh City. Inspired by Chinese architecture, the market was built in 1928, unique with its octagonal design. Both the dry goods and local produce sold there are distributed throughout the country, and are even exported to other countries such as Cambodia. Tourists who have visited this market have commented that besides a wider range of products, things sold here are almost half as cheap as what you will find in Ben Thanh market. Not only can you purchase authentic local Vietnamese products as gifts, you will also get to see for yourself the true daily life of the Vietnamese– right within Saigon's oldest market. And even if you are not buying anything, taking a walk in Binh Tay market is a great activity that you can do for free.
Romanticize your trip with a trip to Landmark81 Park
Located along the Saigon River, this place is also known as Central Park. Spanning an area of 14 hectares, it is a great place for both locals and visitors to hang out. Though more than 500 billion was invested into building this, you don't have to pay a single cent to enjoy yourself here! The park is located in Tan Cang area (Binh Thanh District, Ho Chi Minh City), along the Saigon River, so you can enjoy its beautiful scenery while you're there. Not only that, you can easily catch a glimpse of the highest building in Vietnam, Landmark81. The design project was inspired by Central Park of New York, with its many interesting utilities. The scenery of the park is especially romantic and mesmerizing at night, so we'd recommend you try visiting at that time as well!
Take in breathtaking views of the Saigon river from the Thu Thiem bridge
Located ideally across the beautiful Saigon River, this is an ideal place for young people to meet up for gatherings with friends or romantic dates. Many prefer to visit around dusk, when the fresh air is the most comfortable. Visiting on hot summer days is also enjoyed by lots of youngsters. Budget conscious couples often choose this place for their dates, where they can take a leisurely walk on the bridge and enjoy a few snacks, without having to spend anything at all. The bridge has wide sidewalks on both sides, where you can comfortably sit and enjoy the cool breeze along the river. It's also a great place to view the brilliant city at night from another angle. This was also featured in Sleepless Saigon: 12 Ideas On Things To Do At Night In Ho Chi Minh.
Enjoying yourself in Ho Chi Minh City doesn't have to cost you extravagant amounts of money. If you're looking for places to learn more about the Vietnamese culture or simply to relax and enjoy a cup of coffee, there's surely a spot suited just for you. Not only is it extremely affordable, there's a ton of hidden gems you may find while exploring these unique places, so why not try enjoying life's simple pleasures for a change instead?
---
You may wish to check out our other recommendations in Ho Chi Minh